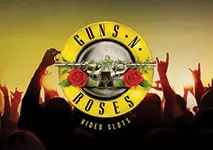 This NetEnt early 2016 release is for those of you who like to rock out. This 5-reel, 3-row, 20-line video slot features footage from the band's concerts, and five of their greatest hits.
Your bet can range from £0.20 to £200.00 and the best you can win is 1125 times your overall bet. The RTP of this game is 96.98% so checking it out definitely is not a bad idea!
Theme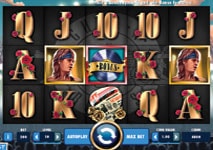 As is evident by the name itself, this game's theme is a Guns N' Roses concert. The game was released at the time of their 30-year anniversary and it includes some great new features. The atmosphere of a rock concert fills you up with excitement and the crowd cheering in the background makes you feel on top of the world, almost as if any moment now they will start shouting your own name.
It is incredible that NetEnt along with Bravado International Group have managed to create such a mind-blowing experience by making this game not only with animation but also with actual footage and music. However, the repetitiveness of the songs and sounds can certainly get annoying after a certain point, even for hardcore fans.
Symbols
The low value symbols are A, K, Q, J and 10, embellished with roses. The maximum win with them is 125 coins. The high-payout value symbols are of Slash, Axl Rose, Duff McKagan and of two guitar picks. The best case scenario with them is getting 750 coins.
One of the substitution wild symbols here expands over all 3 reels and can appear anywhere randomly except for on the third reel in the Appetite For Destruction Wild. It is actually the Guns N' Roses brand symbol.
The Appetite For Destruction Wild is the so-called overlay wild shaped as a cross that can randomly land on one of three possible positions. It has on each end and at the centre, the skulls of each band member. This is a great feature as it expands more than most substitution wild symbols and therefore gives you an amazing chance to win.
There is also a Bonus Wheel symbol which looks like a vinyl record and if you get 3 of them at the same time, you get to the actual Bonus Wheel and it does not only spin on its own – you get to stop it! Which gives you the feeling of being in charge of your own destiny.
There are additional stacked wild symbols that get randomly activated throughout the game, which also bear the images of the band members.
Combinations and Jackpots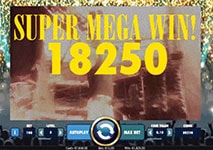 As we mentioned before, there are 20 paylines in this game and the multiple randomly appearing wild symbols which expand, get stacked and even appear two at a time to give you a great chance at making a small fortune.
Another thing we already mentioned is the Bonus Wheel. With this unique feature, you can get 3 different outcomes – coin awards, free spins and The Crowd-Pleaser Bonus Game. The last one is a Pick&Click game with three levels. Not only can you win coins, but also free spins and additional clicks. The first level grants you 3 clicks, the second is activated when you have won 60 coins, which is the minimum you can win on the first level and you have no clicks left. Level three is activated when you have won at least 300 coins from the previous two levels combined. On it, you can double the total win for the feature.
Of course, there are also Encore Free Spins, which means 10 free spins. More free spins can be won during this round and stacked overlay band member wilds appear throughout.
The Legend Spins feature gets randomly activated and awards one stacked wild on the third reel for the first spin, then for the second spin reels one and five are entirely substituted by a wild symbol and on the third spin reels 2 and 4 are substituted.
There is also the Solo Multiplier Feature activated whenever at least 3 matching symbols in a bet line win. It can multiply your win by 4x and go up to 10x.
So, in conclusion, there are some amazing new features in this game and it is certainly unique. It gives you a solid chance to win, so we say give it a spin.