Being the world's leading payment system for more than 50 years, Visa has become a global standard when it comes to credit and debit cards. With an estimated 900 million card holders around the globe, it is no surprise that Visa is accepted almost anywhere in the real world and on the Internet.
Visa credit and debit cards offer exceptional protection to users, as well as the opportunity to make payments and receive funds in exchange for very low fees in almost any part of the world. Moreover, multiple banking and financial institutions are licensed to issue Visa cards to their customers, which means that the brand's credit and debit cards can be obtained easily and at conditions that are convenient to the client.
As Visa is regarded as one of the most trusted payment methods today, it is widely popular among online gamblers for the safety and the convenience it offers. Players can use it for instant deposits and hassle-free withdrawals at almost any web-based casino. Topping up their balances with Visa cards, they avoid processing fees and can enjoy increased deposit limits and various reload bonuses.
Summary
Country used in
Worldwide
Website
visa.com
Accepted by
More than 800 Online Casinos
Casino Games with Visa
Slots, Roulette, Blackjack, Video Poker
Available for deposit
Yes
Available for withdrawal
Yes
Create account / Sign up for a Visa card
FREE
ATM withdrawals
FREE, a small fee may be charged
Make a payment via Visa cards
FREE or up to 3%
Transfer funds from Visa cards to bank accounts
Varies
Transfer funds from Merchant to Visa cards
FREE or up to 4.5%
Online Chat
Yes
Email
Email Form
Telephone
United Kingdom: 0800-89-1725
United States/Canada: 1-800-847-2911
Germany: 0800-811-8440
France: 0800-90-1179
Australia: 1-800-125-440
How Visa Cards Work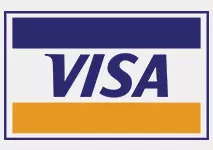 Through its cards, Visa facilitates electronic funds transfers (EFT) between bank accounts in the same or in different banking institutions. These transfers are made via computer-based systems and the Internet, so they can be incredibly fast as there is no physical movement of funds involved. EFT transfers by cards are exceptionally secure as they are authorized and monitored by banking institutions that consider safety one of their first priorities.
Just like other popular payment services providers such as MasterCard or American Express, Visa offers traditional credit cards to its customers, as well as debit cards and pre-paid cards. Their annual fees, reward systems, and other conditions vary, depending on the organization or institution that issues them, the particular type of card, as well as which country you reside in.
A Visa credit card allows customers to take advantage of a monthly credit, while the company's pre-paid cards let them spend only what they have. Visa debit cards, on the other hand, give direct access to the funds in your bank account and just like with pre-paid cards, do not allow overspending. In addition, there are hundreds of Visa-branded gift cards offered by businesses – they function like single-use prepaid cards of a fixed value. Due to their similarities with Visa prepaid cards, we shall not discuss them separately.
Funding your online casino balance with Visa is easy and fast, no matter which type of card you have. Using this payment system for online gambling is very convenient, because it is available for withdrawing winnings, as well.
Applying for Visa Cards
Users can acquire a Visa card easily from their bank, as most banks offer at least several types of Visa credit, debit, and prepaid cards. Annual fees, interest rates, and rewards are different for each bank, so it is recommended that gamblers check the terms and conditions of the largest card issuers in their country. There are personal and business credit cards, various debit cards (for young adults, for navy employees, etc.), as well as plenty of prepaid cards to choose from.
Due to the convenience of its cards, Visa, along with a few other leading financial services providers, is expected to fully replace traditional cash payments with electronic transfers. When choosing a Visa card, online casino players should take into account all the differences and perks each variety has to offer.
Even online, users should be able to find dozens of cards and apply for them, with the automatic system responding within minutes. In order to apply, you will be required to provide name, address, phone number and some basic information about your checking account. Usually, your credit score will be reviewed, especially during application for a credit card, as well as your employment status and annual income.
Visa Credit Cards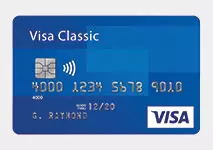 Users can choose from a wide variety of credit card products and programs that will correspond to their individual needs and spending habits. The Visa credit cards allow flexibility and safety, while the debt can be paid off over a certain period of time, negotiated between the bank and the customer.
This provides great flexibility and convenience, whether you are using your card for making purchases, paying bills, receiving cash for emergencies or playing your favorite real money slots, roulette or baccarat games in your preferred casino. The credit cards by Visa come with all sorts of features – cash back, no annual fees, low APR (annual percentage rate), travel-oriented cards, rewards, and more.
Most credit cards, whether personal or business types, are accepted as deposit and withdrawal method in online casinos. When topping up your gaming account using Visa, the deposit appears in the player's casino balance within minutes, whereas withdrawals usually take a few days to complete. However, you may not be able to use your Visa credit card for online gambling as some banks and countries have a strict policy against such transactions.
Visa Debit Cards
Debit cards, including Visa debit cards, function much like checks or cash. They give instant and secure access to the funds in your bank account and can be used for making payments, shopping, cash withdrawals, and online gambling. Typically, the fees when having a Visa debit card are smaller, so this type of card has become one of the most preferred payment options around the world.
There are two major brands offered as debit card solutions by the company – the globally accepted Visa Debit and Visa Electron, which is not available in Canada, the United States, and Australia. The main difference between the two is that the balance of Visa Electron cards may not be overdrawn. One of the best things about paying with Visa debit cards is that much like prepaid cards, you cannot spend more than you have. And sometimes in online gambling, this is a very real possibility. This is why many casino players prefer using their debit cards when playing online instead of depositing via the more popular credit cards.
Visa Pre-Paid Cards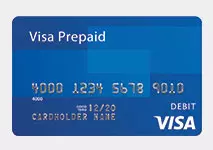 These cards function in a quite a simple and straightforward way – customers purchase a card that is "loaded" with a fixed amount of money (usually from $10 to $500). Then, they use it like a debit card or cash for shopping, paying bills, making various purchases and gambling online. Once the money in the card is spent, it becomes useless. There is one exception, though, and this is the reloadable prepaid card – you can use it and reload it multiple times, usually for a small fee.
The greatest advantage of using a Visa pre-paid card is that having a bank or checking account is not necessary. Multiple banks, financial institutions, and retail stores can issue Visa pre-paid cards, so when applying, users are not required to provide perfect credit scores. With their pre-paid card, they are able to spend only pre-loaded funds and stick to a fixed budget. This type of card is ideal for online casino players who wish to keep track of their spending.
In addition, Visa credit/ debit cards can be used for making payments at millions of POS terminals around the world and online, and for withdrawing cash from almost any existing ATM.
Depositing in Online Casinos via Visa Cards
When using Visa cards, gamblers can make deposits to their casino accounts instantly. All they need to do is open the Cashier section at the casino website, choose "Credit Cards" as their preferred deposit method and proceed with Visa from the list of options available.
To register your card, you need to enter your name, the Visa card number and expiring date, as well as the 3-digit security code. It is called CVV number (Card Verification Value) and it is printed in the signature area at the back of the card. Then, you need to enter the amount of money you want to top up your casino balance with.
If all data is correct, your Visa card should be accepted and the transaction confirmed. This takes no more than a minute, so you will be able to play for real money immediately. As mentioned above, in rare occasions, you may not be allowed to use your credit/debit card in online casinos, but this would happen only in a small number of countries where online gambling is illegal.
Withdrawing Your Winnings via Visa Cards
Withdrawals from online casinos are just as easy and straightforward – players need to register their card after choosing Visa Cards from the withdrawal options at the casino's Cashier or Payments page. Casino players just need to follow the on-screen instructions and enter the card details, the amount of funds they wish to withdraw and confirm the transaction. In some countries, restrictions may apply and you may need to find an alternative payment method to retrieve your winnings.
Several additional things need to be pointed out. First of all, online casinos always require their customers to provide proof of address and government-issued identification documents before they process an individual's first withdrawal. In addition, users are asked to provide a copy of their Visa card (both sides) before a withdrawal. Usually, the verification takes up to 3 weeks and some casino operators manage to speed up the process and reduce the evaluation time to just a few business days.
The second thing to remember is that every withdrawal is pending for 24 to 48 hours so that players can cancel the transaction if they change their mind. All this is very important, as it may slow down payouts from casinos significantly. Most web-based casinos tend to process withdrawals to the same payment method players have chosen to make a deposit with. This is why it is recommended that you stick to one banking method and one card after carefully choosing them.
While deposits are instant with Visa, the processing of the transfer from your gambling account to your credit/debit card will take 3 to 5 business days to complete. Some casinos may also ask you to provide a readable copy or image of your ID and your Visa card to prove that you are the actual card holder.
Most web-based gambling operators do not charge fees for making deposits through Visa debit or credit cards. However, some banks may impose small fees.
Security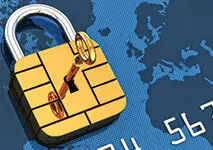 When it comes to security, Visa cards offer the typical protection you can expect when using a credit or debit card online. To ensure safety and full protection, gamblers need to play at well-established, reputable online casinos, which offer proper SSL encryption. The Secure Sockets Layer technology, or SSL, is featured on all respected gambling websites and guarantees that all personal and financial data entered will remain private.
Players can easily determine whether a web page is SSL secured by checking the site URL – it should start with "https", and by checking if there is the so-called "lock" icon. As explained above, Visa credit and debit cards have a unique number and an expiration date printed on them, as well as a three-digit security code called CVV/CVV2 (Card Verification Value). This code is the final group of numbers printed on the back of the card.
The CVV code is necessary for online transfers, including depositing into online casinos. When such transfers are being made, merchants store the card holder's details such as name, card number, and specifics of the purchase. However, card issuers and merchants are not allowed to store the CVV code after the individual transaction is authorized. This requirement makes the card useless if used without the security code and if not stored, it cannot be exposed in cases of fraud or stolen card information.
Fees And Limits
Usually, deposits made via Visa credit, debit or pre-paid cards are free, but some casinos will charge 2% to 3% of the sum. The minimum deposit with a Visa card is $10 or $20, while the maximum limit ranges from $500 to $2,000 per transaction, depending on your status at the casino. It is usually up to 4.5% of the withdrawn amount of money but often, there will be no processing fees at all. Once again, the limits and restrictions would depend on the card issuer, the country you reside in, as well as the specific casino you play at.
It is important to note that it is not Visa that issues the cards – different banks and other financial institutions issue the Visa cards, setting their own terms, limits, and fees. For this reason, casino players are advised to always check the conditions defined by their local card issuer before applying for a card, whether it is a debit, credit, or prepaid card by Visa.
The fees for withdrawals also vary for different casinos, but players need to take into account that their card issuer may also impose a fee.
Advantages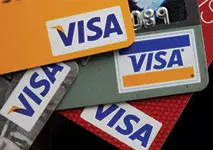 Visa cards are becoming more popular among online gamblers because they offer simplicity and convenience, as well as the opportunity to play at multiple web-based casinos. Making deposits with Visa cards is easy, convenient and instant. You are able to play with your funds only minutes after the transaction is confirmed. These cards are also available around the world and you would find at least several credit, debit and prepaid cards in every country. They are accepted by millions of stores, merchants, online casinos and outlets, which makes them absolutely universal.
In addition, processing fees are very low, if any. In addition to the reload bonuses at some casinos, they make Visa cards a very cost-effective payment option. There is yet another advantage of choosing the pre-paid and debit cards by Visa, in particular when playing casino games online. When you play with a fixed gambling budget, you eliminate the risk of overspending. However, you should be extra careful when using a debit card at casinos as it gives you direct access to the funds in your checking account.
Visa's prepaid and gift cards, on the other hand, are recommended for those who wish to control their own spending and avoid going over their budget. Another important factor when opting for Visa cards of any type is their security – there are not many payment services, if any at all, that provide better protection for your finances online.
Disadvantages
Some banks may not allow transactions with online casinos due to their policies regarding gambling activities. Your deposit and withdrawal would be verified and allowed in most and in most countries, but that would depend on the card issuing institution and the specific legislation in the country you live in.
Another disadvantage, which is valid for credit cards in general, is that some players can easily lose track of how much they are spending on gambling. Having a fixed budget with a Visa pre-paid or debit card may be more suitable for less disciplined gamblers.
Before choosing a particular type of Visa card, players need to review all existing offers at their local bank offices and find one that will meet their individual needs.
Conclusion
The greatest benefit for online casino players is that Visa cards are accepted by hundreds of web-based gambling providers and can be used for purchases and payments globally. The exceptional flexibility and the low fees of Visa credit and debit cards are making them the most preferred payment method for gamblers and Internet users.
Unlike modern options such as e-wallets, players can not only load funds instantly into their casino balances, but they can also withdraw their winnings easily at any ATM around the world. It is true that withdrawals to a Visa card are usually much slower than to digital wallets. But many casino enthusiasts choose to ignore this certain setback and focus on the great availability of Visa cards instead.
As long as they are playing at respectable, trusty online casinos, gamblers have nothing to worry about. Their Visa credit or debit card will provide them with the highest levels of security and convenience possible.