Apple Pay's history dates back to 2014 when the service was officially announced and reviewed to the public during an iPhone 6 event. Since then, Apple Pay has swiftly taken the world by storm and it became part of millions of individuals' daily routines. There are a multitude of reasons behind Apple Pay's success. One of them is the sheer reach the service has simply due to being included with products made by one of the most popular providers of smart devices in recent years. This also meant that beyond the initial deal Apple had with Visa, American Express, and Mastercard, other banks and businesses were quick to adapt and start incorporating Apple Pay into their systems. Nowadays nearly 85% of US businesses accept Apple Pay as a payment option, and the service is incredibly popular overseas as well.
It is not all about timing and availability, however, as the widespread implementation of Apple Pay is also owed to the fact that it is simply a great system. The tool is fast, secure, and easy to start using.
All of these qualities make it great not only for the average user but for gambling enthusiasts as well, and nowadays an array of casinos offer Apple Pay as a banking solution.
Summary
Country used in
Sweden
Website
https://www.apple.com/apple-pay/
Accepted by
Over 20 casinos
Casino Games with Apple Pay
Slots, Roulette, Blackjack, Video Poker, Live Casino
Available for deposits
Yes
Available for withdrawals
No
Create account/Sign up for account
Free
Make a payment from your Apple Pay account
Free
Transfer funds from Apple Pay to bank account
1.5% fee deduced from transfer amount, min 0.25$ and max 15$
Transfer funds from merchant to Apple Pay account
Free
Annual or monthly fees
No
Transaction limit
No limits
Online chat
No
Email
No
Telephone
00800 6002 7753
How Apple Pay Works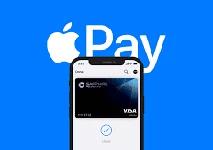 Apple Pay is fairly unique compared to other digital transaction services. First, it is not available to everyone. Apple Pay can be utilized exclusively by customers who own and use devices that belong to the Apple brand. Thus, you can only use Apple Pay if you own an iPhone, iPad, Apple Watch, or a Mac computer. Although Apple Pay can be used on the Safari browser, it remains Apple-exclusive. Attempting to use it on pieces of hardware that run Android, Windows or Linux, even if you are running Safari, would be a fruitless endeavor.
Next, it is important to reiterate that the application comes pre-installed with your Apple device, and thus there is no need to download additional software. Furthermore, a registration process is also not necessary as you just need your Apple account to manage Apple Pay. Set up is thus extremely easy, as all that is left is to add your card of choice which can be either credit, debit, or prepaid. With that done, you are pretty much good to go. Do keep in mind, however, that the process is device-specific. If you would like to use a card on multiple pieces of hardware to make deposits, then you will need to add your credit card information to all of them.
As a safety feature, you will need to approve the transaction upon requesting deposits. This can be done in a number of ways, including Face ID, Touch ID, or by utilizing a passcode.
Depositing to Online Casinos via Apple Pay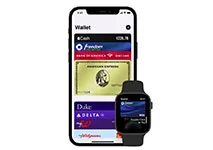 Depositing via Apple Pay is an easy task. After registering an account at your casino and potentially carrying out a verification process, you will need to navigate towards the payment section. Then, input the sum you wish to deposit, pick Apple Pay from the list of available options, and you will then be prompted to sign in to your Apple Pay account.
As previously stated, you will need to authorize the transaction and you have several methods to choose from, the first one being Face ID. If that is not possible on your device, Touch ID can also be utilized. Alternatively, you can opt for using your passcode if neither option appeals to you. Once that is done, the process has pretty much been completed and you are ready to wager with your funds. In addition, at no point in the process will you be charged any fees.
As you can see it is not rocket science and all in all the process will not take up too much of your time. It is also worth pointing out that once you are done, your money will be transferred instantly.
However, there is one important thing to look out for, and that is whether or not Apple Pay can be utilized for the potential bonuses you are eyeing. More often than not, you will be able to use it without a hassle. Casinos, however, occasionally restrict the banking solutions which are eligible for bonuses, so it is better to check just in case.
Withdrawing from Online Casinos via Apple Pay
Although Apple Pay is an extremely convenient option when you need to deposit funds, the service does not currently support withdrawals. Apple users will need to resort to a different banking solution when it comes to withdrawals.
Mobile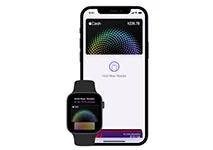 Given Apple Pay's origins, anyone looking into trying out the service would expect it to perform splendidly as far as mobile banking is concerned. They would not be wrong in thinking so, as that is indeed the case. Although it bears repeating that everything we mention can only be utilized on Apple devices, what said devices have at their disposal is fantastic.
First, it is important to point out that the security systems available to Apple users on mobile are incredibly robust. Face ID, in particular, is a feature that at first glance closely resembles Touch ID. In a way, it scans your face similar to how Touch ID would scan your finger, but with the use of a camera. Face ID, however, makes for a very detailed and thorough information check due to the feature's TrueDepth technology. Although the technicalities of what that entails and how everything works exactly are complicated on paper, we are talking about an advanced piece of technology, after all, you can rest assured that the experience of using this feature is anything but cumbersome.
Although Face ID is truly ahead of its time and something that not so long ago would only be considered in works of science fiction, understandably not everyone is exactly comfortable with utilizing it. Apple has got you covered on this front as well, seeing as previous security features are still in place. Touch ID and your passcode are available as alternatives.
As for performing deposits and withdrawals themselves, managing your money is just as easy on mobile as it is on a computer. The process is all in all no different, and due to how the menus are structured on mobile websites or applications, navigation is achieved without issues.
Security of Payments via Apple Pay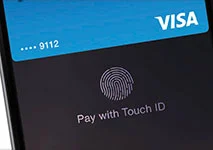 Apple deeply cares about its customers' safety, and this is evident in most of its products, Apple Pay included.
One of the first and most important things to know is that your banking data is safe and sound with Apple Pay. Due to multiple and repeatedly occurring encryption processes, no banking or personal information is actually relayed to the venue you are wagering at, nor are card numbers stored anywhere within Apple's servers or your own device for that matter. Everything is done in such a way that no one but the systems which actually need your information have access to it.
Furthermore, all of this is possible due to the fact that you do not need to input any of your cards' information at your venue of choice. All you need in order to perform money transfers is to sign in with your Apple Pay account, so no input of card numbers into the bookie's database is needed.
In addition, if you primarily use your device for gambling purposes, and thus manage your funds on mobile as well, the possibility of losing your device exists. It is for this reason that Apple Pay has provided a Find My iPhone mode to your iPhone, which will let you suspend Apple Pay services until you acquire your smartphone once more.
Fees and Limits of Apple Pay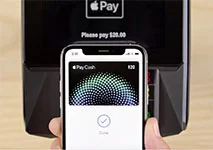 First and foremost, we can happily say that Apple does not impose any fees on its users during payments. Utilizing the digital wallet is free. This means that you can manage your funds around the web and at your favorite casinos without worry. The only time you will come across surcharges is when you use instant transfer to move funds from Apple Pay to a debit card or your bank account. The Instant Transfer fee is 1.5%, with a minimum fee of $0.25 and $15 at maximum.
Currency conversion is conducted by your bank and any potential fees resulting from using Apple Pay abroad will have, again, been required by your banking institution and are completely independent of Apple Pay itself.
Transfer limits tend to vary from venue to venue, so it is always best to pay a visit to your casino's banking solutions section first. In general, limitations will vary from around $10 at a minimum, to roughly $100,000 at a maximum for deposits.
Advantages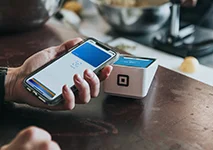 One of Apple's defining features as a brand is the fact that all of its devices and software are pretty much known to "just work" out of the box. They are valued for their simplicity and reliability, and this ease of use is why so many people are very much comfortable within the company's bubble of devices and services. This is also among the reasons Apple is considered a good option for those unfamiliar with the world of modern technology and smartphones in particular.
Apple Pay follows this trend by being incredibly easy to use and access as, after all, it comes pre-installed with any iPhone user's device. This also serves to make Apple Pay's services many people's introduction to the concept of online banking.
Due to the fact that Apple Pay is already included with your device, you do not need to bother going through the hassle of searching for the application and then downloading and installing it on your phone. Speaking of cumbersome processes, you also have no need to register anew. Your Apple account is all you need in order to be able to connect your credit card and utilize everything Apple Pay has to offer. Its transaction speed is notable as well since deposits are instantaneous.
Speaking of security, Apple Pay is also great for individuals who are more privacy-oriented as it protects your information from being accessed by any venue you use its service on. Thanks to features like Face ID, Touch ID, and a passcode requirement, utilizing the service is painless and effective in protecting your data.
As previously mentioned, Apple Pay doesn't impose any fees on your payments either, which is definitely a big advantage over banking solutions that do result in small but noticeable surcharges. Its compatibility with various cards such as Visa is nothing to scoff at either because no compatibility with a card a user has can be an instant deal-breaker.
Disadvantages of Using Apple Pay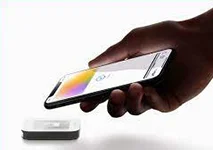 As a service in and of itself, what Apple Pay provides is pretty much excellent. It promptly executes transfers and provides an overall streamlined financial experience to countless individuals. We have almost nothing to complain about regarding our experience with this banking solution whenever we were able to utilize it as such. This, however, leads us to one of the very few issues Apple Pay users will be faced with, which is its fairly limited reach when it comes to gambling.
Although Apple Pay is extremely popular both in its country of origin and many other jurisdictions around the world, there are many regions that have more or less completely excluded the service from being used for any type of gambling that proceeds online. This means that finding a casino that does actually accept Apple Pay as an option can be tricky.
Many gambling venues will, in fact, accept Apple Pay as a banking solution, but will do so only for a selected number of countries. This means that simply looking for casinos that accept this online payment service is not enough, as you will need to further check if Apple Pay is available for your specific area of residence. If your country is not among those that can utilize it for gambling purposes, you are out of luck.
Things get even worse when we take into account that several of the restricted regions are countries that are among the most prominent players within the wagering sphere, housing some of the largest gambling markets in the world. One such excluded country is the United States of America which is, ironically, where Apple Pay originates from. Gambling aficionados from The States will need to look elsewhere for their depositing needs as venues cannot offer Apple Pay to users who reside within the nation.
Apple Pay has one more shortcoming, which is the fact that you cannot withdraw your winnings with Apple Pay. Withdrawals will require utilizing a different banking solution.
Conclusion
All in all, Apple Pay is a great banking solution. Where available, it offers one of the most secure and streamlined financial management experiences available to individuals who use Apple products.
The security measures it has implemented to keep its customers safe, the speed at which money transfers are conducted, and the sheer effortlessness that accompanies depositing with Apple Pay has allowed this banking solution to earn an impeccable reputation among customers despite how it has not even been a decade since it was announced. Thanks to all of this, Apple Pay has more or less managed to become an inseparable aspect of the lives of punters that are within Apple's ecosystem and it has gained millions of people's trust.
We just wish more jurisdictions would allow for this banking solution to be utilized by bettors.
The current situation prevents far too many individuals from using this method of banking management as it is simply not available to use in casinos or any gambling venues in a number of countries. Seeing as this is all incredibly inconvenient for those affected by the regulations, we hope that things will change for the better in the future.