Video poker is one of the most popular games nowadays due to the fact that besides luck, it also requires skills and knowledge. Therefore, players can master the game to a huge extent if they use a reliable strategy. However, if they want to become consistent winners, they should also take into account the many subtleties this game has. Moreover, nowadays they can find a number of variations which have their own specifications and rules. This is the reason why they should also get familiar with some of the best video poker tips as this way, they will be able to significantly increase their chances of winning.
There are many other important factors that play a crucial role when it comes to winning in video poker. It is essential for players to consider all aspects of the game beforehand in order to make sure they play the most favorable for them variation. Thus, let's have a look at some of the most useful tips that players can apply in order to reduce the house edge and improve their game.
Learn a Reliable Strategy and Stick to It
Since video poker is a game of both luck and skills, its outcome can be influenced to some extent, providing that players use a strategy. Nowadays, there are many efficient methods for all types of gamblers as depending on their experience and betting habits, they can learn a basic, intermediate or advanced strategy. It has never been so easy and accessible to take advantage of a reliable system and such a valuable opportunity is not to be wasted. By using a strategy, players can significantly improve their game and reduce the house edge.
The reason why video poker strategies work so well is that they suggest the best possible move players can make in the most common situations. Thanks to them, they don't have to rely solely on luck when playing video poker. Whether to discard or hold a particular card is no longer a hard decision as the strategy provides this valuable information. Some players tend to split otherwise winning combinations in an attempt to form a better hand.
However, most strategies suggest that if players break up a Full House, the chances that they will lose are very high. In most cases when potential winning pairs are split, the house edge increases and it is much harder to accomplish the set goal. Of course, there are exceptions that prove the rule and this is just another reason why players need a reliable strategy. These and many more examples clearly show that if players want to win in the long term, it is compulsory to use an efficient strategy.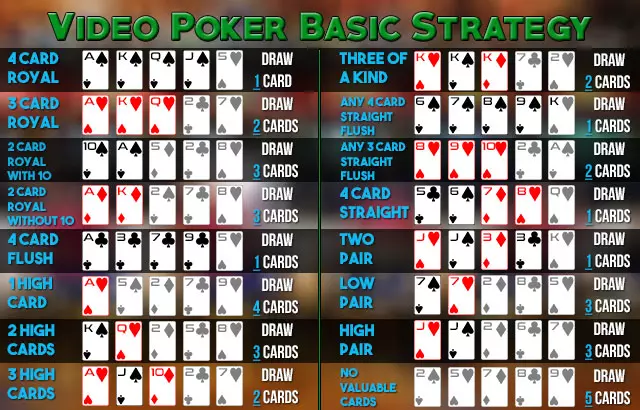 Search for Full Pay Machines
One of the most important things which players should consider before playing on a video poker machine is its payout percentage. The reason why is that it directly influences the amount of money that players will get from playing. Even if they employ an advanced strategy and manage to apply it correctly, if the payout percentage is not favorable the final outcome will be rather disappointing. Players can draw conclusions based on the pay table about the average return of a particular game, before they have even started the game.
In order to find the best video poker machine, players should take their time to consider its pay table. There are two winning combinations which they should take into account – Full House and Flush. If the pay table offers 9 to 1 for a Full House and 6 to 1 for a Flush, the machine is a full pay one or also known as 9/6 machine. If the pay table offers 8 to 1 for a Full House and 5 to 1 for a Flush, players will lose their money much faster as the percentage return is around 97%. The 9/6 machines pay back around 99% of the money, given by the players and therefore, it is always better to play on a full pay machine.
Play with the Maximum Number of Coins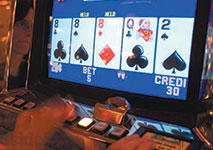 Most video poker experts always advise to play with the maximum amount of coins which in most cases, is five. The reason why is that in case players form a Royal Flush, they will get the full value for it. Even though they won't get a Royal Flush too often, it is best to bet the maximum amount just to be on the safe side so that they can take advantage of this winning combination whenever it occurs.
Moreover, some video poker machines offer a higher payout for a Royal Flush on the condition that players have wagered the maximum number of coins. Apart from getting bigger payouts, when the full amount of coins is used, they are also entitled to play for a progressive jackpot. In case, they don't play with the total amount of coins, they won't be able to participate in the progressive jackpot system.
Have a Money Management System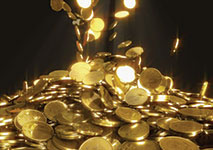 When it comes to video poker, it is essential for players to be able to manage their funds successfully. Prior to playing, they should always set win goals and loss limits that are in accordance with their available bankroll. The win goal and the loss limit should be set before every session and should depend completely on the available funds for the day. Besides these restrictions, players also need to be disciplined enough so that they can successfully follow their plan. Without self-control and stop-loss limits, they risk surpassing their available funds and spend more money than they can afford.
It is also compulsory to take into account the minimum bet requirements a particular video poker machine has. For instance, a bankroll that amounts to $100 is simply not enough to play with and win on a dollar machine. The reason why is that this way, players won't be able to bet the maximum amount of coins and as a result, they will lose in the long term. The bottom line is that even if they get lucky and win, without a money management strategy, they will spend their winnings in no time.
Sometimes it can be very hard to walk away while ahead or after losing a lot of money, but players need to bear in mind that this is the best possible decision in such situations. They should be masters of their own emotions and never allow them to influence their betting decisions and play.
Look for Video Poker Games with Bonuses
Thanks to the huge diversity of the game, it is possible to find a game that offers exclusive bonuses and promotions. It is indeed worth looking for such special games as they can be very exciting and beneficial. However, before playing it is always advisable to have a look at the terms and conditions of the bonus as well as its playthrough requirements. It is also a good idea to quickly check the pay table in order to make sure that it offers the best payout percentage.
Gamble Responsibly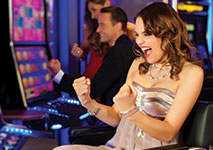 Last but not least, in order to manage to fully enjoy video poker, it is essential to gamble responsibly. This casino game can be a great source of entertainment as long as it doesn't have a negative impact on the players' life in any way. It is both very challenging and exciting and it gives them fairly good chances of winning and as its house edge is moderately low. However, in order to make the most of it and get a high level of entertainment, they should spend their money rationally and adhere to their win goals and loss limits. With a reliable strategy and money management skills, it is possible to make a profit in the long term. However, it is worth mentioning that after all, the casino will always have an edge no matter what as this is the reason why they offer the game in the first place.
Conclusion
Video poker is one of the most interesting games that is played by a number of players worldwide. It is a game of skills and luck which is the reason why throughout the years, a number of strategies have emerged in order to improve players' chances of winning. Therefore, it is possible to make a profit in the long term, however on the condition that gamblers get familiar with all of its subtleties. If they want to improve their game, they can simply have a look at the above-mentioned tips and see for themselves whether they truly work.