Before the launching of the online casinos in the 1990s, the only way to play video poker was to go to a land-based casino or to a place which had these machines. However, nowadays this is not the case as you can enjoy this game without having to leave your home. What is more, it is even possible to play it at the most convenient time and place for you thanks to the many mobile casinos. Since they have proven to be convenient, secure and easy to use, it is no wonder that they gain popularity so much.
Most mobile platforms are compatible with a number of modern smartphones, including the ones that use an Android operating system. This shouldn't be much of a surprise, taking into account the fact that Android-based devices are among the most widespread smartphones that are used by hundreds of people from all over the world. Regardless of whether you have HTC, LG, Samsung, Nexus, Sony Xperia or any other Android phone, you will be able to enjoy a number of video poker variations and experience the game on the move.
Playing Video Poker on Android Devices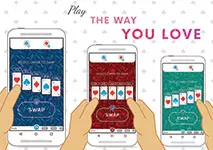 Playing video poker on any of the above-mentioned mobile devices is easily achievable as most mobile casinos support this operating system. In most cases all that you need to do is to simply open the casino's website on your smartphone and log into your profile. As you might already know, Google Play Store is the virtual market from which Android users can download different types of apps. Thanks to it, you can install various apps on your phone and access websites much faster and easier.
Unfortunately, up to the present when it comes to apps which feature real-money gambling, you won't be able to find any on Google Play Store. They are considered unsuitable for Android users and as a result, forbidden. You can still download video poker apps and enjoy the game but you won't be able to bet and win real money. However, you shouldn't be misled by this fact and think that since no such apps are offered, you cannot gamble by using your smartphone.
As long as the country you reside in allows online gambling, you can access a number of casino websites trouble-free and enjoy video poker whenever and wherever you are. As previously indicated, most online casinos have developed a mobile platform which is compatible with various modern devices, including all types of smartphones and tablets. Moreover, most fully-licensed casinos offer an instant play mode which enables you to play directly from their website, without the need to download any software.
Benefits of Playing Video Poker on Android Devices
Being able to play video poker on your Android-based smartphone surely gives you a number of benefits. Perhaps one of the biggest advantages is that you can entertain yourself from any place by playing video poker. Thanks to the mobile casinos, you can not only choose how to enjoy video poker but also when and where to do so. Also, most of the mobile games have outstanding graphics and quality which undoubtedly contribute to the ultimate gaming experience you are able to gain from playing them.
The fact that you can play video poker by using a touch screen gives you great flexibility and it enables you to make moves faster and easier.
Popular Mobile Casinos for Android Devices
In order to be able to make the most of every video poker game, you need to play in a reputable mobile casino which offers a wide range of high-quality video poker variations. Selecting a game that suits your personal preferences best is just as important as choosing the right mobile casino. Both aspects play a crucial role for your online gaming experience and thus, it is essential to consider them in advance. In order to help you with the latter, we will take a look at some of the most popular mobile casinos which are compatible with Android mobile devices.
Conclusion
Nowadays almost every online casino has a mobile version which is fully compatible with a number of modern devices, including Android smartphones. You can use your Android phone to play video poker at any time and place and this way make better use of your time. It is no longer necessary to go home or all the way to a land-based casino in order to enjoy the game. Mobile casinos undoubtedly offer many advantages which contribute to the overall pleasant experience you can get from playing video poker in them.