There are many online payment services that one may utilize to make transactions online, with many more being released to the general public every single day. With so much choice available to you, it may be difficult to single out the good from the mediocre and even harder to actually decide which service to use.
For every excellent payment solution such as Skrill, Neteller, or InstaDebit, there are, at least, ten out there that cannot match the quality provided by these services. For your convenience, we have compiled a list of the better ones on this website and, in this article, in particular, we would like to bring iDebit to your attention.
iDebit is a major online payment service in Canada and thousands of consumers use it daily to make transactions on the Internet, which also includes deposits to online casinos. In fact, there are many gambling websites out there that support this payment method and encourage their player base to make use of it. Users are known to have a positive experience with iDebit which is why we are presenting it to you now. Below, we will go over all important information about iDebit and explain what you need to get started.
Summary
Country used in
Canada
Website
www.idebitpayments.com
Accepted by
35 Online Casinos
Casino Games with iDebit
Slots, Roulette, Blackjack, Video Poker
Available for deposit
Yes
Available for withdrawal
Yes
Create account / Sign up for account
FREE
Make a payment from online banking
1.50 CAD/USD
Make a payment from your iDebit balance
FREE
Transfer funds from iDebit balance to bank account
2.00 CAD/USD
Transfer funds from Merchant to iDebit balance
FREE
Online Chat
Yes
Email
support@idebitpayments.com
Telephone
+1 855.443.3248 (Canada)
How iDebit Works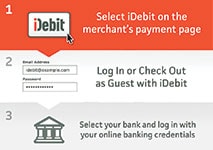 This online payment service is intuitive and easy to use, allowing customers to have instant access to their money, without the need for a comprehensive and convoluted setup process. iDebit is quite simple to understand and even easier to utilize. Basically, the service connects your bank account to that of the party that is supposed to receive your payment.
By serving as a middleman, iDebit allows you to make transactions with almost full anonymity and it does not require you to submit any of your personal or banking information to the online casino. As far as the casino is concerned, they have received your money and do not need further data. This makes iDebit especially useful for privacy-conscious individuals as it protects their sensitive information.
Making a payment with iDebit takes only a minute to complete and after you have confirmed the transaction, it will take no more than a few seconds for the cash to appear in your casino balance. As far as transaction speed is concerned, iDebit can stand toe to toe with the best of them.
Of course, to use iDebit there are several prerequisites on your part. For starters, your bank has to support an online banking feature as this is how the payment will actually be processed. Second, your bank has to be on the list of supported institutions with which iDebit does business. Without this, it would be impossible to utilize the service. Canadian users will be glad to know that iDebit works with many of the high-profile banking institutions in the country, more specifically:
Bank of Montreal
Canadian Imperial Bank of Commerce
Desjardins
National Bank
Royal Bank of Canada
Scotiabank
Simplii Financial (formerly PCF)
TD Canada Trust
If you see your bank on this list, then you can use iDebit without issue whenever you wish. Additionally, iDebit has an international presence and works with banks all over the world. More specifically, users from Australia, Austria, Belgium, Estonia, Finland, France, Germany, Great Britain, Hong Kong, Hungary, Italy, Japan, Latvia, Lithuania, the Netherlands, New Zealand, Poland, Portugal, Slovakia, South Africa, Spain and Sweden will be able to access this service. While it would be impractical to every single banking institution in those respective countries, there is a full list on the iDebit website, detailing each bank that the company works with.
The final requirement for you to use iDebit is to be over 18 years of age. This one is mostly self-explanatory since in most countries this is the minimum gambling age and also the age when people can enter into legal agreements.
Opening an iDebit Account
In order to use iDebit both for depositing and withdrawal purposes at online casinos, the players would need to set up an iDebit account. Having said that, processing a deposit via this method is also possible without registration since the iDebit platform supports a demo option that allows you to make deposits pre-registration. This is great for players who are interested in using the iDebit platform, but insist on testing the payment service beforehand to see how it works.
The procedure is almost the same as processing a normal deposit but instead of logging in as a returning customer, the player is supposed to select the "Check Out as a Guest" option during the final stage of the payment. The money transfer is then approved by the player and their casino account is credited with the specified amount.
However, if you insist on being able to cash out from your online casino via iDebit, you must necessarily create an iDebit account. Registering is quite simple and will require nothing you cannot handle. The whole process will take no more than a minute. One of the advantages that result from signing up with an iDebit account is that players will enjoy quicker checkouts.
When registering, make certain you fill your information in the form accurately because iDebit has a right to terminate accounts in cases of identity inconsistency. The information required in the registration form includes your name, valid email address, postal code, permanent address of residence, date of birth, and the last four digits of your Social Insurance Number. The payment platform will verify your identity on the basis of the provided information. The email you have entered upon registering will also be used by the system as a means to confirm your payments.
Depositing to Online Casinos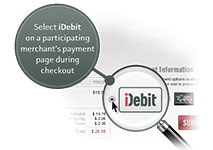 Once you have opened an iDebit profile and connected it with your bank account, you will be ready to make a deposit to your online casino of choice. This is just as simple as creating the account and will require no more than a minute of your time. Simply head over to the 'Cashier' page and select iDebit from the other online banking options. A window will open up, prompting you to enter your iDebit login information, after which you will select your bank and again put in any relevant data. After this, all you have to do is confirm the transaction and your money will be available within a few seconds.
In most cases, making deposits to online casinos is free of charge, however, you may every now and then come across a gambling website that charges commission. While this cannot be avoided, there are many casinos out there that do not have this and you can always switch from one website to another.
Withdrawing from Online Casinos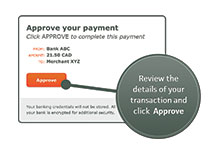 When you are done playing and ready to collect your winnings, you can also receive them via iDebit. The procedure is very similar to depositing, requiring you to go to the 'Cashier' page and select your prefered means of withdrawal, i.e. iDebit. After entering all relevant information, you will simply have to confirm the transaction and wait for your cash to arrive in your iDebit balance.
Keep in mind, however, that while deposits are instantaneous, withdrawals can take up to 5 business days to clear. This is somewhat longer with iDebit than with other payment services and could be highly inconvenient. Additionally, you will have to wait another set of business days if you wish to withdraw that cash to your bank account from your iDebit balance.
Costs and Fees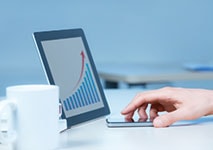 When using iDebit to make transactions online, you will notice that there are several fees that you must pay from time to time. The fee structure of iDebit is relatively simple and the service is relatively inexpensive. Creating an iDebit account is completely free and will not cost you a thing. Each time you make a payment via online banking, however, the company will charge you CAD/USD1.50 or EUR/GBP/AUD1.00, depending on your local currency. If instead, you make a payment from your iDebit balance, the company will not charge you for the transaction.
In the event that you want to withdraw your funds from your iDebit balance back to your bank account, a service fee of CAD/USD/EUR/GBP/AUD2.00 will be applied. When funds are transferred to your iDebit balance, for example, when you withdraw winnings from your casino balance, the company will no charge you for the transaction.
As you can see, iDebit is mostly inexpensive and is widely accessible, allowing users from many different countries to make transactions easily. In the event that you have to make a payment in a different currency, iDebit will exchange the money according to the daily exchange rate and may charge a premium to cover the cost.
Something else that you have to take into account is that only personal bank accounts may be used with iDebit and you cannot connect business accounts.
Security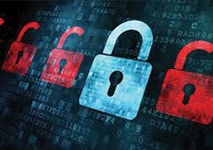 Security is of incredible importance for an online payment service and in an age where hacks and data leaks are par the course, this cannot be said enough. Obviously, you would want a payment method that is as secure as possible. Luckily, iDebit has taken impressive security measures so that their users' funds and data remain safe and away from the hands of any ill-intentioned individuals.
The way iDebit has kept user information safe all these years is through the implementation of SSL (Secure Socket Layer) protocols. What this technology does is it encrypts any piece of information that goes through iDebit's system, making it unreadable to anyone without the proper authorization. Essentially, only iDebit employees and users themselves will be able to access any information on the system.
In the event of a data breach, the encryption will prevent the users from reading the data and without the keys to cypher, there is practically no chance of breaking the encryption. Modern day security systems use 128- or 256-bit encryption, both of which require many decades on average to break using brute force with modern technology.
Additionally, iDebit is verified by McAfee Secure, one of the largest and most respected names in the cybersecurity space. With this in mind, we can safely conclude that iDebit is a highly secure payment service and you can safely submit your personal and banking data, without having to worry about it.
Customer Support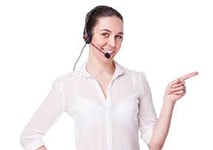 Of course, customer support is important for any online service and users need to know that their problems will be solved in a timely and professional manner. In the case of iDebit, there is a customer service team standing by 24/7 to assist with any and all issues. There are several different methods that you can use to establish contact and each will serve you differently. One way to contact the support team is via email and you can forward all of your complaints and issues to support@idebitpayments.com. The team is made up of professionals and you will likely receive a response within a few hours of sending the email.
Additionally, there is also the option to utilize the live chat system, which will allow you to communicate with a company representative in real time. This is the most convenient communication method and you can start the chat with a single click.
Finally, you can also contact the support team via telephone if that is how you prefer to do things. The company has supplied two dedicated lines that you may dial – one specifically for Canadian users and one for customers outside North America.
Advantages of iDebit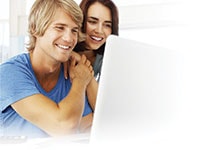 There are many advantages to using iDebit over other forms of payment solutions. The service is quick and convenient allowing you to immediately transfer your funds without hassle. This makes iDebit very simple to use and there is practically no learning curve to it. With iDebit, you can simply log in, select your bank and make the payment. Whereas other services, would require you to submit personal and banking information (i.e. government-issued identification, credit card details and so on), iDebit does not require that of its users. It is a simple as pressing a few buttons and you are ready to play your favorite games.
Additionally, iDebit is also one of the most secure payment services that you can find on the Internet. The company employs high-grade security systems to keep all of your information safe and away from the hands of potential wrongdoers. Moreover, there is also the security of your bank to account for. With banks being the most secure institutions to safeguard your money, there is little if any chance that your data will be stolen. In fact, chances are that you will be struck by lightning before your data falls into the wrong hands. With this in mind, the reasons not use iDebit become very few.
iDebit is one of the services that allow you to have instant access to your funds. Whether it be when topping up your casino balance or you are loading up your iDebit account, you will be able to immediately use that cash. This something often overlooked with online payment services, but its importance is paramount.
Whereas a normal bank transfer would clear within a business week or longer, iDebit payments go through at the click of a button. This means that you will be able to start playing your favorite games that very second, without having to check for days on end if your transaction has cleared. This level of convenience is something that users have grown accustomed to, even if they do not realize it. Therefore, we are happy to see that iDebit is not lacking in this respect.
Moreover, opening an iDebit account does not require the input of a credit or debit card. In fact, at no point in using iDebit, will you have to enter your card information. This service works directly with your bank, bypassing the need to use bank cards. For users, this means that they will not have to deal with card numbers, expiration dates and so forth.
Additionally, iDebit is a service that only allows you to spend money that you already possess. It does not extend credit or give loans, unlike a credit card. This means that users will not have to worry about going over any limits and problem gamblers may rely on that iDebit will not allow them to wager any money that they will not be able to repay later.
Privacy on the Internet is somewhat of an oxymoron, though it is achievable to some extent. Keeping your personal and banking information away from third parties is something sought after by many users. Luckily, this is exactly what iDebit is able to offer. Much like we have discussed above, the iDebit service acts as a man-in-the-middle agent between you and the online casino.
The casino only exchanges money with iDebit and neither your name or bank account number will appear anywhere on the transaction documentation, effectively keeping you anonymous. This is not possible with other means of payment such as a standard bank transfer or a cheque, where you name has to be clearly visible on the form. With iDebit, you can enjoy your privacy in peace.
Disadvantages of iDebit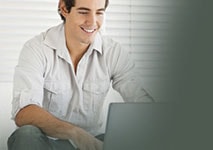 Naturally, nothing in this world is perfect and iDebit is not without its downsides. These are not groundbreaking by any measure, but they are slightly annoying when you take them into consideration. For example, iDebit has to be connected directly with your bank account, which may not always be possible.
If you happen to be a customer of a bank that does not have online banking or is not in partnership with iDebit, then you are straight up barred from using the service. This is where credit or debit cards would come in handy, but they cannot be used with iDebit, and you will have to resort to another payment service. Additionally, iDebit works with a limited number of banks and while it does support most major Canadian banks, international users might find themselves limited to only a few institutions that are supported by the service.
Something else that also has to be taken into consideration is that iDebit is not as popular as Skrill, Neteller, Paysafecard or other similar payment solutions. As a direct result, it is not as supported as these services and not every online casino will accept deposits via iDebit, let alone process withdrawals. This will also limit your choice of gambling websites if you decide to use iDebit as your main payment method.
Finally, we come to the biggest detriment in using iDebit and that are the slow withdrawals. In its essence, iDebit is an online banking service and so it happens to have the same advantages and disadvantages as payment solutions of the same caliber. Where withdrawals are concerned, you will find that iDebit is quite slow in processing payments made out to your balance and it will on average take up to 5 business days for the money to appear in your balance. This takes much longer than other services like eWallets, which take no more than 24 hours to clear a transaction.
When you also factor in the fact that the online casino staff will have to approve the payment by hand, a process that could take up to 48 hours depending on the website, and you may be looking at a 7 business day wait time in total before you are able to receive your winnings. Additionally, you will also have to wait several business days if you wish to withdraw the funds back to your bank account and pay a small fee for the transaction.
Conclusion
As you may have already seen, iDebit is the perfect payment service for many gamblers. It offers quick and secure transactions, allowing you to enjoy your online gambling activities without having to worry about the safety of your data or finances.
There are many online casinos available to Canadian players that accept iDebit as a legitimate form of making a payment and most will likely offer it when you wish to cash in your winnings. With this in mind, we can only recommend that you try it out yourself and draw your own conclusions, but we feel that you will be highly satisfied with the service.