PayPal is a widely used online payment system that offers its customers around the world safe and convenient transactions in multiple currencies. It allows for sending and receiving funds even to users with no credit card or bank account and it is the most recognized e-payment processing services provider in the world.
Founded in 1998, PayPal is often associated with electronic commerce, especially since it was acquired by eBay in 2002. However, its electronic financial services are also widely used for transferring funds between individuals and business entities, as well as for online gambling. As most players at web-based casinos today have PayPal accounts, an increasing number or gambling operators are offering it on their sites.
Summary
Country used in
over 200 countries and regions worldwide
Website
www.paypal.com
Accepted by
178 Online Casinos
Casino Games with PayPal
Slots, Roulette, Blackjack, Live Casino Table Games, Video Poker
Available for deposit
Yes
Available for withdrawal
Yes
Create account / Sign up for account
FREE
Connecting your bank account/card to PayPal
FREE
Make a payment from your PayPal balance
Mostly free but your bank may impose some fees.
Transfer funds from PayPal balance to bank account
2.9% plus $0.30, in addition to any currency conversion fees
Transfer funds from Merchant to PayPal balance
FREE
Online Chat
No
Email
paypal@mail.paypal.com
Telephone
888-221-1161
Still, due to the strict policies of the company regarding online gambling, online casinos without proper licenses do not have PayPal as a payment option. US-based players may also face difficulties with this system, as most US states do not regulate online gambling.
Known for its simplicity, high levels of security and instant transactions, however, PayPal is among the most popular deposit and withdrawal methods for online gamblers worldwide.
How PayPal Works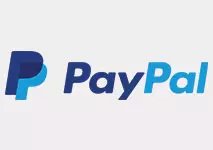 One of the most preferred financial services of PayPal is its digital wallet, which is accepted by almost all Internet merchants and a vast number of online casinos. It works by allowing its customers to send and receive money even without a bank account or a credit card. Users can have a PayPal account as long as they provide an email or a valid telephone number.
Opening a PayPal account is free of charge and there are low or no transaction fees, as opposed to other banking and financial options. After registering, players can connect their PayPal e-wallet to their bank account or to their credit/debit card. This way they can load the desired amount into their PayPal balance to use for online gambling purposes. Transfer processing is instantaneous, so gamblers are able to top up their online casino balances within seconds and play for real money immediately after confirming their deposit.
Registering a PayPal Account
Signing up for a PayPal account is simple and free of charge on the service's official website. Players can easily open a personal account by providing their email address and the country they are based in. Then, they need to enter their chosen password and confirm the registration. The website also requires basic personal information before creating the account – full name, address, date of birth, and a telephone number.
When you initiate the registration process, PayPal would prompt you to choose between opening a business account or a personal account. The business account is geared towards the needs of bigger corporations and online merchants, who run their operations under a group or a company's name. A business account also renders one eligible for a plastic debit Mastercard but we elaborate on that in the next section. Premium business accounts are an option for small-scale merchants.
Recreational casino players are recommended to set up personal PayPal accounts if they intend to use said accounts solely for sending and receiving money to and from their preferred gambling websites.
The player should also make sure they verify their PayPal account as this would lift the restrictions imposed on their monthly withdrawals and would ensure they are the rightful owner of the PayPal account. To verify their accounts, players need to receive a confirmation email from PayPal and follow the link in it. 
Once you have confirmed the email you have registered with is indeed yours, you need to add a payment method like a credit/debit card if you wish to be able to make payments or receive funds to and from your online casino balance. PayPal will redirect you to another page where you need to enter your card type, its date of expiry, its CVS number (the last three digits from the card's number), and your address. There is also the option to add another billing address from the drop-down menu. Players who intend to connect their new PayPal accounts to their bank accounts will have to input their International Bank Account Number or IBAN.
Linking with the user's preferred payment processor is simple and easy, but a small, refundable fee will apply for generating a 4-digit security code. This code will appear in the user's bank statement and will need to be entered in a special field on the PayPal website, which says "Confirm my debit or credit card". Once this process is complete, the fee for generating the code will be refunded. If a player experiences a change of heart and decides not to link their card by entering the said code, they will be refunded within 75 days.
The PayPal Business Debit MasterCard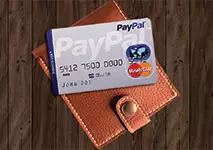 When signing up at the PayPal website, players can create either a Personal, or a Business account. Business accounts offer more benefits when selling products and are designed for companies, but they can be used by individuals, as well.
PayPal Business account holders have the opportunity to receive a plastic debit card for free, which provides direct access to their PayPal balance. The PayPal Business Debit Mastercard can be used to withdraw cash from any ATM that supports Mastercard, Maestro or Cirrus, or to make purchases in thousands of stores which accept Debit MasterCard. Using this card for purchases earns you 1% cashback rewards.
The PayPal Debit MasterCard is available only to US-based account holders, but it can be used around the world. Standard transaction fees for cash withdrawal and shopping will apply, with charges ranging from 2.2% to 3.9%.
Funding the PayPal e-wallet can be done also via bank transfers or local bank payments. Users can have several payment options linked to their PayPal account.
Depositing at Online Casinos via PayPal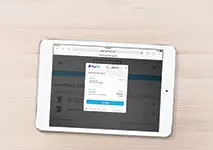 Making deposits at online casinos via PayPal is quick and easy, so it would not be difficult for gamblers to use this method. You need to be logged into your online casino account and then visit the Cashier/Banking page. Choose PayPal from the list of options and the amount of funds you want to deposit. A pop-up window will appear where you will need to log into your PayPal account with your email address and password and confirm the transaction. Upon confirmation, the money will be transferred from your PayPal balance to your online casino balance.
Typically, deposits made via PayPal are processed in a matter of minutes, so you will be able to place wagers and play for real money almost instantaneously. Most web-based gambling merchants offer 10% to 15% reload bonuses on each deposit made via PayPal.
Providing further convenience to its users, PayPal also supports 30 different currencies, including popular ones such as USD, GBP, AUD, CAD, and EUR. Other currencies supported by PayPal include DKK, HKD, HUF, ILS, JPY, PLN, MXN, NZD, NOK, SEK, CHF, TWD, CZK, and SGD. This diversity of currencies renders PayPal a great solution for international players since many of the currencies we have listed above are accepted on the websites of major gambling providers, which helps minimize gambling expenses since the players' payments will not be subjected to currency conversions.
Withdrawing Winnings with PayPal
Withdrawing funds from your online casino balance works equally easy. After choosing PayPal as a withdrawal method, you will log into your account in a pop-up window and specify the sum you wish to transfer from the casino to your PayPal account. You confirm the withdrawal and the only thing left for you to do is wait for your chosen casino to verify and approve your transfer.
The withdrawal will be processed within 1 to 3 business days, depending on the casino's individual policy. However, this is faster than most withdrawal methods – bank transfers can take more than a week to complete, for instance, therefore it is widely preferred by gamblers. In comparison, many online gambling operators transfer the withdrawals via PayPal almost immediately after your payment has been approved and the money has been released from your casino balance.
Note that many online casinos would automatically return your withdrawal to the same method you have implemented when depositing so in such cases, you will not even be required to select PayPal from the list of banking options. The payment will be automatically initiated with this e-wallet if you have used it to deposit.
The PayPal Mobile App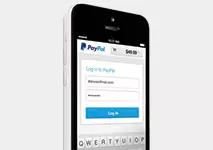 PayPal has simplified topping up and withdrawing funds from online casino accounts by introducing its free mobile application, available to both iPhone and Android users. The app allows you to conveniently transfer money to and from your account even if you do not have access to a computer.
The PayPal app also sends players instant notifications when they receive money from their casino winnings. Moreover, it displays all changes to the PayPal balance, which helps you monitor and control your spending.
The payment services company's Android application can be obtained at no cost from the Google Play Store. It is intended for online shoppers and casino players who own devices running on Android 4.4 or above, which generally coincides with the minimal technical requirements needed to run online casino games on your smartphone.
The app is a bit bulky at 47 MB but if you lack the needed storage space, you can have this issue resolved by accessing your PayPal account in your browser. The payment platform works in Microsoft Edge, Mozilla Firefox, Safari, and Chrome.
Players who place their wagers via iOS-based portable devices have the option to install the PayPal iOS app, which is to be found in the App Store. It has the same functionalities as the Android app, enabling you to track your gambling funds with a tap or two on your touchscreen, check your available balance, and of course, send and receive money to and from your online casinos of choice. The app caters to international casino players, with availability in over 20 languages, including French, Dutch, Danish, Finnish, Chinese, Italian, Swedish, Spanish, and Polish, to mention a few. Installing the app would require you to own a device based on iOS 9.3 or above.
Fees and Limits
Processing domestic payments between individuals via PayPal is free, as is loading your account with funds or paying a merchant. Like other vendors, most web-based gambling operators do not charge fees for deposits and withdrawals using PayPal.
However, PayPal may charge you a small fee for transferring funds from the e-wallet to your bank account or credit card. Typically, it is 2.9% plus $0.30, in addition to any currency conversion fees if you opted for a different currency.
PayPal charges fees on cross-border transfers, which is to say if you reside in a country different than the one your online casino is based in, you may end up paying extra. How much depends on the sender's country of residence as well as on the recipient's location. The PayPal User Agreement features a very comprehensive, albeit a bit confusing table showing you the exact amounts you will have to pay in transfer fees.
Currency conversion fees are also at hand but vary between 3% and 4%. There are flat fees for players. How much you are charged exactly is largely determined by the currency your transaction is converted to.
The minimum single deposit limit is $50, while the maximum stays at $5000. There is also a monthly maximum deposit limit of $10,000. When withdrawing via PayPal, you need to verify your account in order to withdraw more than more than $500 per month.
Security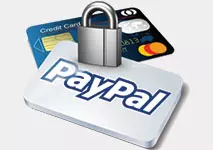 PayPal is considered one of the safest online payment methods and certainly, one of the most secure ways to deposit and withdraw funds from online casino balances. While this system is exceptionally easy to use, it protects players by not displaying their personal or financial information on gambling websites. It allows anonymity, while keeping all data safe and secure through an SSL encryption.
All transactions are strictly monitored at all times by PayPal and upon encountering any activities that seem suspicious, they may temporarily limit your access to your e-wallet account until it is established it is safe to lift the limitation. While this is done to protect your funds and personal information, it is also something many casino players would consider a great nuisance, especially if they are waiting for a tasty withdrawal.
PayPal is also known worldwide for its customer protection policies where users may be reimbursed for their purchases when the purchased product is damaged or have not arrived at all. The company has established a practice of helping such customers get a refund but this does not extend to online gambling activities. Section 13.4 of the company's User Agreement shows you the conditions you need to meet to become eligible for a refund and clearly states that gambling or any other gaming activities where a prize is won on the basis of chance do not qualify for reimbursements.
PayPal also complies with the European banking license terms which require the highest levels of security. In addition, all users can monitor their PayPal activity, as the service keeps a full history of all transactions.
Advantages
With more than 200 million users worldwide, PayPal is one of the most recognized and respectable Internet payment systems. It offers online casino players great convenience and protection, as well as instant deposits and fast withdrawals.
Its simple interface and its mobile app make PayPal one of the leading payment methods, which enjoys an increasing popularity among gamblers. Another undeniable benefit has to do the reload bonuses for PayPal deposits many casinos give.
But there is more to PayPal than sheer convenience. One of the biggest pluses of the method results from the fact many gambling operators would support it for both deposits and withdrawals, so if you plan to fund your recreational gambling activities via PayPal, you will not experience any problems finding a casino to play at.
Then again, there is the added benefit of being able to deposit and withdraw anonymously since the payments are practically processed via the PayPal platform and the gambling operators have no access to your personal bank account or card number.
Another benefit results from the withdrawal speed you will enjoy when using PayPal. Of course, the exact timeframes depend on the casino but in many cases, players receive their money shortly after their withdrawal request has been given the green light. This is not the case with some other payment methods, especially bank transfers.
Disadvantages
Despite the many advantages of PayPal as a deposit and withdrawal method at online casinos, there are still serious issues that need to be taken into account. Namely, PayPal is not available to many US-based gamblers, just as many online casinos, due to the harsh gambling legislation in the country.
Additionally, when you first register a PayPal account, you will be subject to certain limitations on your withdrawals. These will be restricted to $500 per month until you undertake the necessary steps to verify the bank account or card your PayPal account is attached to. That being said, having to undergo registration and account verification may not be to the liking of some casino players, especially those who are accustomed to using third-party e-banking processors where signing up is generally not a requirement.
Fees may be another problem for some players who initiate cross-border payments via their PayPal accounts, which is a minor disadvantage of the method since the said charges are not as excessive.
PayPal itself does not accept all gambling-related transactions because of its policy towards gambling in general, so before choosing it as a payment method, one should closely review its policies and conditions.
Conclusion
Despite its few limitations, PayPal remains one of the most preferred methods for loading and withdrawing funds from online casinos. It is safe, fast and easy-to-use, so its popularity is expected to only rise in the future.
Web-based gambling operators offer attractive bonuses to players who choose it as a deposit method, which makes PayPal a more cost-effective option. And as it is accepted by thousands of merchants on the Internet, gamblers' casino winnings can be easily used for shopping, paying for various services or buying gifts.