Providing customers with high levels of protection and more importantly, with convenience, credit and debit cards are one of the most preferred payment methods today. They offer almost instant transactions, especially when there is no physical card, and they are used for online payments.
While the two cards may seem identical, they use an entirely different transaction principles. With debit cards, the card holders can withdraw funds they already have in their bank account. In contrast, credit cards allow for the withdrawal of money from the line of credit, issued by the bank. In other words, customers make a payment with funds they borrow from the card provider, usually a bank, or other financial institution.
Given the convenience they offer, both credit and debit cards are often used by players for making deposits at gambling websites. Unlike many other deposit methods, credit and debit cards are rarely charged high, if any, fees by online casinos for depositing and withdrawing money.
Summary
Countries used in
Worldwide
Website
N/A
Accepted by
more than 1,000 Online Casinos
Casino games with credit/debit cards
Roulette, Blackjack, Video Poker, Slots, Live Casino
Available for deposit
Yes
Available for withdrawal
Yes
Create account / Sign up for account
FREE
Make a payment from online banking
FREE
Make a payment via a Credit/Debit Card
FREE
Transfer funds from your credit/debit card to bank account
Between 1% and 5%.
Transfer funds from Merchant to credit/debit cards
FREE
Online Chat
N/A
Email
N/A
Telephone
N/A
There are several types of credit and debit cards, including the standard cards, issued by virtually any bank and in any country. Most card providers also offer a wide choice of options – pre-paid cards, business or premium cards, which target specific social groups and feature plenty of rewards, as well as no-limit credit cards, which allow paying off the balance at the end of each month. There are also cards that do not require for the gamer to have a savings account. However, their use is extremely limited and usually, they will not be accepted by all online gambling providers.
Whether it would be a no-limit credit card, a debit card, or any other type of card, the choice is usually made on the basis of personal spending habits. Debit or pre-paid cards, for instance, would be appropriate in cases, where you want more control over your spending. Credit cards, on the other hand, allow more flexibility for casino players, whose finances are not readily available in their bank accounts. These players need to be able to pay off their balance and the corresponding interest on a regular basis.
When determining the usefulness of credit and debit cards for transactions in web-based casinos, the particular brands of cards should be considered. As they feature certain conditions and limitations, the differences between them need to be compared in detail.
Accepted Brands of Credit Cards
Credit and debit cards have become the most preferred tool for depositing and withdrawing funds from online casino accounts. Because of their convenience and availability, they are now accepted in every casino. However, they are widely accepted as a deposit method and less so as a withdrawal method. We will go over this in more detail later.
Here, we will go over some of the most widely accepted credit and debit card brands to give you a clearer idea of how functional they are when it comes to online gambling.By far, the most popular card providers are Mastercard and Visa, but an increasing number of brands are being accepted by the leading online gambling providers. To view them in detail, go through the following list.
Visa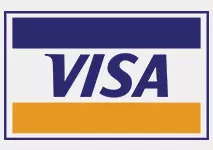 Accepted practically in every country around the world, Visa is very convenient for online casino transactions, as deposits are instant. Visa issues debit and credit cards, and consumers may choose from Business cards where transaction limits are really high, or Visa Pay Now, which is directly linked to your bank account.
Depositing funds in an online casino is quite easy with Visa and it is also quite easy to find casinos that offer this deposit option. Something else players who use this payment method can benefit from is the fact that usually, casinos that offer Visa as a deposit option, also offer it as a withdrawal option.
Withdrawing funds from an online gambling account with Visa takes 3 to 5 business days, but as another layer of protection, you will need to provide an Identity Card at some casinos. Usually, the minimum deposit is 20 USD, while the maximum can reach 2000 USD, depending on your card and casino account.
Note that some banks may not allow transactions with online gambling operators.
Mastercard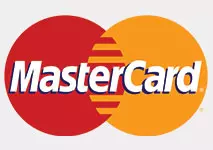 Mastercard is one of the most recognized credit and debit card brands, together with Visa, and it is accepted in all web-based casinos. Just like with Visa, there are no processing fees and deposits are instant, which makes it a preferred method by many players. Moreover, Mastercard is one of the most secure card providers with high-level encryption and Mastercard SecureCode in place.
This is one of the safest and most reliable options. However, there is one important characteristic you need to know about this provider – Mastercard card holders are not allowed to withdraw their winnings from most gambling websites, so they need to use a separate service for withdrawing funds. An alternative way to still use your Visa for playing is by fueling an e-wallet with it.
Mastercard uses ID Theft Protection for all of its American clients. Additionally, if your identity is stolen or you have lost your physical card, Mastercard offers expert resolution services such as providing you with an emergency wallet. The company also offers a service called Zero Liability – this means that it will not hold you responsible for unauthorized transactions.
Maestro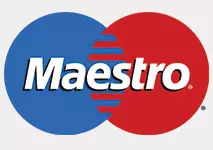 Another safe online casino deposit option is Maestro, a widely preferred debit card, founded by Mastercard. It provides both convenience and high levels of protection, as well as no processing fees for transactions at most online casinos. Along with the Maestro debit card, you can choose a pre-paid card.
As with Mastercard, processing withdrawals to Maestro is not allowed, so popular alternatives include paper checks, bank accounts transfers, or Visa cards. Players usually have a range of banking options to choose from when depositing, but less when withdrawing, so we recommend you carefully go through the list of withdrawal options before choosing Maestro as your deposit method.
American Express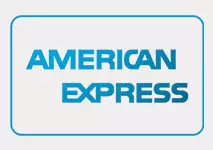 American Express is the world's largest card issuer and it offers a wide range of credit, debit and charge cards to its customers. It targets a more upscale market, however, as card holders are required higher credit scores. It is a relatively convenient tool for funding online casino accounts and for withdrawing winnings, which usually take up to 5 business days.
There is one exception, though – some players, mainly in the US, may experience rejection of their deposits, depending on the website. You should consider preparing a transfer to another card or using another deposit method.
Another thing worth noting is that, as the name would suggest, this card is almost exclusively accepted in the US. It is certainly less commonly accepted than Visa and Mastercard. The same holds true for online casinos.
Diners Club International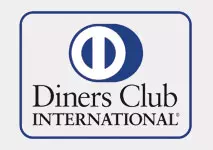 Initially designed for a restaurant payment method, today Diners Club International is one of the most widely accepted credit cards. Players around the world use it to make deposits in web-based casinos, as they can immediately transfer money to their accounts. It can be used even at websites, which do not mention accepting transactions from this brand specifically. You may be able to fund your account, however, as Diners Club International is in fact owned by Discover.
US residents will have difficulties with this brand, too. Diners Club cards are not accepted for gambling-related transactions, because of the strict US banking regulations. As the only exception, players based in Nevada, New Jersey, and Delaware may be allowed to fund their online gambling accounts.
However, there is a possibility for change because of the recent developments in the US regarding gambling and gambling-related activities. This could mean that credit and debit card providers in America will begin to allow such transactions because of the growing online gambling industry.
How to Make a Deposit with Credit/Debit Cards
If you have ever used credit or debit cards for making online purchases before, you will find the basic steps when making a deposit to an online casino are the same. The method is also identical with all credit and debit cards. First, you need to possess a credit/debit card. If not, issuing one will take 1 to 2 weeks with most banks.
In order to make a deposit, you need to make sure you are logged into your gambling site account and register your card. Online casinos often require additional proof of identity. This means that players will need to send a picture of their ID, or of the card itself, or some other form that confirms that they are who they say they are and own the card they claim to own. Rest assured that respectable online casinos will never ask you to provide any sensitive personal information.
After the authentication process has been completed, you will be able to use your card freely. Open the cashier and look at the list of deposit options, which will include most of the leading brands such as Visa, Mastercard, American Express and more. There might also be a "credit card" category without a specific mention of any brands.
Once you have selected your preferred card, take the physical card and fill in all the information in the form. You will be required to provide the card number, your name, the expiration date, and finally, the security code, which is written on the back of your physical card. This is a 3-digit number, which is called either a Card Security Code (CSC) or Card Verification Value (CVV), depending on the card brand. Enter the sum you wish to deposit and wait a few seconds.
If the card is accepted, the sum should appear instantly in your online casino account. For deposits made through credit/debit card, you may be charged a fee by your banking institution. If, however, this does not happen, immediately contact the customer service team of your online casino, or, if you are using a debit card, check your bank account balance.
How to Withdraw Winnings with Credit/Debit Cards
Withdrawing funds from online casino accounts back to credit and debit cards is equally easy. You will be again required to enter your card information, along with your name and security code. Note that withdrawals are not instantaneous and usually take at least 3 business days. Additionally, most casinos have a withdrawal processing/pending period which usually lasts about 24 hours.
As we mentioned, however, you cannot always use your credit/debit card for withdrawals. This may depend on the country of origin or bank of origin of your card. For instance, if a Canadian bank issued your card, you will not be allowed to use it for online casino withdrawals.
Another problem players may encounter when withdrawing with this method is the occasional checks performed by the top credit/debit card companies. If your transaction happens to be examined at random, the checking process may take a while to complete. These checks are performed to prevent fraud and money laundering, so, in a way, they are a good thing.
As for Mastercard specifically, it is not impossible to withdraw funds from an online casino. This is a genuine option for a small number of countries – the UK, Ireland, Switzerland, Austria, Belgium, Cyprus, Czech Republic, Denmark, Estonia, Germany, Gibraltar, Monaco, Hungary, Iceland, Italy, Latvia, Luxembourg, Malta, Netherlands, Norway, San Marino, Slovakia, Greece, Slovenia, Spain, Sweden, Andorra, and Turkey.
Safety And Security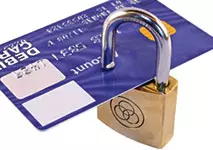 All reputable web-based casinos are SSL secured, so no personal information will be compromised. SSL, or Secure Sockets Layer, is technology which creates an encrypted connection between the web server, in this case, the online casino, and the browser. Therefore, all personal and financial data entered will be kept private and integral.
Moreover, most card holders are protected against fraud in several ways. Some banks offer cash reimbursement, instant blocking of cards, two-step verification, and others. Most credit and debit cards have implemented 3-D Secure protocols. This is an XML-based protocol that adds another layer of security and further protects you from fraudulent activity.
Additionally, you can count on the security systems of the bank that has issued your card, be it credit or debit. Banks have multiple anti-fraud protocols in place and will not authorize a payment that is not consistent with your spending habits. Of course, this does not mean that if you change your spending habits your card will immediately be blocked – in that case, you will most likely only receive a call from an employee of your card issuer.
Fees
Processing fees are typical with all deposit methods, but choosing credit/ debit cards, one can notice really low fees. In some cases, you will not be charged any. However, before making a deposit, players need to dedicate a few minutes to making themselves fully aware of all applicable fees at each particular casino. Any deposit is charged between 1 and 5% of its amount, which is not a significant amount of money. After a few deposits, however, the fee will be more evident.
Before deciding to make a deposit or withdrawal with your credit/debit card, check with your bank to make sure you are aware of all applicable fees. Usually, players end up unpleasantly surprised because they think that only the casino can charge them.
Players also need to make sure that they are playing with the appropriate currency as there is almost always a currency exchange fee. It varies across countries and banks but it is usually just a small percentage of the sum. Once again, you will either need to call your bank to check or you will have to go over your contract where that information should be available as well.
Advantages of Using Credit/Debit Cards
The first and foremost advantage of using credit/ debit cards as a deposit method is their convenience. Transactions are instant – you may register your account with an online gambling operator now and within minutes, you will already have funds to play with. Most credit card brands are accepted by thousands of casino sites, including both established and new gambling sites. And typically, the processing fees are none, or very low.
Another factor that adds to their convenience is that most people already have one or two. All players need to do is pull their cards out of their wallets and type in the information required. This way, they need not bother themselves with new registrations for e-wallets or any other form of online banking they are unfamiliar with.
Unlike bank accounts, conditions for credit/debit cards are more customizable nowadays. Players can pick cards that are more suitable for their needs. For instance, there are cards that offer free online transactions. Additionally, if players are anxious about providing their credit/debit card information directly to the casino, there are multiple e-wallets that can be funded with those cards.
Of course, we have to also consider the advantage presented by credit cards. While it may be a bad idea for less disciplined players to use one, credit cards offer the possibility of depositing funds you do not actually have. Naturally, you have to pay them back but you have the chance of doing so with your winnings.
Credit card statements help you keep track of how much you have spent on online gambling. This is obviously another advantage for many players. In the mean time, if you are using debit cards, you would have to go to an ATM to check. However, this is not such a setback as online banking is now used by most banks worldwide and you can check your financial status and your spending history within seconds.
Another advantage to consider is that some card providers such as Mastercard support multiple-currencies cards. In addition, many gambling websites reward players with reload bonuses on each deposit.
Disadvantages of Using Credit/Debit Cards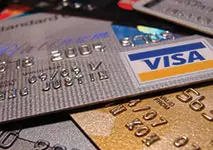 One of the most common issues when using credit and debit cards is your bank's policy regarding gambling-related transactions. Sometimes, transfers to and from online casinos are not permitted by state regulations and your deposits or withdrawals will be rejected.
When making a deposit via a credit card, in particular, you risk overspending. Debit cards, on the other hand, offer more control over your spending – payments via them feel more "real" to most people. In contrast, using credit cards consist of paying "virtual" money, the money you don't have. Debit cards are more suitable for less disciplined players because they will not let them play with borrowed money.
Another disadvantage to consider when using this banking method is that despite all security protocols and encryptions, you are still providing your personal information online. Players who pick this direct payment option need to be careful when picking an online casino, as well as a browser. If you do not have the latest version of your browser of choice, you are missing out on new security patches and that may leave you exposed to cyber attacks.
While depositing with credit and debit cards may be instant, withdrawing certainly is not. As we already mentioned, the withdrawal with this method may take up to 5 days. However, with an e-wallet, you can instantly withdraw funds. Especially given that not all credit/debit cards are widely accepted as withdrawal methods at online casinos, this is a pretty great drawback.
Conclusion
Credit and debit cards by varied providers are widely accepted in online gambling. This is a very easy and fast deposit method because transactions are processed in mere seconds. In addition, deposits via cards are often rewarded with reload bonuses by gambling sites, which is an obvious advantage for many players.
Overall, credit and debit cards are extremely convenient to use for an abundance of reasons, the top being their availability, both to people and as a banking method in online casinos, and their speed. Debit cards allow you direct access to the funds in your bank account, while credit cards allow you to spend as much as you want, whenever you want.
In recent years credit and debit cards have become a popular tool for funding casino accounts, but in some countries, they may not be practical. Online gambling is illegal in some parts of the world, so a detailed review of the regulations in question is advised.
Using this banking option gives you the chance to choose from almost every online casino in the world. This is a great advantage over all other payment methods. It also means that players who decide to use this option will be able to enjoy a greater variety of casinos and subsequently games.