If you are looking for a thrilling betting experience online, you should definitely try playing at a Live Casino where you can enjoy a gambling adventure which is just as exciting as the one in brick-and-mortar casinos. Gaming enthusiasts can enjoy different card and table games in the majority of live-dealer online casinos. Blackjack is one of the most popular casino games that virtual gamblers are able to find at numerous Live Casinos.
Blackjack has been one of the favourite classics at numerous land-based casinos and although there are plenty of virtual variants, some players still want to experience the interactions with a real dealer. This is why playing blackjack at a Live Casino can provide the most authentic gambling adventure for people who do not have the opportunity to visit a land-based casino. Some of the leading software providers in the iGaming scene have made sure that online gamblers can enjoy the same experience that people at top land-based casinos do.
Since the technology used in Live Casino Studios has improved significantly during the last years, players can enjoy blackjack streams with an incredible quality and additional features which make the game more thrilling and rewarding.
Differences Between Live Blackjack and RNG Blackjack
For the true fans of the game of 21, there are actually numerous online variants which can entertain them and still earn them a large sum of money. Nowadays, web-based casinos can offer players both RNG blackjack versions as well as live-dealer gaming options. Both variations of online blackjack have their pros and cons. If you are well aware of the good and the bad sides of RNG blackjack and live-dealer blackjack, you will be able to choose the variant which suits your taste the best.
RNG Blackjack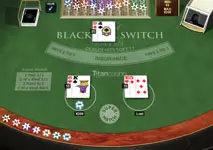 Before you get familiar with the positive and negative sides of RNG blackjack, you should understand what exactly RNG stands for. Games which utilize Random Number Generator software program (RNG), actually use a system of random numbering which determines the outcome of the game. It does not keep track of previous rounds and it cannot be used to hand out the cards in someone's favour. If you want to make sure that you are playing the best online blackjack game, you should trust a virtual casino which has its RNG tested regularly by third-party auditors such as eCOGRA and TST.
Players who enjoy RNG versions of blackjack will be able to find various options that have different bet limits. Virtual gamblers will have the opportunity to set their own pace and even choose a blackjack game with a very low house edge. Being able to choose from numerous options, players are given the freedom to pick their favourite game and enjoy a fun and rewarding betting experience.
Although there are many people who prefer to play RNG blackjack variants, there are also plenty of gamblers who do not like the lack of personal interactions with a real dealer. For those who are used to the thrilling game played at brick-and-mortar casinos, RNG games are just not that exciting. What concerns players, even more, is whether the outcome of playing RNG blackjack will be arbitrary and fair.
Live-Dealer Blackjack
The best part about playing blackjack at a Live Casino is that it is very close to the experience you would enjoy in a land-based casino. This version is played with a real dealer who deals the cards in real time. This means that every action is played live and no RNG is used to determine the outcome of the game. Compared to the RNG version, live-dealer blackjack games are more realistic. The dealer is the person who will control the game which is broadcasted live from a Live Casino Studio or a brick-and-mortar casino. Thanks to the chat features, players can chat with the dealer and even communicate with the rest of the players at the table.
Although the live-dealer versions of blackjack have plenty of fans, there are still some less attractive sides of playing at a Live Casino. Unlike RNG games, here you will have a set time. This is because there are other real players on the table and they cannot wait for too long until you make a decision. In many cases, live-dealer blackjack variants have higher table limits and there is not a big diversity when it comes to choosing the game you want to play. This can be a little restricting for players who enjoy different variations of blackjack. In addition to these lacking points, sometimes live-dealer games can run less smoothly than their RNG alternatives.
Most Popular Live Blackjack Games
For those who choose to spend their time playing blackjack in a Live Casino, there are several options which are quite impressive thanks to their amazing quality, authentic experience as well as beneficial features. Some of the best and most popular Live Blackjack games are provided by leading software companies such as Evolution Gaming, NetEnt, Microgaming and Playtech.
7-Seat Blackjack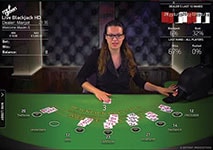 Fans of the Swedish software developer NetEnt will be able to enjoy one of their amazing live-dealer blackjack games. The version which online gamblers will be able to play is called 7-Seat Blackjack and it is a classic version of the game of 21. The rules of this blackjack variant are pretty simple and players should not have any issues grasping the basics. As the name of the game suggests, there are seven seats available at the table. This version of live-dealer blackjack is played with six regular decks and players who did not manage to sit on the table, must wait until one of the seven seats becomes vacant. Since the number of players at the table is limited, you should avoid skipping a bet as this will eventually cost you your seat.
The game utilizes the so-called European rules and if players are not well aware of them, they can check the specifics about 7-Seat Blackjack by clicking on the 'Information' button which is placed on the gaming screen. This blackjack variant offers Insurance and Even Money features which can change the outcome of the gameplay. Although you might have to wait for an available seat at the table, you are guaranteed to enjoy a wonderful, authentic and fun version of blackjack. NetEnt is well-known for the quality of its games, including the live-dealer ones. This is why 7-Seat Blackjack is the perfect gaming option for players who want to enjoy a realistic betting adventure.
Common Draw Blackjack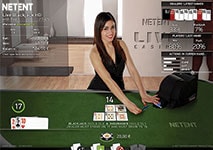 If you are not keen on waiting for an empty seat at the 7-Seat Blackjack table, you can head to NetEnt's Common Draw Blackjack. This version can accept multiple players on a single table. This is definitely a huge advantage, especially compared to most live-dealer blackjack variants available online. The game is played with six decks which are shuffled by an automatic machine and players are dealt their cards by a live dealer. One of the reasons why players choose this blackjack variant is that it has a really high return to player percentage of 99.5%. The specific thing about Common Draw Blackjack is that all players who have joined the table are handled the same 2 cards and the outcome of the game depends on their personal decisions when it comes to their choice to hit, stand, double or split.
The rules of the game are pretty simple and easy to follow. As soon as a new round begins, there will be a 'Place Your Bets' sign which announces the start of the betting. Players have around ten seconds to make their choice and place a bet on the table. After the time is up, the dealer will make the announcement 'No More Bets'. The next step is carried out by the dealer who will deal two Common Cards face up. These two cards will be the same for all the players on the table. The dealer card will be dealt face up, as well. This is where the decision of each player will determine the outcome of the game. The dealer then draws three cards for the house and players either lose their bets or receive their winnings.
Evolution Gaming Live Blackjack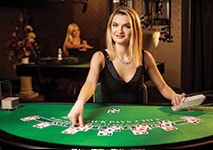 If you are playing at a Live Casino which runs on the software platform of Evolution Gaming, then you will be able to enjoy their impeccable Live Blackjack. This game provides players with an authentic and fruitful betting experience. There are eight decks of cards used in this variant of blackjack and the 21+3 side bets, available in the game make the chances of big win even better.
Live Blackjack is streamed from a studio, located in Riga, Latvia and it offers several tables with different bet limits. The game can accommodate up to seven players who can join the game at any time thanks to the Bet Behind feature.
Once you enter the lobby of Live Blackjack, you will be presented with the choice of a table which will fit your betting preferences. You will then have to choose a chip denoting your choice of bet and place your wager on one of the free positions at the table. Players have fifteen seconds to make their decision and place their bet. After that, the dealer will start drawing cards. The game also allows players to make Perfect Pair and 21+3 side bets alongside their regular bets. In addition to these beneficial options, players can also take advantage of a live chat feature, history of previous rounds and a view of the table from different angles.
Evolution Salon Privé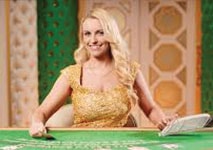 Recently Evolution Gaming has launched their Evolution Salon Privé which offers exclusive VIP tables for high rollers. Only one player at a time has access to those blackjack tables. The stakes are considerably higher but this is only a plus for those who are looking for more thrilling and rewarding betting experience.
Playing blackjack at Salon Privé is definitely an amazing experience and players are dealt cards only by the best female and male dealers. The concept of the studio where the games are filmed is to recreate those private VIP tables that players can find in high-class land-based casinos. Since the game is played by a single player, this means that those who decide to join the VIP blackjack table of Salon Privé will have the opportunity to control the pace of the game. In order to be able to sit at a table, you will have to make a minimum bet of €2,000. Other players will not be able to watch you play so this means that you can enjoy your game privately.
In addition to the extra-long time that you will be given while making a betting decision, you will also have the chance to communicate with the dealer via the Live Chat feature provided in the game. Salon Privé Blackjack is definitely the perfect gaming solutions for those who enjoy playing with higher stakes. Once again, Evolution Gaming proves that they provide live-dealer games with extremely high quality and plenty of innovative and exclusive features.
Microgaming Live Blackjack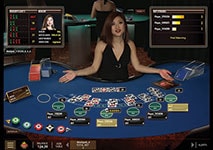 For those who are fans of the European version of blackjack, Microgaming has prepared a wonderful gaming option which can make any player's experience more authentic, thrilling and fruitful. The game is played with eight decks and some of the live dealers are dressed like Playboy Bunnies which is a fun twist on the classic game of 21.
Microgaming's Live Blackjack has the Bet Behind option which allows players to join the game anytime they want. They can simply put a bet behind one of the players in the game or they can choose to play individually. There is a waiting list which allows players who are waiting for a seat to be notified as soon as there is an open seat at the blackjack table. This option also allows players to see who is the dealer that will be dealing the cards. The Multiple Games feature allows virtual gamblers to play several games at the same time and the Playcheck button reveals the results of previous rounds which helps players to keep a track of the game.
Unlimited Blackjack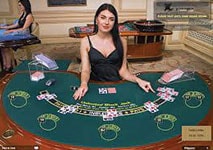 Although Playtech provides quite a few variants of blackjack, every fan of the game will highly appreciate its classic version. With the high-quality of video and the authentic interactions with the live dealers who deal the cards, players are guaranteed to enjoy a thrilling and fruitful game of 21. Unlike the regular Blackjack game, players who decide to join the table of Unlimited Blackjack will not be restricted by the number of seats on the table.
This variant of blackjack is played with eight decks of cards and players are presented with the choice of enjoying either a single or a multi-player mode. Players are allowed to double down as soon as they receive their first two cards and the dealer always stands on 17s. After placing their bet on the table, players can also make a Perfect Pair side bet by clicking on the PP sign, placed above the standard betting positions. One of the best features of the game is the one allowing gaming enthusiast to play up to five hands at once.
There are a few table options which make the game even more entertaining. Thanks to the Live Chat, players can converse with the dealer, while the History bar reveals the outcome of previous rounds. The premium quality of the streams allows players to immerse themselves in the game and enjoy their blackjack adventure to the fullest.
Soireé Blackjack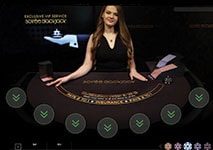 Playtech's newest edition of Live Blackjack can provide high rollers with an extremely exciting betting adventure which can easily make them forget that they are not in a classy land-based casino. The game is played with quite high betting limits with a maximum bet of $/€ 10,000 per seat. The table is open only at peak hours, around 5 pm CET. Every player can open the table and take a look at the game without actually placing a bet.
This high-class edition of Live Blackjack can make your betting adventure quite thrilling with some of the exclusive features it provides. Players can opt for a dealer change, or they can extend the session of the dealer currently drawing the cards. There is also an option for a shoe change and shuffle. Of course, there are certain limitations about who can make such requests and how often can they make them. Only players who have a sufficient balance can request a dealer change or a shoe change and even they can do it only once every half hour.
There is a Live Chat bar which allows players to communicate with their dealer. Gambling enthusiasts can also keep track of their bets and wins in the bottom left corner of the playscreen. With a true VIP service and a great chance of massive wins for high rollers, Playtech has certainly provided yet another impeccable live-dealer version of classic blackjack. If you want to feel like a VIP gambler, you should definitely try playing Soireé Blackjack.