For players who want to enjoy the ultimate Live Casino experience, there are many different options which can provide the best gaming experience. Most Live Casinos depend on software platforms which are provided by several of the leading names in the interactive gaming industry.
With the advancements in technology, more and more software companies work hard to provide players with an authentic and high-quality gaming experience which is in no way inferior to the one brick-and-mortar casinos offer. With lighter and better cameras and improved software, Live Casinos are becoming one of the best sources of entertainment that virtual gamblers can enjoy.
There are software companies such as Microgaming and Playtech which have established themselves as leading names in the iGaming scene throughout the years. Thanks to their popularity a lot of players prefer live-dealer games which run on their software platform. There are also newer names in the industry like Evolution Gaming which has become a leader in the European market for software providers.
There are two types of Live Casino streams and although they both provide a high-quality experience, there are certain differences between them. The first type of locations that stream live-dealer games is a land-based casino. There are plenty of brick-and-mortar casinos around the world which use some of the newest streaming technologies in order to provide players with an authentic gambling experience. The second type of streaming locations are the studios which are built specifically for the purpose of streaming table games online. These studios provide numerous of roulette, blackjack, baccarat and poker variations which are suitable for various players with different preferences.
Depending on where the Live Casino Studio is located, the table games that are available may vary. The dealers may also speak different languages, although most software companies have made sure that their professional dealers are bilingual in order to provide the best service to virtual players. Nowadays, more and more live-dealer games provide plenty of customizable options which allow virtual gamblers to tailor their gameplay to their taste.
When it comes to choosing the right Live Casino, there are multiple factors that exert influence on the gaming options available online. Experienced players have their own favourite software providers and they are often looking for web-based casinos that run on their platforms. Although there are quite a few companies in this industry, it is always good to rely on names which are more popular with their gaming solutions.
Live Casino Technology and Locations of Top Live Casino Studios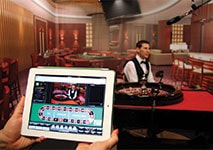 Some of the best Live Casino Studios use newer and more advanced technologies in order to provide players with an exciting and rewarding gaming experience. In the recent years studious started using Optical Camera Recognition Technology (OCR) which allows players to follow every detail of their game.
Players are allowed to place their bets with the help of a console that appears on their screen. Once they pick the sum they would like to wager, the dealer asks additional questions after which the bets are processed by the gaming software. Members of the Live Casino have the chance to ask the dealers any game-related questions via the Live Chat feature that most games provide.
Thanks to the Monitor that is a key element of Live Casino Studios, both the dealer and the players can keep a track of the game. Once the bets are placed on the table, the dealer announces that players cannot make more bets until the next round. With the help of the OCR technology, players can clearly see the outcome of every round and the winners and losers appear on the playscreen.
If we are talking about legalizing online gambling, there are only four states in the US which have legalized interactive gaming. Those are New Jersey, Delaware, Nevada and Pennsylvania is the fourth one which has passed an online gaming bill very recently, at the end of 2017.
For Canadian players, for a while, there was only one major software provider of live casino games and this was Microgaming. However, Evolution Gaming has recently launched their Canadian Live Casino Studio which streams high-quality live-dealer table games, available for Canadian gambling fans.
Even if you are not that familiar with the online gambling industry, you have probably heard about several companies which are quite popular due to the high-quality of their Live Casino games.
As mentioned earlier, the majority of Live casino Studios are located in Asia and Europe. Macau, Singapore and the Philippines are three of the locations which host some of the best live casinos and numerous players are constantly tempted to test their luck in some of the games provided by the Asian Live Casino Studios. What speaks even louder for the quality of live-dealer games provided by studios located in Asia is the fact that the headquarters of the leading software company Playtech is located in the Philippines.
When you look at some of the best live casino headquarters in Europe, you will find studios located in Spain, the United Kingdom, Latvia, Ireland and Isle of Man. Malta is also one of the main locations of the majority of live casinos and it is no wonder that many players consider the place for the gambling Mecca of Europe.
When it comes to choosing the software provider who powers the live-dealer games, available at the casino of your choice, you should take into consideration the country where the company is based. If you are not able to find any information about the country that provides the live-dealer gaming solutions available at a certain virtual casino, then it is a good idea to change your choice of betting website. Currently, Asia and Europe hold the leading spots when it comes to countries that provide high-quality Live Casino games.
Leading Live Casino Software Providers
When it comes to live-dealer games, there are plenty of live casinos that provide their services. However, those which rely on several leading software companies are the best ones in the iGaming scene. The high quality of visual and sound effects, fair gambling and proper regulation are just a few criteria that those software providers can meet.
Playtech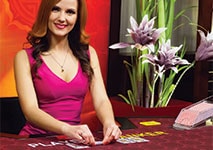 Playtech is a company with an extensive experience in the iGaming industry and in 2003 it launched its first Live Casino. They provide European and Asian websites which can cater the needs of numerous virtual players who have different demands. Playtech's live-dealer games use native speaking dealers for interactive gamblers who speak English, Spanish and Italian. For gaming enthusiasts who speak Mandarin and Russian, there are also quite a lot options with native speaking dealers. The software company holds licenses issued in the UK, Gibraltar and Alderney which are all respected jurisdictions in the gaming industry.
Playtech has also introduced the Augmented Reality technology in its live-dealer games. This can be defined as the most advanced technology used in this category of gambling entertainment. Players can experience the elements of Live Blackjack, Live Roulette, Live Baccarat and the rest of Playtech's Live games in an entirely different way. By transcending players into a new dimension, Playtech Live Casinos can easily make players forget that they are playing in the comfort of their own homes.
The software provider has a few Live Dealing Studios. For its European players, the company has launched a Live Casino Studio in Latvia as well as one in Romania. There is one based in the Philippines which caters the needs of Asian players. Playtech also streams table games from brick-and-mortar casinos, including Casino Gran Madrid in Spain.
Players who choose Playtech Live Casinos will enjoy 7 Seat Blackjack, as well as Unlimited Blackjack, VIP tables, Dealer & Player chat. Members of this type of Live Casinos will also have the opportunity to control game sounds, background sounds and dealer's voice. These are just a few of the features that Playtech provides to players who enjoy live-dealer games.
NetEnt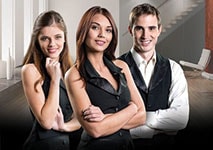 NetEnt is one of the leading names in the interactive gaming scene and it has been developing gaming software and solutions for many years. In early 2013 the company launched its first Live Casino Studio in Malta. It uses the latest technology which ensures high quality and thrilling betting experiences for players across the world. The live Casino's tables are open 24/7 and players can enjoy games such as Common Draw Blackjack, 7 Seat Blackjack and several different versions of Live Roulette.
The games provided by NetEnt are always with a supreme quality and players can use many advanced features which make every gameplay more entertaining and rewarding. All the roulette versions come with a racetrack and an option to save favourite bets.
In addition to the traditional Live Casino games which include real dealers, NetEnt also provides Automatic Roulette. In this version, gambling enthusiasts will notice that the dealer is replaced with an automatic machine that uses compressed air to shoot the ball into the wheel. The winning position of the ball is traced with the help of lasers. Automatic Roulette is perfect for players who enjoy fast-speed games.
Another great feature of NetEnt's Live Casino table games is that they are often designed in accordance with a certain theme. This way players can often win free spins or other special prizes which can be used with another NetEnt games.
Evolution Gaming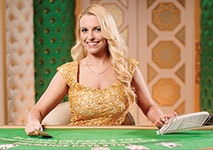 There is no way that the name of Evolution Gaming can be missed when we talk about live casino games. This software company works on providing live casino software and solutions and it focuses on improving the betting experience for players who enjoy playing at live casinos. The company was established in 2006 and throughout the years it has received numerous awards for its work in the live casino gaming scene.
Evolution Gaming has Live Casino Studios located in Latvia, Malta, Italy, Spain, Denmark and Belgium. The games powered by the software company offer different advanced features which are very convenient for players. Side bets on Blackjack, a Race Track on European Roulette, as well as La Partage, are just a few of the options that players can enjoy when they load Evolution Gaming's Live Casino games.
Evolution Gaming has two central purpose-built studios and the one in Riga, Latvia is one of them. It hosts more live table games than any other land-based European operator. The table games streamed from this studio offer different table limits which are great for both high roller and players who would like to play with lower stakes. The outlet of every table is authentic to the one you are used to seeing in classy land-based casinos. There are also exclusive games available for certain players who can enjoy a true VIP betting experience.
The company has also built Live Casino Studios in Malta which are operating maintaining the same high standards that apply to the studio in Riga, Latvia. There are native speaking tables which make the gambling experience even more personal and enjoyable for players around the world. To further expand its services, recently Evolution Gaming has also launched a purpose-built studio in Canada. It is the first major expansion of the company outside Europe and it has provided Canadian players with top-class live-dealer games. The facility offers tables which can be accessed by multiple players and there are also some VIP exclusive tables.
The company which is dedicated to providing the best live-dealer software and solutions have no weak links and it most certainly deserves its top spot on the list with Live Casino software providers.
Microgaming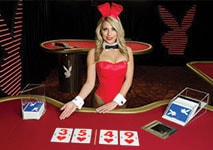 Microgaming is yet another name which is very trustworthy when it comes to live casino games. It has many years of experience in the interactive gaming industry and throughout the years it has provided its players with true state-of-the-art live-dealer games. If you decide to join a Microgaming Live Casino, you will be able to enjoy classic table games with crisp video quality. Fans of roulette, blackjack, baccarat and Texas Hold'em can enjoy impeccable live-dealer versions provided by the leading software developing company.
Microgaming has been constantly working on improving its products and it has also launched the first branded Live Casino. 'Playboy Live Dealer' has been proving to be a fan favourite among numerous online players.
Microgaming Live Casinos offer players the opportunity to explore live-dealer games such as Baccarat, Multi-Player Baccarat, Roulette and Multi-player Roulette, Blackjack and, last but not least, Casino Hold'em.
The live casino software provider also alerts players when a seat becomes available. Autobetting, playing at multiple tables or playing other games in the same window are also among the features that Microgaming offers to players.
Extreme Live Gaming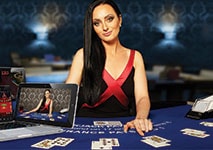 Despite the fairly young age of Extreme Live Gaming, the software company has been steadily improving its work and the gaming products which provides amaze with their high quality. At the beginning of its journey, the software provider introduced its products to the Asian market and in 2015 it set up a Live Casino Studio in London.
Players who join an Extreme Live Gaming Live Casino will be able to enjoy Live Blackjack, Live Baccarat and Live Roulette with a Multi-Table option. The live dealers of the software company are capable of providing a classy and yet modern feel when it comes to Live Casino games.
One of the biggest advantages of the gaming products provided by Extreme Live Gaming is that there are side bets in the roulette version offered to players. The company has also created an exclusive feature called Golden Ball. One lucky player who has decided to play Live Roulette is presented with the opportunity to spin the Golden Ball and improve his/her chances of winning. There is a league table which is open for 20 spins. During these rounds, the player who tops the table with the largest sum of bets will get the chance to spin this special Golden Ball. It is certainly a feature which makes the game more exciting and engaging.
MediaLive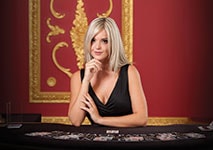 MediaLive was founded in 2005 and it started by providing gaming solutions to online players. In 2007 the company concentrated on providing Live Casino Software solutions and nowadays it is known mainly for its live-dealer games.
Players who decide to join a MediaLive casino will have the pleasure to enjoy games such as Live Baccarat, Live Blackjack and Live Roulette. Casino members do not need to download any software to enjoy their gambling adventures. The games of this software provider are streamed from its studios in Malta while Italian virtual gambler can plat Live Roulette which is streamed from Sanremo Casino in Italy.
The Multi Window Live Casino Display allows players to view 4 tables/games at the same time. MediaLive also provides a Live Mobile Casino which is compatible with all iOS and Android portable devices. This way players can enjoy live-dealer versions of roulette, blackjack and baccarat even when they are on the go.