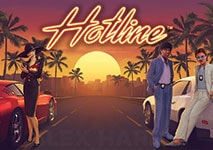 Everyone knows that the 80s are back in style, so naturally NetEnt have their take on this trend as well – Hotline! This brand new 5-reel video slot game is absolutely radical! With a minimum bet of only €0.15, a maximum of €150, and a completely new betting feature (which is named after the game itself), this jewel gives you an RTP (return-to-player) of 97.04%!
The intro animation shows a full scale jewelry heist by the mysterious and alluring Kitty Weiss. Weiss, get it? Like Miami Vice, which the game is loosely based on. The 3D art itself is astonishing to say the least and the music is just screaming "the 80s" as our two protagonists – Quinn and Rivera, get on the job and start chasing after this notorious criminal.
Theme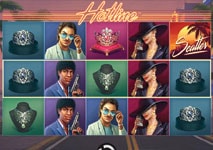 Neon colors, funky clothes, cool sunglasses, wicked cars – all of the 80s emblems are present in this stunning slot game. The background, once we move past the intro, resembles the Miami beach with a peachy pink sunset, a neon hotel sign and, naturally, palm trees. As we already mentioned, the game seems to draw a lot from Miami Vice but for those of you who are not familiar with the series perhaps GTA: Vice City or Kung Fury are more of a help.
NetEnt seems to be going exactly for an 80s TV show vibe, though, as the whole intro plays out just like the opening of a TV show, the end of which includes the two protagonists posing as the title flashes on the screen. It is definitely an interesting creative decision and we are loving it!
Symbols
Here we have all the regulars – low and high-value symbols, a scatter and a wild. The low-value ones represent the jewels the antagonist has stolen, namely a crown, a necklace and a ring, all of which beyond fancy. The best you can get out of them is 30 coins. The high-value symbols are with the characters' faces on them, with which your best win is 200 coins.
It is good to mention that all of the symbols are animated – the jewels glisten and the characters move and then we get to the special symbols. The substitution wild symbol, with Kitty's car on it, works partially like any other wild but what makes it unique are the expansion feature and the animation of the car chase. The symbol expands over all three lines if it hits a hotline (which we will explain in a minute) and joins up with other wild symbols you hit if they are on the slot next to it, so it can potentially cover the entire base game screen.
The scatter symbol has its regular function too but also grants you 7 free spins if you get 3 of them. Its look is pretty straight-forward with the word 'Scatter' written on it, but it also has its 80s Miami touch and looks like a greeting card from that time and place.
Combinations and Jackpots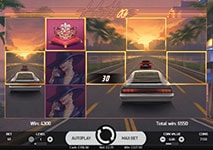 And now it is time we hit you with the best aspects of this game starting with its 30 paylines! When you take this into account and remember that the substitution wild symbol can take over, you get how this is an incredible feature – you can get the most out of all 30 combos and get to have a 'Big Win' or even a 'Mega Win'.
But to reach these, you usually need to take advantage of the game's most unique feature – the Hotline Bonus Bets! We are excited to introduce these as their function is to increase your payout chances with a whole percent! What these actually are is quite simple – they are the bonus bet features. With only 1 Hotline active, you get a base bet which is 15 coins per bet level, if you activate 2, it doubles and then if you activate all 3, you are playing with a triple bet. So basically, they increase your odds to profit from Expanding Wilds and Re-Spins for a much bigger bet.
Now how do you get to the Big Win? Well, you need Expanding Wilds, the more, the merrier! When you hit one Expanding Wild symbol and get a Re-Spin, hitting a second one on a hotline will almost certainly give you a Big Win.
If you hit more than 2 wilds in the Re-Spins, you will get to a Mega Win which can earn you up to €60, 000!
In conclusion, this game has great graphics, sounds and atmosphere, but most importantly it offers you an amazing chance to win big. This is truly one of NetEnt's best games so far and we cannot wait to see what the future holds for them. Hotline will definitely be remembered as a crown jewel in the developer's slot collection.