Blood Suckers Slot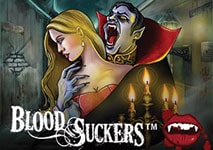 Blood Suckers is another excellent NetEnt slot and one of the most popular games of its kind that you will find on the Internet. It borrows heavily from vampire mythos and offers a compelling and interesting theme. Blood Suckers comes with the standard 25 unique paylines, allowing players to form combinations all over the reels. The betting limits of the game are quite adequate ranging from a minimum wager of $0.25 to a maximum of $50.00 per spin.
While the maximum bet is not as high as in other slots which allow for up to $200 or more per spin, it should still be enough to satisfy most players. Players wager 25 coins per spin, one for each payline, and their value ranges from $0.01 to $0.50. Additionally, the number of coins wagered can be increased by increments of 25 up to a maximum of 100.
Theme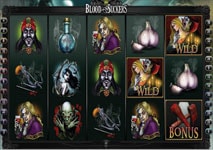 As one would imagine, Blood Suckers features a distinct vampire theme, portraying much of what makes this type of fiction so appealing. Starting from the background image, where we see an abandoned building, to the game's symbols featuring various vampire characters and items associated with them. The background music also contributes to the haunting atmosphere and if you are the skittish type it may very well make you shiver.
Overall, Blood Suckers does a great job of implementing the vampire theme and fans of it will certainly be pleased. We also have to take into consideration that Blood Suckers is not the newest game on the market and it is certainly starting to show its age where graphics are concerned. However, the style of the visuals is crafted well enough and you will hardly notice this. Moreover, the gameplay is enjoyable enough that you may not even think about the graphics.
Symbols
The symbols, as we mentioned, play a large role in immersing you into the game's atmosphere. Gameplaywise, we can separate them into three distinct categories – High Paying, Low Paying, and Special. The Low Paying symbols are various items associated with vampire hunting, more specifically, garlic, a crossbow, the Bible and a Cross, and a magic potion. The High Paying symbols, on the other hand, feature varied vampire figures such as Vlad Dracula and Nosferatu.
The only difference between these two categories is the symbols' pay tables. However, the third category includes symbols which significantly affect the game and possibly give you a nice boost to your bankroll. The Wild symbol will act as a substitute for any other symbol in the game, with the exception of the other Specials. The Bonus symbol is the key to unlocking the bonus game, whereas the Scatter will reward you with a round of free spins when certain conditions are met.
Unlike some other more modern games, the Special symbols in Blood Suckers can actually form their own winning combinations. Matching 5 Wild symbols will reward you with 7,500x the triggering bet, whereas 5 Scatters will reward you with 100x the wager.
Combinations and Jackpots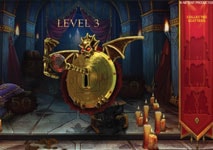 Blood Suckers does not feature any progressive jackpots, but it does come with some wonderful gameplay features which will, no doubt, make your experience that much more memorable. One of these can be generated by spinning at least 3 Scatters on the reels, regardless of the symbols' positions. This will activate a round of 10 free spins using the same amount per spin as the triggering bet. During the free spins, any winnings that you acquire will be tripled in value. This feature has the potential to land you a nice profit and you should take that into consideration when playing Blood Suckers.
Something else that we have to account for is the Bonus Games. It will be triggered, whenever you land three or more Bonus symbols in succession, starting from the leftmost reel. When this feature is activated you will be taken to a different screen, where you will get to open coffins and kill vampires with stakes through the heart. The is always a given number of coffins that you can open, but there are also three empty coffins. You can open as many as you wish, but as soon as you click on an empty one, the bonus game will come to an end with whatever winnings you managed to acquire.