Mini Roulette by NetEnt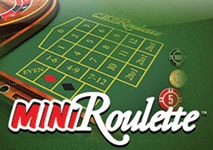 Roulette is one of the oldest casino games in existence, with a history going back at least 3 centuries. It has been around for as long as anyone can remember and has a special place in the hearts and minds of gamblers all over the globe. In the past, roulette was a top attraction in many land-based establishments, but due to the bulkiness of the table, casinos could only place several tables on the gaming hall before they ran out of room. This means that a casino was more likely to include only the classic styles since they were a safe bet. However, with the advent of online casinos, all of this changed.
Room was no longer an issue and online casinos could offer a theoretically unlimited number of games to their player base. This directly lead to the rise of multiple alternative versions of the traditional game. Mini Roulette is one such variation and it has seen a lot of popularity in recent years. Industry leader NetEnt has come out with its own take on Mini Roulette and in this article, we will take a look a what the company has created.
Visuals and Layout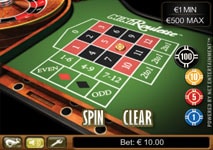 Mini Roulette is basically a miniature version of the classic game, much like you would expect it to be. This is also reflected in the visuals of the game. Instead of a large traditional roulette table, we are presented with a more compact version of the layout and a smaller wheel.
The graphics are in the usual NetEnt style, with high attention to detail, smooth animations and immersive background music. NetEnt has a track record of producing great-looking games and Mini Roulette does not disappoint. Playing this game is a joy and the visuals are partly responsible for that.
Betting Limits
Mini Roulette has very liberal betting limits, but there is a difference in how much you can put down on depending on the particular bet. Straight Up wagers are limited to $10, while you can only bet $20 on splits. Street bets can only go as high as $30, while Column and Corner wagers are limited to $40. However, the Outside bets will allow you to take much larger risks.
All Red/Black, Odd/Even, Half-Dozen bets will allow you to stake up to $500. Of course, these may vary from casino to casino, so take these numbers with a grain of salt.
Special Features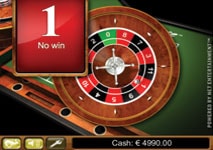 Mini Roulette is quite similar to the traditional version, but due to the smaller wheel, the odds are somewhat different. A Straight Up bet pays 11:1, a Split rewards 5:1, a Street can win you 3:1, while the Corner and the Column bet pay 2:1. The Red/Black, Odd/Even, and Half-Dozen still feature the same even money payout. This also affects the average return-to-player percentage, which is 96.15% in the case of Mini Roulette. This results in a house edge of 3.85%, as opposed to the 2.7% of European and French Roulette. Of course, these are still better odds than American Roulette, where the house edge is a whopping 5.27%.
Other than different odds, Mini Roulette also introduces a version of the 'la partage' rule from French Roulette. Whenever the ball lands in the zero pocket, all bets (other than those place on zero, of course) will be refunded for half of their value. This will benefit players greatly, especially those who place Outside bets since those do not cover the zero pocket.
Overall, Mini Roulette is a condensed variant of the full version and is not all too different. To put it simply, if you enjoy the traditional styles of roulette, you will also enjoy this one. The slightly increased house edge might put some players off, but that will only come into effect after thousands of spins. Therefore, we can definitely recommend this game you and hope that you will enjoy it as much as we did.