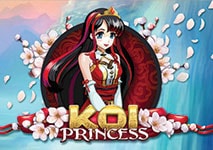 Koi fish are known symbols of Japanese culture. The word 'koi' itself simply means 'carp' in Japanese and is a homophone for their word for love and affection. However, they are generally thought of as symbols of good luck and fortune. And fortune is exactly what the Koi Princess slot game will bring you.
This late 2015 NetEnt release is filled with many great features and has an RTP that can reach up to 96.23%. It is a 5-reel, 20-payline slot that has a ton of bonuses and can almost certainly guarantee you a solid profit.
Theme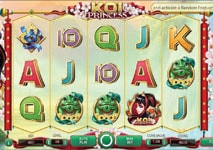 The theme of this game stems a lot from anime and overall Japanese culture. The Koi Princess herself is styled exactly as an anime character and has the typical manners of one. The designs of the symbols and koi carps are slightly different, going more for a western type of animation.
The game is simply beautiful, no matter how you look at it – even the background is stunning with an animated waterfall and a typical Japanese building with Nara architecture. The Sakura flowers surrounding the base game screen are a nice touch as well as the coin design being that of the yen.
Symbols
The low-value symbols are A, K, Q, J and 10. The maximum win with a combination of Aces is 160 coins and the lowest one with only a few 10s is 5 coins.
The high-value symbols include two dragons, orange and green, a symbol with 3 yens tied together with a blue ribbon, the Koi Princess and, surprisingly a Wild is listed among them. It not only substitutes but also has its very own range of wins, the maximum being 500 coins, which is actually the highest winning combination out of all. The design of the symbol reminds one of The Great Wave off Kanagawa, which is also a very nice touch.
Then, we have the random feature symbols – one that looks like a beautiful painting of a sunset, one with another dragon but with a more classic Japanese design, and one with a wheel of fortune. There are also bonus feature symbols, which are of a golden dragon, a bunch of yen coins, a golden wheel of fortune and a golden yen coin.
Combinations and Jackpots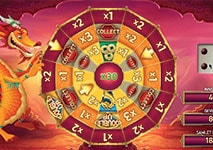 The Bonus Bet option is something that is quite unique. Its function is to increase your chances of winning for twice your bet. This is great because it does actually increase your chance of winning by 0.23%, which may not sound like a lot, but it is.
The Random Features are also great and there are four of them. They are, indeed, randomly triggered and what happens is – the base screen becomes smaller and three koi fish appear. You have to pick one of them and this way, you get any of the four features, which are 5-Hit, Bonus Game, Random Wilds, and Wild Reels.
If you happen to pick the 5-Hit, you get a spin with a promised 5-symbol winnings with an undeliberate symbol and payline. If instead, you have picked the Random Wilds, you will get a spin with 4 to 9 overlay wilds. If you have picked the Wild Reels, you get a spin where at least 2 reels are covered with overlay wilds only. And finally, if you have picked the Bonus Game, you get a spin with 3 Bonus symbols and a random Bonus Feature award.
There are four bonus features – Sure Win Free Spin, Wild Reels Free Spin, Coin Win and the Bonus Wheel. During the first feature, the player is awarded 10 Sure Win Free Spins, and what this means is the win of the spins will be either the same or above the amount won during them. With the exception of the first spin where the prize is the player's initial bet.
The Wild Reels Free Spin feature gives the player 10 free spins each of which has a varying amount of overlay wild symbols. The Coin Win is self-evident and as to the Bonus Wheel, well, it is an additional game in itself.
The Bonus Wheel game gives the player a chance to win any of the other three bonus features. The wheel itself is subdivided into 12 sections which are Start, x1 (when the Bonus Bet is triggered), x2, x3, x5 (when the Bonus Bet is shut off), Double up, Arrow, Collect, Jackpot Coin Win and Wild Reels / Sure Win Free Spins.
So, all in all, this game is not only beautiful but also very rewarding. The bonus features guarantee a great gaming experience and a win worth your time.