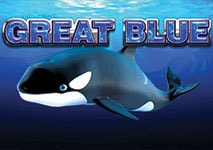 Great Blue is an aquatic 25-payline video slot from Playtech. The game was released in June 2013, immediately starting a love-or-hate relationship with players all over the world. With an RTP of 94.3% and a jackpot of 10,000 coins, we can see why is that.
The game itself is very light-hearted and fun but unfortunately very slow. It has some great features and others that are a bit lacking. It is one of Playtech's most popular games for a reason, so let us dive in deep waters and try to understand why exactly people's opinions on this slot are so polarized.
Theme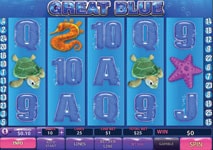 The game is pretty much blue all around. The background is of blue water with bubbles going up, the base screen is also blue and so are the majority of the symbols. This should definitely not be taken as a bad thing, though, because it is actually quite relaxing.
The animation in this game, however, is not especially good. The jumps and spins and overall movements are pretty uneven, as if frames are missing. The art is not an asset to this game, either. It is a shame but that does not ruin the enjoyment you can get from playing. Seeing ocean beings in a slot game is still pretty refreshing in and of itself.
The music is somewhat tropical and fun. It ties in well with the rest of the game. It makes one think of The Little Mermaid, and more specifically, the song Under The Sea. If you are a fan, then you will certainly appreciate this little detail.
Symbols
The low-value symbols here are 10, 9, A, K, Q and J, the combinations of which can result in different wins. For instance, two 9 symbols will still give you a win of either 2 or 4 coins but two of the rest will not result in any win at all.
The high-value symbols are of a yellow fish, a turtle, a shark, a starfish and a sea horse. The turtle and shark symbols have the highest value and 5 of them in combination with a Wild Symbol can result in a win of 1,500 coins.
The Wild Symbol bears the image of a killer whale and has more than a substitution function. It can double all wins and 5 of it will bring about a win of 10,000 coins. It really is a killer, right?
The Scatter Symbol is of a pink sea shell with a pearl in it and it also has additional functions. If you don not get the amount required to enter the bonus game (which is three), two of them will still contribute to your win.
Combinations and Jackpots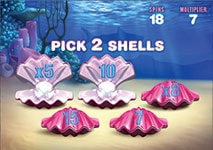 As we already mentioned, three Scatter Symbols take you to a bonus game. Once you have entered it, you will automatically win 8 Free Spins and a x2 multiplier. Then, you have the chance to pick 2 out of 5 sea shells with bonuses in them. Those can be either more Free Spins or multipliers. You can win up to 33 Free Spins and a x15 multiplier.
Three or more Scatters during the Free Spins will get you an additional 15 Free Spins reward and you can keep winning more and more infinitely. Not only that, but also they will all be with the same multiplier as the triggering Free Spin.
A very interesting feature here is the Gamble one. Once you select it, the screen changes and you are presented with a face-down card and two pearls – red and black. The goal is to predict what color the card is. You can use this feature only if you have won during your last spin and so if you choose to Gamble, you stake the amount of coins you have won.
This gives you the chance to double it if you guess the color of the card correctly. If you do, you can either collect your win or play again to double your new win. However, if you do not collect and lose, you lose your win entirely.
Well, in conclusion, this game is what a slot game should be – a gamble. You cannot be sure if you will win or not but you know that you could possibly win a lot or drain your bank account. So we advise you to be cautious, but still give it a spin.