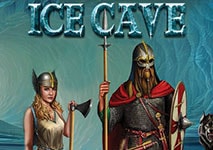 Ice Cave is a relatively new slot game, released in early 2017 and available at a good number of online casinos. It was created by Playtech, one of the leading companies in the development of online casino software and games. With a history spanning more than two decades, Playtech has a stellar reputation with the online gambling community and much is expected from their games.
Ice Cave features 5 reels and 20 unique paylines. The betting options in this game are somewhat conservative, with the maximum wager going only as high as $20 per spin. Players can bet up to $1.00 on each of the paylines, but that sum can be lowered to $0.01. This is significantly lower than other games of the same type, that allow you to bet as high as $200 or more. Ice Cave pays left to right, which means that any winning combination has to start on the first reel and continue along one of the paylines.
Theme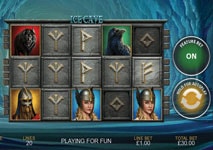 Ice Cave employs a strong Nordic theme, portraying many aspects of Viking culture. The game is set in a cave of ice, hence the name. On the reels, we see various figures associated with Scandinavian mythology, making the experience a joy for fans of the Nordic culture. The background music emanates a mystical feel, giving us the impression that it is the work of some form of Viking deity.
As expected from a Playtech game, the graphics are impeccable, with crisp and sharp textures, coupled with smooth animations, bringing the game to life. Presentation is one of the biggest strengths of this game and Playtech are to be commended for their effort. Overall, Ice Cave is a joy to look at and we are thankful that this company still holds to their original standards of quality.
Symbols
The symbols in Ice Cave are quite interesting and somewhat of a departure from the norm. Firstly, we have the Low Paying group, which is made up of various Norse runes, which further conveys the theme of the game. These symbols can form winning combinations starting from 3 or more of the same type. After that, we come to the High Paying category, where we find particular figures associated with Viking culture. We see a longship, a raven, a wolf, a shield maiden, and a Viking warrior. These symbols pay significantly more than the previous group and form winning combinations starting from 3 symbols of the same kind.
Finally, there is the Special category to account for. This one is made up of two different types of Wild symbols – the Ice Wild and the Hammer Wild. Their particular roles we will cover in the next point, but we have to mention that any Wild symbol will serve as a substitute in a winning combination, allowing you to win much more often than usual.
Jackpots and Combinations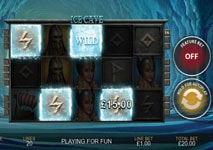 Ice Cave does not have any progressive jackpots, instead, relying on its solid number of features to drive the game forward. The Freezing Wild Symbols is a major part of the game and it is what makes it unique. We mentioned above that there are two Wild symbols in Ice Cave. When the Ice Wild lands anywhere on the reels it will stay in that particular position. Moreover, Ice Wilds will also multiply the winnings from a combination in which they participate by 3 times. Ice Wilds will appear on the third and fourth reel and stay there until a Hammer Wild lands on the reels.
Hammer Wilds substitute for any symbol on the reels and also multiply the winnings from combinations in which they participate by 3 times. Hammer Wilds can land on the second reel and when this happens they will break any Ice Wilds and remove them from their positions.
All Wild symbols frozen on the reels will be removed if the number of lines is changed or the size of the bet is increased.
Finally, we come to the Feature Bet, which can be toggled on and off at will. This feature will increase the wager by 50%, but also make it so that Ice Wilds can appear on the fifth reel.