Online banking is a widely popular electronic payment system offered by all leading banking and financial institutions all over the world. It allows banks' clients to pay bills over the web, shop, send money to other individuals, or pay for various goods and services without the need to visit the bank's office.
In recent years, online banking, or Internet banking and e-banking, as it is also known, has become a preferred payment method for millions of customers because it offers reliability, safety and convenience. Users can easily transfer money from their computer or mobile device, as long as they sign up for the online banking services their banking institution offers. This payment system also allows users to monitor all transactions on their balance and have a firm, clear understanding of their finances over time. Online banking has gained popularity as a reliable and convenient payment method in many well-established web-based casinos, as well. Players can load funds into their casino balances using the online banking facilities of the bank they have an account with. Alternatively, they can choose to use a third-party online payment services provider such as iDebit, POLi payments, and others.
Along with being the safest online payment method available, online banking is also relatively fast, with processing times depending on the particular bank and its practices.
How Online Banking Works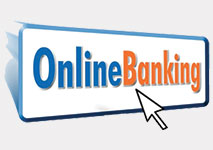 Online banking functions just like traditional branch banking, but it happens on the Internet, instead of in the real world where you need to physically go to the bank office. In order to be able to use the online banking facilities of their bank, users first need to register for this service in either a land-based office or online.
Once they have an active online banking account, customers are free to carry out financial operations at any time and from any location around the world. Transfers are in real time, as well as incredibly safe as banks employ some of the best online security technologies and tools today.
Registering for Online Banking Services
Typically, users will receive a customer number/ customer ID and a password from the bank. Then, they can create an account on the website of the bank using these credentials. Depending on the financial institution, another one or two security and verification steps may be required.
However, many merchants and gambling providers on the Internet have not integrated online banking as a payment method on their websites. So, a good alternative for online casino players is the use of third-party agents, which act as intermediaries between the bank and the casinos.
Creating an online banking account is easy and free of charge. It provides users with a safe, quick and flexible way to use their bank accounts to pay their bills, make purchases or fund their online casino balances.
Depositing in Online Casinos via Online Banking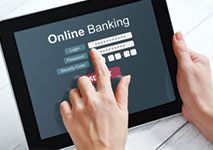 Making deposits via online banking at web-based casinos is fast, easy, and is widely popular among players who do not have credit cards or do not wish to use them for gambling. All they need to do is go to the Cashier page on the casino site and opt for Online Banking from the list of payment options. When they choose their preferred bank, they will be redirected to the website of either their bank, or the alternative online banking option they are using (iDEAL, Nordea, POLi, etc.).
Here they will need to log into their account, entering their User ID, password, or any other verification method their bank is using such as a two-factor authentication token, for instance. Then, they only need to enter a certain amount of money and confirm the transaction.
Deposits via online banking are usually free of charge and are processed within a few hours, or even immediately in case you choose an instant bank transfer.
Withdrawing Winnings via Online Banking
It is possible to withdraw funds from your online gambling balance to your bank account, but it usually takes longer than deposits. The procedure is basically the same as when you are making a deposit, so there should not be issues for most players.
The processing times vary between different banks and casinos, while some financial institutions may even reject the transfer due to rules against gambling-related activity. So, before opting for online banking for withdrawals from your casino balance, check your bank's policy, as well as state regulations regarding online gambling.
Typically, casinos will not charge for withdrawals, but some banks will impose fees for the electronic transfer.
Popular Online Banking Methods
While the standard online banking is widely preferred by players, it is not always available as a payment option in the casinos they play at. There may be processing fees, although typically they are quite low and vary, depending on the banking institution.
The funds are transferred directly from the player's bank account to the online casino balance, but this may take a longer time, especially when it comes to international transfers. This delay can be avoided by using intermediary payment services, often called instant bank transfers, provided by non-banking operators such as, iDeal, POLi, Citadel, or Trustly.
Citadel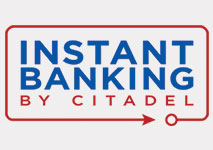 Citadel is a Canadian-based provider of online payment services, available across 300 banks and 33 countries in Europe and North and South America. Along with a popular e-wallet, Citadel also offers casino players an instant banking service, which is accepted by most of the leading casinos on the web.
The greatest advantage of using Citadel for casino deposits is that no separate account is required. In order to make payments, players simply need to have an online banking account in one of the associated financial institutions. No registration is needed – when they choose Citadel as a payment option in the Cashier section of the website, they will be redirected to the online banking website of their bank. There they can safely log in and confirm the transaction. The deposited funds will appear immediately in their casino balance.
Not all casinos which accept Citadel as a deposit option will support it as a withdrawal method, however. In addition, withdrawals with this method may not be instantaneous and fees may apply in some instances.
iDEAL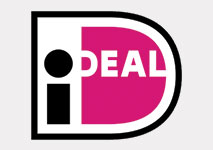 Introduced in 2005 in the Netherlands, iDEAL is the most popular instant banking transfer services provider among Dutch players. It is not a centralized payment system and no registration is required for making deposits through it. It uses the online banking facilities of the banks, so it is available to all gamblers who have accounts in some of the leading financial institutions in the Netherlands.
Deposits via iDEAL are simple and fast – when players select it as their deposit method on the Cashier page of the casino site, they can choose their bank and the amount of funds they want to top up their balance with. Then, the page will redirect them to the online banking interface they are already familiar with. Once they log in, they can review all transaction data and confirm the payment, which will instantly appear in their casino account, too.
However, withdrawals cannot be carried out via iDEAL, so players need to consider alternative method for receiving their winnings.
Giropay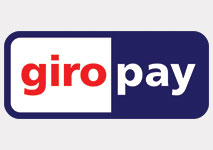 Giropay is a convenient online payment method, available to gamblers in Germany and Austria. It is accepted in multiple online casinos and is integrated in the online banking systems of more than 1,500 banks in the region.
Making deposits via Giropay requires only registering for online banking services with your bank. Once you have an active account, choose Giropay from the list of deposit options on the casino Cashier section. Just like other direct online banking services, you will be redirected to the login page of your bank's website. When you fill in the payment form, you will be asked to authorize the payment via a TAN code, or Transaction Authentication Number.
Your bank will process the transaction in real time, deducting immediately the amount of money from your banking account. The sum will instantly appear in your gambling balance, so you can start playing right away.
Players who choose this payment method should be aware that withdrawals are not possible and deposits via Giropay are charged a small fee, depending on the rates of the particular bank – from 0,9% to 1,2% plus €0,08 per transaction.
iDebit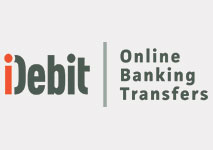 Known as InstaDebit until recently, iDebit is one of the most popular online banking/e-wallet systems across Europe and North America. It is accepted in over 100 web-based casinos and more than 30 countries, gaining popularity among casino enthusiasts for its simplicity and lack of fees.
In order to make deposits via iDebit, players need to have an online banking account at one of the banks, affiliated with the service, as well as a registration at the iDebit website. To create an iDebit account, you will need to provide basic personal and banking information. While some players may prefer not to disclose such sensitive data with third parties, iDebit is in fact one of the safest and most reliable options right now. The registration takes only a few minutes and is verified by email.
You can instantly make deposits to your online casino balance when you select iDebit (or InstaDebit) as a payment option on the casino website. You will then be asked to log into your iDebit account, enter a certain amount of funds and confirm the transaction. This is a real-time transfer, so you will be able to use your newly deposited funds immediately.
Withdrawing funds through iDebit is also a great option for players, as the process is just as simple as making deposits. You can easily cash out, but the funds will be transferred from the casino balance into your iDebit account. You can then move them to your bank account or store them as in an e-wallet.
Nordea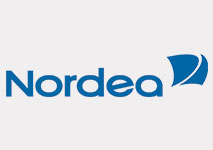 Nordea is the largest financial services provider in the Scandinavian countries and serves more than 10 million customers in Sweden, Denmark, Finland, Norway, Russia, Poland, and the Baltic countries. It has become a popular payment method among gamblers with its online banking service, called Netbank.
Nordea is accepted by most of the large web-based gambling operators, so it is a convenient deposit method, which provides safety and fast transfers. To fund your casino balance, first you need to be a bank account holder at one of the banks in Nordea's network. When you select Nordea or Netbank as a deposit method on the Cashier section of the online casino, you will be redirected at the Netbank login page.
Here, you need to enter your Access Code – an unique ID and an one-time security code, the amount of funds you wish to deposit, as well as a confirmation code to authorize the transaction. All these will be provided to you by your bank when registering for online banking services.
Nordea does not allow withdrawals from online casinos, so players will need another payment method to cash out.
Security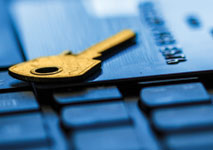 Online banking is one of the safest payment methods available to gambling enthusiasts, because most banks and instant bank transfer providers protect their websites with a combination of security measures. Transactions are encoded with SSL or TLS protocols, as well as authentication through passwords, User IDs, security codes, and many others. All personal information and banking data remain protected and private, so players should not concern themselves over fraud, identity theft, etc.
Advantages
The greatest advantage of online banking is that it is widely available and accepted by almost all reputable casinos on the Internet. Deposits are fast or immediate when done through an instant bank transfer, as well as completely secure. Online banking is also a more affordable option, especially when compared to some popular e-wallets, which are equally convenient, but impose high fees for each transfer.
Disadvantages
The standard online banking transfers where you move funds directly from your bank account to your online casino balance may take longer sometimes. The processing times for withdrawals can also range from 2 to 10 business days, which means you cannot cash out as fast as you wish.
Using third-party online payment processors may speed up the process, but poses the risk of disclosing sensitive information to non-banking institutions.
Conclusion
As online banking is accepted by most of the large web-based gambling providers and is available practically all over the world, it is no surprise that remains one of most popular methods for depositing and even withdrawing funds.
The popularity of instant bank transfer services such as Nordea, iDebit and iDeal is also rising, because they combine the security and reliability of bank transfers with the convenience and time efficiency of credit cards.