Citadel Commerce, also known as 'Instant Banking by Citadel', is a company that provides online banking and money transfers for its customers. The company was founded in 2000 and is headquartered in London, UK. Citadel Commerce is a subsidiary of Entertainment Systems Inc (ESI). It offers a variety of products but mainly deals with international instant bank transfers.
Today Citadel Commerce is servicing many online betting websites in providing a safe and anonymous payment method for their players. The company is active in numerous countries around the globe and supports many currencies including, but not limited to : USD, CAD, EUR, GBP, JPY. How the Method Works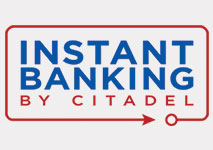 The way this service works is indicated by its name 'Instant Banking'. Citadel uses the local interface of the user's bank to make the transaction. After opting for the Citadel payment method the consumer has to choose their bank, login with their bank UserID and password and confirm the payment. It takes no more than a few minutes to complete the payment.
Citadel Commerce is available in nearly 30 countries, including US, Canada, Japan, Australia and many EU member states. It is partnered with over 200 of the world's largest banks maintaining a vast network worldwide. Furthermore Citadel also supports the currencies of all countries where it is conducts business.
Depositing to an Online Casino
Citadel offers a wide array of services when it comes to depositing funds into your Citadel account.
eChecks are an excellent way to top up your Citadel account. They are fast, reliable and will be familiar for anyone who has ever written a paper check. It must be noted however that to have your funds immediately available when depositing via eCheck, Citadel will charge you a 6,9% fee. Otherwise you have to wait 3-5 business day for the check to clear. Also any funds made instantly available can only be withdrawn after 5 business days. This may be an inconvenience to some players.
Online Banking is available to all consumers residing in Canada, the UK, France, Spain or Germany. To top up one's myCitadel Wallet one simply needs to provide their myCitadel Wallet information to their bank. The funds should become available within 3-5 business days.
Secure Swipe is the best service where value and efficiency are concerned. The service is entirely free of charge and the funds are made immediately available. The whole process is as simple as swiping your card and entering your PIN.
Withdrawing from an Online Casino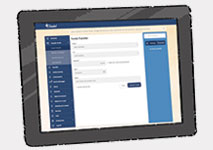 Before choosing Citadel as the transaction method for withdrawing winnings, players should first contact a representative of the casino to find out if cashing out this way is possible. If that is the case, it should be taken into account that withdrawing with Citadel is not an instant process and some fees may be deducted.
Fees and Limits
Unlike other online payment services Citadel does not charge its clients for using their service, making it an attractive option for budged-oriented users. However there is a $1500 limit for transactions each 7 days. Depending on how much you use their services this limit may be increased. Only 3 external transfers are allowed per day, while the monthly limit is 10. Alternatively 10,000$ is the highest daily limit on external transfers, with the monthly going up to 40,000$.
Security
Citadel has gone to great lengths to ensure that the data of consumers does not become compromised. As a starter they keep no records of the banking credentials of their consumers. That way even if someone were to infiltrate their servers, they would not find anything that could hurt consumers in the long run. Any communication between Citadel and their customers is heavily encrypted to protect sensitive data from being leaked. Furthermore Citadel is regulated by the same policies that banks and other financial institutions are legally required to follow, such a the Know Your Customer (KYC) regulations.
When transferring money with Citadel all Internet traffic goes through your bank, in other words through the highest security, so that there is no chance whatsoever for fraudulent actions.
Advantages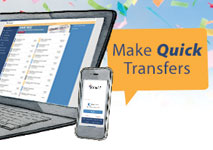 Using Instant Banking by Citadel allows the player to make secure payments and deposits to online gambling sites through their system without needing to reveal their personal information or banking credentials to the casino. This is a tactic that attracts many privacy conscious players and one that is supported by the casino owners themselves.
Making a payment through Instant Banking by Citadel is made simple and easy to understand. The customer has 3 possible means to do this. One way is by choosing to download and install a 'payment assistant' application, which will guide the customer as they prepare everything necessary to make a purchase or transfer. The second way is through Citadel's website which will generate an automated payment procedure which then works through the customer's online banking account. The third method is to use the 'Rapid' system which generates a reference number and bank details, using which the transaction can be manually made by the customer using their own online banking means. What connects all three methods is that the customers pay through their bank account in any given scenario and the transfers are completed instantly.
There are no obligations on the customer's side when using Citadel. No account is required to use the service, as long as the customer has an account at one of Citadel's partner banks. It is also worth your attention to know that Instant Banking with Citadel is completely free of charge and it will not cost you a dime to use their services.
Citadel has also created a mobile application for iOS and Android users. The app allows users to charge or manage their accounts on the go. Judging by user reviews the app has all the functionality of the desktop variant. The app also makes use of fingerprint recognition on devices that support it for extra security.
Disadvantages
Withdrawing your winnings from a casino may not go as smoothly as depositing however. For the transfer to clear it may take several days and certain fees may apply, if at all possible. It is advisable to consult with a casino representative about what the best possible means to withdraw your winnings might be.
Furthermore while Instant Banking with Citadel has no inherent charge, some banks may charge you for using their interface to pay with Citadel.
Citadel Internet Banking might not be supported in your country. Citadel currently supports US, Canada, Japan, Australia and most EU member states.
Conclusion
Instant Banking by Citadel is an ideal solution for anyone who is weary about sharing their own personal data and banking credentials with third parties. By using Citadel the consumer can enjoy guaranteed anonymity and secure transactions. Furthermore the players never reveal their banking login and password and are able to monitor their transaction history with Citadel. With that said it needs to be acknowledged that Citadel is not ideal for gamblers playing with large sums of money considering its monthly limit of 40,000$ for external transactions.