The iOS is one of the two most popular mobile operating systems on the market, alongside Android OS, so it does not come as a surprise most renowned gambling operators in the industry are committed to developing mobile applications that are running seamlessly on this widespread platform. There is hardly a self-respecting interactive casino which does not offer mobile play to iPad and iPhone users. Furthermore, all leading software suppliers have adapted the most preferred titles in their collections for mobile play, so the games can be loaded via iOS devices in no time.
Mobile casinos consider the needs of all players which is why, apart from the numerous iOS slots, gambling enthusiasts will be able to engage in various roulette games while on the move. Gambling operators truly go the extra mile to satisfy the appetites of the most demanding fans of this game of chance, offering them mobile roulette variations which impress with spectacular graphics, immersive sounds, and easy-to-navigate interface. If you enjoy roulette but are new to the whole iOS-gaming experience, we suggest you take a quick look at the following article to find out more about how the game is played on iPhones and iPads. We also provide Apple users with brief overviews of five of the best mobile casinos offering iOS roulette.
Downloadable iOS Apps vs. In-Browser Play
Several years ago, iOS casino players had a limited number of options to choose from but this is no longer the case. Portable devices like iPhones and iPads have gone a long way since then – their available memory space has increased greatly while the processing speed and the graphics' quality have improved tremendously.
Today, Apple users interested in making a few real-money roulette bets from the comfort of their surroundings can generally choose from two possible options – registering at a mobile-responsive casino or downloading the iPhone app of their preferred gambling operator, if available. Which option you go for generally depends on your individual preferences and the mobile casino of your choice.
In-Browser Roulette Play on iOS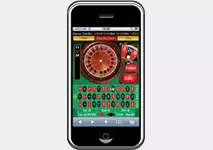 In-browser play can sometimes be problematic for iPhone owners due to the fact the operating system the devices run on does not support the widespread Flash plug-in, which is used to load different types of multimedia like videos, interactive games, animations, and music. Because of this, players may find themselves unable to load their favorite roulette variations directly in their iOS devices' browsers since some mobile casinos require an up-to-date Adobe Flash Player to run their games smoothly.
There is a silver lining though since the popularity of Flash is slowly waning because this technology has become less reliable. Flash has been designed with the needs of desktop and laptop users in mind, which is why some mobile players report poor user experience on their touch-based devices.
The good news for roulette fans who own iPhones is that the popularity of the HTML5 mark-up language is currently on the increase, with more and more mobile casinos adopting it for their websites. The latest version of the HTML5 language boasts a broader support for video and graphics content. Thus, iPhone users will be able to load their preferred roulette game directly in their browsers as long as the mobile casino supports the universal HTML5. Needless to say, having a reliable 4G, 3G or WiFi connection is recommended if you do not want to experience any lags and freezes while playing roulette on the go.
Downloadable Applications for iOS
Many players prefer to download and install the casino's native iOS application on their iPhones or iPads, provided one such app is available (and it usually is). A good number of established gaming providers offer iOS applications for a free download. Players interested in installing the iPhone apps can visit the App Store and input the name of their casino in the search engine. Another convenient option is to simply visit the casino's website and download the application directly from there. Some minimum system requirements need to be met, however, since most casino apps run on iOS 6.0 or above.
Having sufficient memory space on your smartphone or tablet is also a necessary requirement, but in most cases, the casinos' iOS apps rarely exceed 50 MB in size.
Playing Roulette on iOS Devices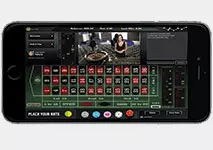 If you have ever played roulette on your laptop or desktop computer, you will hardly experience any issues in finding your way around when you load the game on your iPhone. The truth of the matter is the biggest difference results from the enhanced convenience and flexibility mobile gaming can offer. Provided that you have already opened a real-money account with a given online gambling operator, you will not be required to register again to play on the go – you can easily sign in with your existing desktop username and password.
However, new customers of the mobile casinos will have to go through a quick registration process and input some of their personal and financial information in the registration form, including their email, address, phone number, and date of birth. There is no need to stress over the safety of your details – established mobile casinos have adopted the latest encryptions to protect their patrons from identity thefts and frauds.
Once you have registered and boosted the balance of your account, you will be able to play roulette on your iOS device for real money with a few taps on the screen only. The mobile interface of the game is a bit different than that on desktop devices in order to accommodate the specifics of iPhones and iPads as well as their smaller screens. For instance, you may notice it is impossible to see the table's betting layout and the roulette wheel all at the same time simply because the two cannot fit on the screen simultaneously.
Placing one's roulette bet on iOS devices is exceptionally simplified. What you need to do first is select your preferred coin denomination – the available coin values are displayed either on one side of the betting layout or directly below. Once ready with that, you should simply tap on the betting box corresponding to the type of bet you wish to make and then touch the spin button. With some mobile variants of the game, players need to swipe across the screen with their finger in order to set the little ball in motion. When the ball comes to rest, the amount you have won will be shown on the screen.
Popular iOS variations of roulette come with a number of useful and helpful functionalities. Players can keep track of the games' history as the results on previous rounds are usually displayed on the screen. It is possible to zoom the betting layout for a closer look either by tapping it twice or by sliding your thumb and index finger apart.
If you feel you have entered a hot streak, you can let it roll without having to tap the screen at the end of each round since many iOS-compatible roulette variations come with an Autoplay (sometimes called "Quick Bet") functionality which is typically activated by holding the spin button for a while. Another useful feature iPhone roulette players will benefit from is the Re-Bet functionality but it all depends on the software supplier the game is courtesy of.
Before you start playing on you iPhone, however, make sure you rotate the screen horizontally, in landscape mode. You will be amazed at how bright and crisp the graphics and animations are, which is to be explained with the higher pixel density of the iPhones and iPads' screens. This would render your gaming experience even more authentic and enjoyable.
Popular Mobile Casinos with iOS Roulette
Players interested in playing roulette on their iPads or iPhones are recommended to stick only to reputable online gambling websites. There are literally hundreds upon hundreds casinos on the web but unfortunately not all of them are created equal, with some being more reliable than others. If you are a fan of roulette but still have not found an established iOS mobile casino to play your favorite game at, we strongly recommend you to take a look at the five renowned gambling operators we have reviewed below.