Roulette is undoubtedly one of the most popular casino games which has been played for many years. It is extremely famous on a global scale and presently, it is offered in most brick and mortar casinos. If you are among the many roulette enthusiasts, you are probably aware of the fact that this casino game can be also played in a number of online casinos. Nowadays more and more land-based casinos have a web-based counterpart which usually features the same wide range of games. The online casinos continue gaining in popularity for various reasons.
Perhaps, the best advantage they offer is the fact that you can play at the most comfortable spot for you. You don't have to go all the way to a brick and mortar casino any more in order to enjoy roulette as the game is just one click away. Not to mention that most online casinos also have a mobile platform which is compatible with various mobile devices. This simply means that you can play roulette at any time and place as you can easily access the casino website through your smartphone. It is also worth mentioning that most online casinos work around the clock which gives you the opportunity to access them at the most appropriate time for you. The online casinos surely have a lot of advantages to offer in terms of convenience.
Furthermore, another thing that makes the online casinos a top virtual destination for every avid players, is the exclusive games some of them offer. Every reputable online casino has teamed up with a leading software supplier which is the reason why the games it provides are up to standard when it comes to quality and diversity. One of the exclusive games which you can enjoy online is 3D Roulette. If roulette is among your favorite casino games, then you should give this version a try as it offers you the chance to get a very realistic gaming experience without having to leave your home.
Overview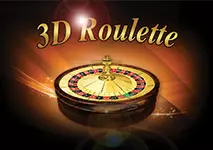 In its nature, this game is pretty much the same as the classic roulette. The main difference between 3D roulette and standard roulette is that the former features a three-dimensional wheel. Thanks to this innovative version, you can enjoy a roulette game that has extremely realistic graphics. This greatly contributes to the genuine experience that you are able to get from playing 3D roulette. You have the chance to observe the spinning of the ball and enjoy the feeling of anticipation even more thanks to the extremely realistic representation of the wheel.
The wheel appears so realistic that you might even get the feeling that you are able to reach it. It is the same as in French roulette, meaning that it features only one green pocket. This works in favor of the players as the games that include two zero pockets have a higher house edge – 5.26% instead of the standard 2.7%. This means that you are better off playing games that feature one zero pocket as in such cases, you have much higher chances of winning.
Usually, in 3D roulette games the emphasis is put on the design of the table which you will notice that it is a bit different than in the original game. The outstanding visual and sound effects significantly contribute to the overall genuine ambiance that these games create.
What it Takes to Play 3D Roulette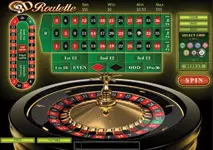 Another great thing about this variation is that its rules are the same as in the classic roulette. Your goal is to guess correctly on which number the ball will land exactly. You can place a bet on odd or even numbers or on red or black ones. It is also possible to wager on either one particular number or a group of numbers. The choice is entirely yours and it is also up to you to decide the size of your bet, providing that the respective amount meets the table requirements for minimum and maximum bets. If you find it hard to make up your mind regarding your wagers, you can consider learning any of the available betting systems. This way you can simply place your bets according to its pattern which will make the whole gaming process much more enjoyable for you.
It is extremely easy to play 3D roulette due to the virtual nature of the game. First of all, you need to log into your real money account at the respective online casino in order to be able to win real money. Besides real money mode, some casinos also offer fun play, meaning that you can first get used to the game without risking your own funds. This is always a good idea because the available buttons in the game might differ from one casino to another. In order to start playing, you need to select the amount for your initial bet and place the chips on the numbers of your choice. Usually, you are allowed to put several wagers whose size can be different. After you are done with this part, you can simply click the spin button and hope for the best.
Software Providers that Offer 3D Roulette
You can enjoy 3D roulette which features vivid graphics and excellent sound effects thanks to some of the leading software providers in the online gaming industry. This game shows the dedicated intentions of the suppliers to top their previous innovations so that they can surpass the expectations of their casino clients and the end-users. Some of the reputable software developers that offer 3D roulette include Microgaming, Betsoft, NetEnt, Playtech and Rival Gaming. It is worth mentioning that the latter takes credit for designing the first games of this type that featured 3D graphics.
Whenever you bump into an online casino whose games are powered by any of the above-mentioned software suppliers, you can search for 3D roulette and diversify your online gaming experience greatly. Thanks to these software suppliers, you have the opportunity to experience a true-to-life variation of roulette which will bring you the thrill of excitement.
As long as players keep showing interest in this type of games, the software provides will continue making attempts to create more innovative and realistic casino games.
Pros and Cons of Playing 3D Roulette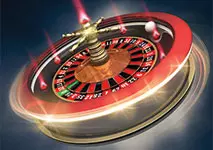 Perhaps, the biggest benefit of 3D roulette is its realistic graphics and excellent sound effects. Even though at first glance these two factors might seem insignificant, they greatly contribute to the overall pleasant experience you will be able to get from playing this game. Thanks to them, you will be able to fully immerse in the game and enjoy it like never before.
Whenever you play 3D roulette, you can focus more on the gaming process as usually, you have a better view of the wheel that appears a bit bigger than in the classic game. The movement of the ball is also very natural and realistic so that you can easily follow it in anticipation. Another great thing is the fact that you can switch your camera from one angle to another whenever you play 3D roulette.
However, there is one thing which can be considered as a main drawback. Some players dislike the fact that in some games you are required to place larger bets as the table minimum in such cases is much higher. This can cause you to lose your money much quicker than usual. Thus, it is always a good idea to double check the table limit in order to make sure you can afford to join the respective game.