A convenient and risk-free alternative to credit and debit cards, prepaid cards are widely used in land-based stores and on the web for a whole host of activities, notably online shopping. Unlike other financial products, prepaid cards are issued not just by banks but also by merchants and are often preferred for micro-payments.
As prepaid cards are typically anonymous and can be purchased from numerous shops online and in the real world, they have become a convenient payment method for gambling enthusiasts. They are loaded with a fixed amount of funds, which prevents overspending. These cards can be obtained from a local credit card issuer as reloadable cards, linked to an individual's bank account, or they can be purchased from various stores and service providers as dispensable cards. Such prepaid cards are a convenient alternative for online casino players from certain countries who may have their credit cards rejected by web-based gambling providers. They are also easier to acquire than credit and debit cards, as there is no need to register with a certain bank and open an account. Thus, they do not reveal any personal information about the user.
However, prepaid cards usually come with a load fee, which depends on the type of card. Casinos, on the other hand, rarely charge processing fees for deposits made through these cards. When deciding whether to invest in a prepaid card or not, online casino players need to take into account the policy of their preferred casinos, as well as the variety of cards, available to them.
How Prepaid Cards Work
Prepaid cards are simple and easy to use – they function like credit/debit cards, but they have a pre-set amount of funds, which cannot be exceeded with a credit. This brings more reliability and peace of mind to cardholders who are not particularly disciplined when it comes to spending.
Prepaid cards are often considered similar to debit cards, which hold a fixed amount of funds on deposit with the issuer. But the monetary value of prepaid cards does not need to be connected with a client's account at a banking or a financial institution. Their value and all other relevant data is virtually stored as a binary-coded information, which cannot be disclosed at the merchant at any point of the transaction.
Casino players can use different types of prepaid cards to top up their online gambling balances as a large number of the leading casinos on the web are accepting such cards as a payment method. However, withdrawing funds into the card is impossible, so players need to consider other alternatives.
These cards are often preferred by users who have security or privacy concerns about using their credit cards and their real names on the Internet.
Types of Prepaid Cards
Casino enthusiasts can easily obtain a prepaid card from banks or financial institutions, brick-and-mortar stores or gas stations, and from web-based merchants, choosing its monetary value in advance. They can purchase a gift card – an anonymous disposable card which has a predetermined amount of money and can be given as a gift or used right away. There are also virtual prepaid cards which can be used for online payments or purchases only – most of them are single-use cards, while some can be reloaded from a bank account or a credit card when needed.
Prepaid Gift Cards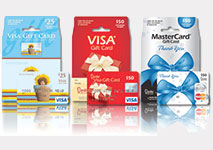 This type of prepaid cards is designed to act as a gift and is often limited to making purchases from a certain retail brand. Popular gift cards, or gift certificates, are those for buying clothing, shoes and accessories, travel or spa experiences. They are available in different denominations – $10, $20, $50, and $250, for example, and often have a magnetic stripe, so that they can be read at stores. Alternatively, they come with a unique code, which serves as a recognition tool at online stores.
But such cards are also offered by financial institutions and can be used for everything, including making deposits at online casinos. If the card is issued by a larger bank or it is Visa or MasterCard-branded, it will be accepted at most reputable casinos on the web. While deposits are instant and usually without an extra fee, withdrawals are impossible with this payment method.
Reloadable Prepaid Cards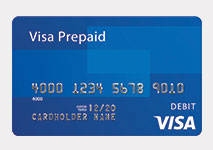 This card acts as a debit card – you can reload it when you wish, but instead of transferring the funds from your checking account, you pay cash. Some providers allow the card to be refilled through bank or credit card transfers, and you can use an e-wallet or a direct deposit in some instances. Typically, there are load fees, but charges when topping up through a direct deposit from your pay check are rare.
Reloadable prepaid cards by leading brands such as Visa, MasterCard, or American Express, are usually accepted by most web-based gambling operators without processing fees for the deposits. Most reloadable cards have Personal Identification Number (PIN) which should be used when making a payment, along with the expiration date and the cardholder's name. Unlike credit/ debit cards, however, these cards do not need to be registered or activated before use.
Another fee casino players should take into account is the monthly fee of the reloadable prepaid cards, which can be rather high, depending on the issuer and the particular type of card.
Some of these cards bring convenience to users and act like digital wallets. Neteller's Net+ Cards for example, allow gamblers to transfer funds to and from their casino balances, make purchases and even withdraw funds from ATMs. These cards are low-cost and secure, and the best thing about them is that they are accepted by most reputable casinos, including regulated sites.
Disposable Prepaid Cards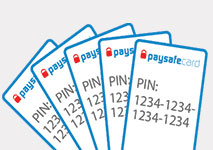 Disposable prepaid cards are another alternative to credit and debit cards, but cannot be loaded once their balance is exhausted. They are available for purchase at various banks, retail stores, or paper kiosks, and are usually used for online shopping. They are ideal for online gambling, as well, because they are easy to use and offer great convenience and privacy to the user.
Usually, disposable prepaid cards expire a few months after they are purchased. They come in various denominations, so the user can decide on the amount of money that is "stored" in them.
One of the most popular disposable prepaid cards today is PaysafeCard, which can be bought with cash from thousands of outlets around the world. After purchasing, the user receives a "ticket" with a 16-digit PIN. When making a deposit into your casino balance, you need to select PaysafeCard from the list of options at the Cashier page and then enter the PIN. The funds will appear immediately into your balance, so you can play with them right away. PaysafeCard is available as a deposit method at most well-established and reputable web-based casinos today.
Using other disposable prepaid cards is similar – you will have a PIN or any other unique code to verify the payment.
Virtual Prepaid Cards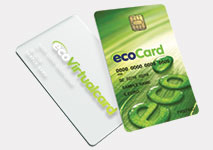 Online casino players can benefit even more from the virtual prepaid cards on offer, as they were designed to be used on the web. This deposit method has gained popularity in recent years because it offers players convenience and flexibility. And it is available in most of the leading online casinos.
Single-use virtual cards such as those provided by ecoPayz are widely used by players due to the high levels of security they offer. They cannot be lost or stolen, so the risk of fraud is minimal. Players need to open an account with the service and then, they can top up their balance using various payment options. Along with an ecoVirtualcard, a plastic ecoCard is also available if you want to pay utility bills, shop at land-based stores, etc.
EntroPay is one of the leading providers of virtual prepaid cards for online gambling, but players need to sign up at the its official website before using the service. Once they have an account, they can load funds into it via bank transfer or credit card. But if players choose to fund the virtual Entropay Visa card through a credit/ debit card or a transfer from their bank account, they will pay fees of 4,95% and 3,95%, respectively.
Making deposits through an EntroPay Visa card resembles paying with a credit card – players need to choose it as a deposit method on the Cashier section of the casino, then enter their name, the number and the expiration date of the virtual card, the 3-digit CVV code, along with the amount of money they need to deposit. The transfer is instantaneous and free of charge.
The greatest advantage of using EntroPay, however, is that it allows players to withdraw their winnings from the casino they play at. The transaction is complete a few minutes, which is much faster compared to other popular withdrawal methods.
Depositing in Online Casinos via Prepaid Cards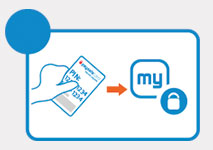 Topping up a casino balance via a prepaid card, plastic or virtual, is exceptionally simple and fast. Players need to visit the Cashier/Payment section on the casino website and select Prepaid Cards as a deposit option. In most cases, they will be able to choose a specific brand of card, for example EntroPay or PaysafeCard, but sometimes prepaid cards will work under the Visa or MasterCard category, depending on their type.
The verification process is also quite straightforward – players are required to enter the number and expiration date of their prepaid card, a PIN, or sometimes the name of the cardholder. Once they fill in all fields and confirm the transaction, the newly deposited funds appear immediately in their casino balance.
Some gambling sites offer players the opportunity to purchase prepaid cards directly from them, using their credit cards, e-wallets or another payment method. Many players prefer this strategy to avoid rejection of the card. Typically, deposits via prepaid cards are not only instant, but also free of processing fees.
Withdrawing Winnings via Prepaid Cards
Usually withdrawal of winnings from online casinos is not an option with prepaid cards. Gamblers who wish to cash out will need an alternative payment system. There are a few exceptions, notably the prepaid EntroPay Visa cards, which are linked to an EntroPay account where players can transfer their winnings to.
Although most casinos and payment services providers do not charge fees for withdrawals, 1,95% fee is imposed when cashing out through EntroPay.
Fees And Limits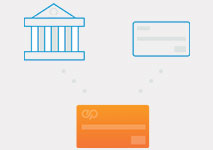 Most gambling operators on the Internet do not charge fees for processing deposits and withdrawals, which is not the case with some card issuers. They may charge small processing fees, as well as fees for currency exchange.
Disposable prepaid cards are usually offered in at least several denominations, with the monetary value ranging from $5 to a few thousand US dollars. All fees and limits are individual to the type and brand of the prepaid card you have chosen to invest in.
Security
Prepaid cards are considered the safest online payments option available, because in most cases, players do not disclose any personal or credit card information when making payments with them – the only visible data to the gambling vendor is the card number.
In addition, most of the leading web-based gambling providers, as well as most banks and other card issuers, implement top-notch security measures to prevent fraudulent activities. Their websites are heavily protected by SSL encryption, while transactions are processed only after two- or three-factor authentication – User IDs, passwords, PINs, verification codes, and others.
And often, no name or banking information is required when purchasing a prepaid card, which ensures the user remains anonymous on the web.
Advantages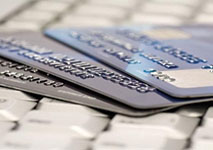 Using a prepaid card to top up your casino balance is safe and ensures privacy, as usually you will need to pay cash for it. No sensitive data is revealed and you can remain anonymous on gambling websites.
Although there are usually monthly and load fees for reloadable cards, they are rather low, which is another factor for the rise in their popularity. Prepaid cards are also widely available – they can be purchased from thousands of stores, banks and online vendors, and they are at the disposal of anyone above 18 years old. Regardless of whether you have a bank account, a checking account, or a credit card, and regardless of your credit score, you can obtain a prepaid card.
Disadvantages
Some providers of plastic and virtual prepaid cards impose monthly or annual fees, which are fixed and can reach up to $10 a month. If this is an issue players should consider acquiring a debit card, where fees are normally some of the lowest.
Another concern for many players is the fact that prepaid cards simply do not have a mechanism for receiving funds. Usually, they are not connected to a bank account or an e-wallet, so gamblers need another way to withdraw their winnings.
Last, but not least, using prepaid cards for online gambling is the best way to control and monitor one's spending.
Conclusion
Prepaid cards are gaining popularity as an online payment method because they keep their users protected from the many Internet security risks that exist right now. They are convenient and simple, providing casino players with a tool for retaining privacy and controlling their spending on gambling sites.
In addition, deposits via prepaid cards are instantaneous and can be used immediately to gamble online for real money.