If you are planning a trip to Atlantic City, New Jersey – the internationally renowned resort city on America's East Coast, then you are probably interested in gambling, night live and fine dining. Atlantic City is dubbed the "Gambling Capital of the East Coast" and is second only to Las Vegas in terms of the number of casinos, revenue and size.
To save yourself some trouble and time when you arrive in Atlantic City, here is a list of the top ten casinos, in no particular order:
Atlantic City Hilton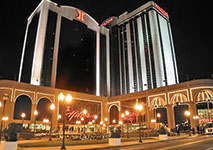 The Atlantic City Hilton is owned by Resorts International Holdings. It is located on the famous Boardwalk and boasts having over 75,000 square feet of gaming space. The Hilton has a seemingly endless supply of slots, craps, blackjack, roulette, baccarat table games and a Macau-style table games room with over two dozen tables.
Bally's Atlantic City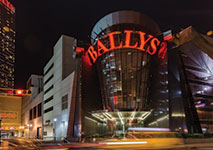 Bally's is also located on the infamous Boardwalk. This casino uses an American Old West theme in its expansive 225,000+ gaming space. With over 599 slot machines, keno, simulcast and numerous table games, gamblers find everything they are looking for plus a whole lot more at Bally's.
Caeser's Atlantic City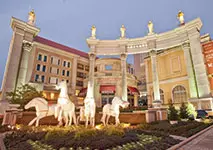 Caeser's Atlantic city is a hotel/casino in Atlantic City that uses an ancient Roman theme. This is the 2nd casino to open its doors in Atlantic City back in 1979 and is today, one of Atlantic City's largest casinos. There are more than 3,400 slot machines here, which is a staggering number. There are also 135 tables games on offer as well as the Racebook which includes dozens of semi-private seats with 13-inch monitors and a 36-foot video wall made up of four, sixty-inch monitors showing the main race.
Harrah's Atlantic City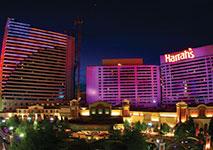 Harrah's is a hotel and casino that is located in Atlantic City's marina district. The Harrah's new hotel tower which was built in 2008 is the tallest building in Atlantic City. With over 3,800 slots to choose from and every table game you could ever wish for, Harrah's expansive gaming floor has something for everyone.
Resorts Atlantic City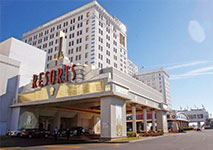 Resorts Atlantic City is a casino, hotel and spa. The Resorts was the very first casino hotel to open on the Boardwalk in Atlantic City in 1978. This casino is adorned in art-deco style with Resort's own flappers on hand to serve up cold drinks to gamblers. There are more than 2,500 slot machines to choose from as well as dozens and dozens of exciting table games in over 100,000 square feet of space.
Tropicana Casino and Resort Atlantic City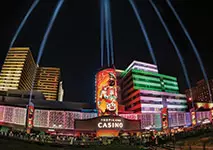 The Tropicana is a casino/resort located at Brighton Ave. on the Boardwalk that uses an Old Havana theme. It is owned by Tropicana Entertainment. The huge 148,000 square feet of gaming space is home to more than 3,000 slots, 135 table games, a poker room, simulcast and an Asian gaming area complete with a noodle bar.
Trump Plaza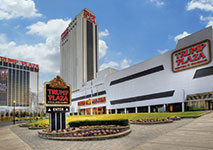 The Trump Plaza Hotel and Casino is located on Atlantic City's famous Boardwalk. Whether your tastes in table games is blackjack, craps, roulette or baccarat or if you enjoy something a bit different such as Pai Gow Poker or Tiles, Trump Plaza has what you are looking for. If you're into slots, Trump Plaza offers up hundreds of machines. The Fifth Avenue Slot area offer luxurious high stakes slots action featuring high limit play.
Showboat Atlantic City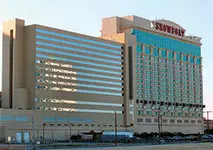 Showboat Atlantic City uses a fun Mardi-Gras theme. The Showboat is the northernmost casino on the Boardwalk that features 128,000 square feet of gaming space. All of the favorites are located inside this beautiful casino. With over 2,600 slots to choose from, 80 exiting gaming tables and a brand new poker room featuring 28 tables, you could very easily spend an entire weekend here soaking up the excitement.
Trump Taj Mahal Casino Resort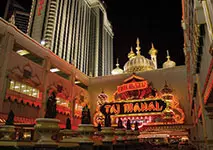 The Trum Taj Mahal is located in the busy casino area on the Boardwalk along the shoreline. This casino is owned by Trump Entertainment Resorts. It features one of Atlantic City's largest poker rooms which includes over 70 regular tables and 14 tournament tables. There are 3,100 slots and 210 table games inside the Taj Mahal. Since its opening in 1990, this casino has been one of the most popular places for tourists to visit due to its name and size. Inside is a Hard Rock Cafe, which is a huge draw.
The Borgata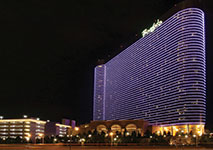 The Borgata opened in 2003 and this hotel/spa, casino's name means 'Little Village' in Italian. The Borgata is the top-grossing casino in Atlantic City which is owned by Marina District Development Corp. With an expansive 161,000 square foot gaming area that holds a whopping 4,100 slot machines and 200 game tables, there is every game any gambler could ever dream of, and more.
These top ten casinos are luxurious, expansive and all offer everything any gambler needs and wants. Atlantic City's unique location on the Pacific Ocean shoreline provides the perfect backdrop for a weekend getaway or a long and luxurious month-long stay filled with outstanding and diverse gaming options as well as entertainment galore.