Casual gamblers and high rollers alike will tell that that there is no place in the world they would more like to visit or go back to than Monaco. What is it that makes Monaco so special and why do so many people feel this city/state on the northern coast of the Mediterranean Sea is THE place to go when they want to gamble? Well, to keep it short and sweet, gambling has been legal in Monaco since 1854 because Prince Charles III needed to generate some wealth and the casinos here are spectacular.
The Le Grand Casino was solely responsible for Monaco's complete economic turnaround as an entire 'city within a city' was built around the casino which included an opera house, the Oceanographic Museum and numerous jewelry stores. Today there are a total of five casinos in operation in Monaco and each has its own elegant and distinctive characteristics. We will review them below.
The Le Grand Casino de Monte Carlo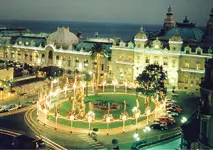 As stated above, the Le Grand Casino de Monte Carlo was opened in the mid 1800s. This spectacular casino centers on an atrium that is ringed by more than two dozen onyx columns. Inside is a total of three rooms with over 300 slot machines and 35 gaming tables. Each room is called a 'salon' and each offers something different from the other. The Les Super Prives is by 'invitation only' while the Chemin de Fer salon and the Salle des Ameriques salon is open to everyone. Inside the salons are towering ceilings, remarkable tapestries, ornate moldings and crystal chandeliers.
While you may hear tourists say that you can dress casually inside the Le Grand Casino don't listen to them because you wouldn't want to wear shorts and sandals inside the place that James Bond sipped his martinis at the bar. The action is fast paced and the clientele is wealthy and quite often very well-known. You could very well yourself rubbing elbows with a famous person inside this casino.
In addition to the classy casino, players will also have the opportunity to enjoy a grand stay at the Casino de Monte-Carlo Hotel. You will be able to choose between 7 different restaurants, with each one of them boasting mouth-watering cuisine, classy ambiance and great overall dining experience. Visitors of the casino and hotel will also have the opportunity to enjoy their time at one of the most popular wine cellars in the Riviera, the four bars of Casino de Monte-Carlo, the spa and the Country Club.
Le Casino Cafe de Paris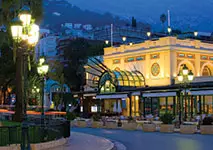 The Paris Casino also goes back a long way as it was built in 1854. Today it holds 1,200 slot and video poker machines and over a dozen table games. The casino is a true paradise for fans of slot machines who will enjoy the thrill of spinning the reels of various slots that offer quite the generous payouts.
If you decide to visit the casino, you will also have the chance to place your bets on blackjack or English Roulette and revel in a superb table games experience. The fun that the casino is offering does not end there as Casino Café de Paris has also prepared Texas Hold'em tables for all poker fans. Although both recreational players and high-rollers can expect a top-notch casino experience, those who are willing to risk more can further boost their adrenaline levels. With a dedicated VIP area, Casino Café de Paris is offering high-rollers the chance to bet on 12 high-limit video poker machines and revel in a truly exclusive casino experience.
Inside this luxurious and very pretty casino are also three outstanding restaurants: Le Grill, Le Cote Jardin and Le Louis XV. The Louis XV restaurant is a 3-star Michelin rated eatery owned by world renown chef Alain Ducasse.
The wine cellars in the Paris Casino hold an astonishing half a million bottles of fine wines – some are over two hundred years old. During the second World War, the wine cellars were well protected so that German soldiers would not be able to get inside and pilfer the rare wines being held there.
Monte Carlo Bay Casino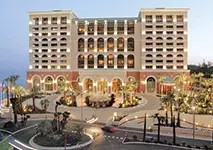 The Monte Carlo Bay Casino is the newest casino in Monte Carlo to open. In fact, before it opened there was not a single new casino addition to Monte Carlo for seven and a half decades. The more than 140 slots games inside the Monte Carlo Bay Casino use the ticket in/ticket out (TITO) technology. The TITO machines do away with coin hoppers and instead utilize on-board barcode scanners. Many casinos in the US use TITO machines but the technology is not very widely used in Southern Europe.
At this wonderful land-based casino, players will find a myriad of slot machines that ensure a fun, thrilling and hopefully fruitful experience. With a very low minimum bet, you have the chance to enjoy multiple spins and have a wonderful casino adventure.
In addition to the various slot machines, Monte Carlo Bay Casino is also offering Electronic Roulette. Very similar to the classic roulette, the game allows players to sit on a table and play either on their own or choose to switch to a live mode. Players will have the opportunity to make bets of different sizes as the versions of Electronic Roulette that you will find offer bets ranging between very low and quite high.
To make your experience even more enjoyable, the casino is also offering an open-air terrace area where you can bet on more than 100 slot machines and other fun casino games. There is also a second terrace where smoking is allowed and players can find 28 slot machines in that area.
Monte Carlo Sporting Club & Casino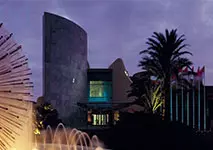 The Monte Carlo Sporting Club & Casino is open during the summer months only – opening at the first of July and closing at the end of August. This casino has over 60 slot machines and 24 gaming tables which includes American and English Roulette, Chemin de Fer, Punto Banco, Craps, Blackjack and 30/40.
This is the perfect location if you are on the lookout for the full tourist-package adventure. In addition to offering quite the variety of casino games, this resort will also provide a wonderful vacation for its visitors. Monte-Carlo Sporting Club is well-known for hosting various musical concerts and shows that provide top-notch entertainment to Monaco visitors.
In addition to being the season when the casino is operating, summer is also the time for the Monte-Carlo Sporting Summer Festival. Ever since it was created in 1974, the summer festival is a host for numerous huge stars that have shone on the stages of Monte-Carlo Sporting Club. While you enjoy your gambling time at the casino, you can also see some of your favorite music celebrities igniting the stage at this wonderful location.
Whenever you are planning your trip to Monaco, make sure to check the upcoming concerts at Monte-Carlo Sporting Club and you might have the chance to listen to one of your favorite pop, rock or opera stars.
Sun Casino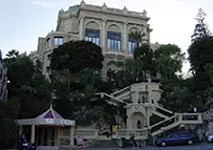 The Sun Casino is located inside the Monte Carlo Grand Hotel. Here there are 450 slot machines and 27 table games on offer. This is a very trendy casino that dishes out a whole lot of festive ambiance and which offers free admittance to anyone over the age of eighteen.
You cannot deny that when you hear the word 'casino', Las Vegas is the first destination to pop up in your mind. If that is, however, way too far for you, in Monaco, you have the chance to enjoy a casino experience that comes pretty close to the Sin City one. Many will describe Sun Casino as the most American casino in Monaco since it is offering the glitz and glamour you can witness in many brick-and-mortar Las Vegas casinos.
As many players enjoy the thrill that spinning reels bring, Sun Casino offers a wide variety of slot machines. You can enjoy plenty of games that incorporate numerous winning lines, special symbols and bonus games.
At Sun Casino, you will also have the chance to enjoy various table games that will fit the taste of different casino fans. If you enjoy betting on the game of 21, you will find a blackjack table at Sun Casino where you will be able to play the classic card games and hopefully stack up generous payouts. There is also the option to play Electronic Blackjack on the touchscreen tables of Sun Casino and challenge the virtual croupiers of the game.
If you enjoy playing roulette, you will be able to bet on standard English Roulette with just one 0 on the wheel. Alternatively, you can also join a table where you can play Electronic Roulette. The game is similar to the classic roulette version, however, it is played on a screen and players are free to choose to play on their own or bet on a live mode of the game.
Punto Banco and Texas Hold'em Poker are other of the table games that you will find at Sun Casino. They will allow you to fully enjoy your Vegas-like gaming experience at this casino. To make things even more gripping, there is also the option to place a Split Aces bet on the blackjack table. If your bet is successful, you will enjoy a jackpot prize that can make your casino adventure extremely rewarding.
If you love to gamble and enjoy spectacular, lavish and beautiful surroundings, then you must make a trip to Monaco. The dining experiences awaiting here are world class and the gambling is full-tilt inside some of the world's most well-known and revered casinos.