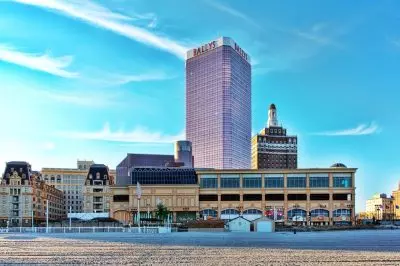 The time is now when it comes to sports betting across the states and this could be confirmed by major casino giant Caesars Entertainment which is set to launch sports wagering in two more locations in East Coast gambling hub Atlantic City as well as another two in Mississippi. According to the previously issued information, Harrah's Resort Atlantic City as well as Bally's Atlantic City Hotel and Casino are going to witness their sports books functioning over the span of this week.
The first of the two locations managed by Caesars which would give green light to its sports wagering book this Monday at exactly 11 a.m. is going to be Bally's Casino. The Wild Wild West location is a casino venue adjacent to the integrated resort which has always been well-known for its premium offerings and forward-thinking approach. In this sense the announcement of its casino developer bringing the news that sports betting would soon be available on site came as no surprise to anyone, as Atlantic City has always supported wagering on sports events in a legal manner.
For some time now the casino operator has been working on Bally's sports book while a temporary sports book has been set on site for the time being. The casino developer teamed up with leading brand Scientific Games which has provided its OpenBet sports betting platform in order to facilitate the process to the fullest. The sports bar would span over some 8,190 square feet providing enough space for the comfortable sports betting experience of every player. This is how the location has been preparing and warming up for this Monday which is when he long-anticipated sports betting offering is going to launch.
It could be recalled the 13th July the casino developer had its proposed amendments to two of the licenses – the Certificates of Operation one and the Casino Hotel Alcoholic Beverage one, approved by the Division of Gaming Enforcement. A similar process was applied to Harrah's. This effectively gave the location permission to bring some changes to its gaming floor and facilitate the introduction of a sports bar.
Its launch would mean that they would be the third Atlantic City casino to offer sports wagering to its casino patrons. These temporary sports bars would precede the operation of permanent ones, which would be finished over the span of the following nine months.
Two States Set to See Sports Betting by Caesars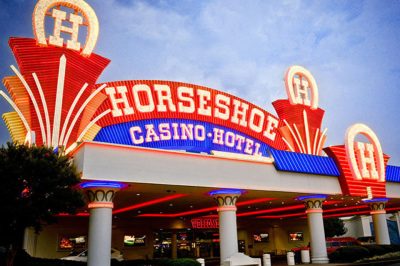 As Caesars Entertainment aims to launch as soon as possible, players also would not have to wait for this long and could place their first bets as soon as this Monday and Wednesday. As it was confirmed, this Wednesday is going to see Harrah's sports book in operation offering a well-rounded pack of gaming options. It could be recalled that Borgata Hotel Casino and Spa was the first integrated resort which offered sports gambling in the gaming hub, pioneering this offering.
Now, several weeks later the third and fourth venue are preparing to join the already booming sector. In addition to the sports book located in brick-and-mortar facilities across the gaming hub, soon the casino developer is planning to give green light to a special mobile sports betting platform, but for the time being no further information has been introduced regarding the offerings or when it is set to commence operation. It would aim at the millennial generation which is constantly involved in the world of technology and would prefer this easily accessible offering over going to a land-based casino venue.
Another casino resort located in Atlantic City is also bracing for sports betting in the upcoming weeks and this would be the Golden Nugget. The venue has already introduced its application to the Casino Control Commission aiming to provide the necessary licensing for a sports book supervisor. However, the casino resort still needs time in order to prepare for the official launch which is estimated to happen in time for the new NFL season commencing at the beginning of September.
Mississippi is the other state which has properties overseen by Caesars Entertainment and one of those might be the first one to launch sports wagering on a state level. Horseshoe Tunica is putting the final touches to its sports book which could launch sometime in August. In addition to that Harrah's Gulf Coast in Biloxi is also working on its betting on sports tournaments. With the help of this move, the casino operator and developer is going to provide players of two states with its well-rounded sports gaming products.
Both states are expected to witness quite the interest when to gambling on sports events which is a winning move for Caesars at the end of the day. About a month ago the Mississippi Gaming Commission made clear its decision to give green light to sports wagering and the state has been working towards its launch. As it turned out, however, more time is needed for the gaming activity to come into existence in local casino venues and the 30-day period previously established would be extended to August.