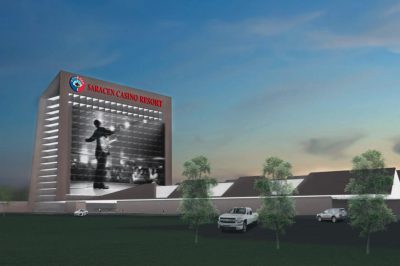 Less than 160 days are left until the substantial completion of the Saracen Casino Resort. The construction workers are doing their best to race the clock on their work schedule in order to finalize the first phase of the development and see the project open as soon as possible.
Under the contract, June 26th has been set as an opening date of the casino operations to begin at the Saracen Casino, where customers will be given the chance to play a variety of card and table games at the casino resort. According to the chairman of the Quapaw Nation, John Berrey, the casino would be ready to welcome its customers even sooner than initially planned. Mr. Berrey has shared that he is aimed at a soft opening in May 2020.
The Saracen Casino Resort is set to offer 2,000 electronic gaming machines. Apart from that, it would be able to accommodate 50 table games. Still, Mr. Berrey shared his expectations that at the beginning of operations, the casino will start with a mix of about 30 roulette, blackjack, craps and poker games. Apart from the casino, the planned resort would offer an extensive dining area.
As already revealed, the completion of the casino is set to be celebrated with the first one of two grand openings. Then, a second one is set to follow in 2021, at the time when the planned 300-room hotel tower and the events center are completed.
Quapaw Nation Launches Saracen Casino Resort Along with Small Companion Project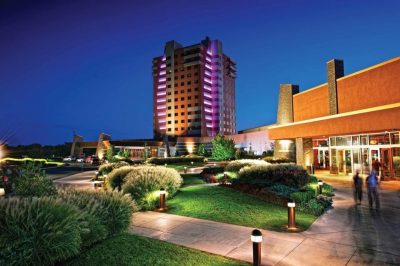 The development of the Saracen Casino Resort was officially given a start in 2019, with the Quapaw Nation launching a smaller companion project at the same time. The land for the construction was purchased as part of a total of six transactions estimated at over $6.6 million.
The deals included the Southern Edge Truck Stop that had been keeping its business strong and remained popular among local customers. The Native American tribe transformed the 5,300-square-foot truck stop into the current Q Store and added the 15,000-square-foot gambling operations' annex. The overall process of a makeover and new construction were completed in 97 days.
As mentioned above, the Saracen Annex venue is set to open 300 slot machines, which according to expectations, would probably be the main attraction at the casino. Apart from that, the project has been the first foray into sports betting for the Quapaw Nation. Now, four sports betting terminals are situated in the front lounge area of the Oxbow Bar, and two more have been ordered. In addition, 10 sports betting kiosks are expected to start operating online in March 2020.
The casino resort project is set to create about 1,100 jobs in total for the Saracen Annex and the Saracen Casino Resort, with 300 of them already working.