Pai Gow Poker by Microgaming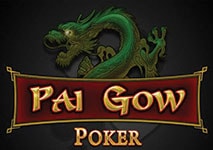 Card games are quite popular on the Asian continent and there we find some of the most unique and interesting versions of poker. For the most part, Western land-based casinos were not in a position where they could offer Asian card games due to them being relatively unknown. However, when online casino started gaining steam they could provide players with much more than the classical styles.
Pai Gow Poker is one of the more popular games from the Far East and millions of gamblers can enjoy it. In this article, we will take a look at the version of the game developed by Microgaming, one of the largest software providers in the industry.
Visuals and Layout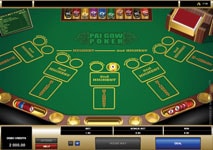 Pai Gow Poker features the same graphic design found in other table games from Microgaming. Simplicity and minimalism are the focal points for this software provider and this is perfectly exemplified in Pai Gow Poker. The visuals are made to be as clear as possible, allowing players to easily recognize what is happening on the screen.
The user interface is also quite accessible to both veterans and new players. Bets can be easily placed by simply clicking on the virtual table. Overall, the game is presented in a neat and orderly way, which makes understanding and navigation a breeze.
Betting Limits
Much like other Microgaming table games, Pai Gow Poker features some excellent betting limits. This game is suited for both high rollers and casual players due to the wide range of betting options that you can place. The minimum wager on the main hand is 1 unit of currency, but that go as high as 200 units, depending on your budget.
There is also an optional Bonus Bet that you can place next to the main one. This is a wager on certain combinations that your cards can form and it can be as high as 20 units of currency. The payout ratios vary, based on the hand that you have. More specifically:
Straight – 2:1
Three of a Kind – 3:1
Flush – 4:1
Full House – 5:1
Four of a Kind – 25:1
Straight Flush – 50:1
Royal Flush – 150:1
5x Ace – 400:1
Seven Card Straight Flush with Joker – 1,000:1
Royal Flush and Pair Deuces – 2,000:1
Seven Card Straight Flush – 8,000:1
Based on these payouts, the bonus bet comes with a house edge of approximately 5.79%. This is slightly higher than the house advantage of the main bet which stands at around 2.72%. However, the side bet does give you the chance to score an immense payout if your cards are just right, so the risk might be worth it to some players.
Special Features
Pai Gow Poker might be strange to those who are used to playing Western styles, but after a few minutes, it is easy to get the hang of it. The player and the dealer are each dealt 7 cards. From there, the player is expected to form two different hands, one with 5 cards and one with 2 cards. The 5-card hand is valued according to traditional poker rules, while the 2-card hand is valued based on whether it contains a pair or not. The goal of the game is to have better hands than the dealer.
The win condition in Pai Gow Poker is slightly different than in other games. For you to make a profit, both hands have to stronger than the those of the dealer. If however, just one of your hands is stronger while the other is weaker, then it will be considered a tie or push, as the game refers to it. The probabilities in Pai Gow Poker go as follows – ~29% for a win, ~40% for a push, and ~30% for a loss. The payout for a win is 0.95:1, meaning that you will earn $0.95 for every dollar that you wager. Based on these number, we can conclude that the house edge of Pai Gow Poker stands at 2.72%.
As far as specific features are concerned, Pai Gow Poker is played with a single 53-card deck, where we find the usual 52 cards and the Joker. The Joker is considered a Wild card and as such, it can stand in for any other card in the deck. When separating the cards, the 5-card hand has to have a higher poker value than the 2-card one. Moreover, you have the option to allow the game to sort the cards for you, though this may not always lead you to the best outcome, so use this feature sparingly.
Overall, Pai Gow Poker is a fun and interesting game. It is generally considered low risk due to the high chance to Push and the odds between a win and a loss vary only 1%.