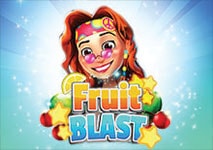 If you feel tired of all the typical slot games, with the usual reels and paylines, then Fruit Blast is the game for you. Technically, it is still a slot game but it definitely could fool someone into thinking that it is something else. This game has some very unusual features but that is not to say that they are bad.
In fact, quite the opposite. It is a match-three game which gives you a chance to use logic and not rely solely on sheer luck. The fact that there are different levels makes it closer to video games, which, once again, do not rely on luck.
The game has a great bet range of $0.60 – $100 and a variable RTP of 94.02% – 96.12%. It is before anything a game of choice and variety and it is definitely something fresh. It was released in 2017 by Microgaming so it is quite new and innovative too.
Theme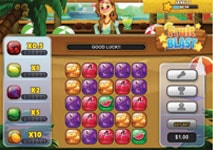 The setting is a beach bar with various bartenders. With bright colors and tropical music, this game is easily one of the most relaxing casino games. There are palms and beach balls, a ship and what seems to be the mountains of a tropical island.
The animation is simple but fun. The bartenders move around and blink, some play with their hair, others use a shaker – there is variety in that too. They are all cheerful and nice. The bonus feature animations are really smooth and remind of a children's series.
Symbols
There are seven symbols in this game. Five of them are of fruit and what you need to do is collect seven of each to win their designated multiplier. There are bars on the side of the base game screen for each fruit and you can fill them multiple times.
Firstly, we have the cherries which are a x0.5 multiplier. The more of them you collect, the higher your final multiplier gets. Then, we have a lemon with a x1 multiplier, grapes with a x2 multiplier, a watermelon with a x5 multiplier and finally pineapple with a x10 multiplier.
There are also bonus and jackpot symbols. All of the symbols are very bright and colorful.
Combinations and Jackpots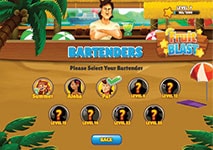 Well, since it is a match-three game the combinations are of three or more of the same symbol. Depending on the multiplier of the symbol and your own bet, you get a different win. You can get multiple multipliers which is a really nice feature.
There are also different achievements for each level like 'play 100 games', 'fill 20 cherry bars', 'fill 15 lemon bars', 'win 5 consecutive games' and so on, each of which grants you a different amount of progression stars. These are what you collect to level up and advance in the game.
What is really interesting is that each bartender you unlock as you advance and level up has a different bonus feature and a different frequency of said bonus feature. This is how the RTP is variable. What is great is that you can pick your bartender. Another interesting thing is that more advanced bartenders do not necessarily give higher wins.
There are 9 bartenders, out of which the first one, named Summer, does not have a bonus feature. Then you get Aloha, who is a Hawaiian girl, which is a bit of an unusual name as you do not meet many people named Hello. Her bonus feature is a shake which grants you an instant win that can vary in amount.
Then there is Pat, whose bonus feature is Dance Nights. This gives you 5 free games, all of which are guaranteed to give you a win. And so, with the different characters, you can get all sorts of bonuses like Pick and Win or more free games, or special prizes.
The jackpot here is also struck based on the same logic – you need three jackpot symbols stacked together. The jackpot is x1,000 times your bet.
This is an overall fun game, with a fairly good RTP. You can get a pretty solid win with it and if nothing else, it is pretty refreshing.