Nowadays, mobile devices are more widespread than ever, with Apple's iPhone holding a significant share of the smartphone market. The California-based technology company generates billions from the sales of its smartphones and tablets on an annual basis. Statistics indicate the giant has sold more than 90 million iPhones in the United States alone in 2016 and its popular operating system ranks in second place in the country, surpassed only by its biggest rival Android.
Owners of iOS-based smartphones and tablets are provided with the option to download additional application programs from the brand's official app distribution platform, the App Store, which is home to more than 2.2 million apps and has seen around 140 billion downloads as of 2016. There are all kinds of apps to be found in the App Store, including many which allow users to play popular casino games like slots, poker, and blackjack from the comfort of their surroundings.
Casino aficionados with iOS-based devices are normally given a choice between downloading a real-money casino application or one of the so-called social gambling apps, which enable their users to play common casino games for recreational purposes only without risking their own money. In fact, mobile-compatible casino games are growing in popularity these days, with an increasing number of online casinos going mobile to cater to popular demand.
If you are looking to place a few bets on your favorite casino game while on the move, we suggest you check the following article out. We introduce iOS users to the key differences between real-money and social casino apps, explain the App Store's policies on real-money gambling content, and present readers with several top-shelf casino applications they can find at the popular app platform. Have a look.
Best Real-Money Casino Apps for iPhone
Some players would argue nothing can compare with the thrill of winning actual money, which is why they prefer installing real-money casino apps on their iPhones or iPads. Most acclaimed online casinos offer free dedicated applications for iOS which can be downloaded either from the App Store or directly from the gambling operators' website. To make things easier for you, we provide you with short overviews of 5 of the best real-money gambling apps for your iPhone.
Differences between Social and Real-Money iOS Casino Apps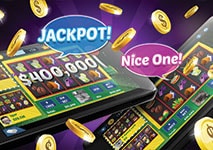 As was hinted, we can distinguish between two types of gambling content at the App Store, the first type being the social casino apps. These were given a pretty suitable name since gambling has indeed always been considered a largely social form of entertainment. Social casino apps are offered at the App Store either at no charge or at a very small cost.
At the same time, they provide players with the opportunity to enjoy various casino games for free, i.e. without making any real-money bets. What adds to the social aspect of these games is the fact iPhone users can usually share their results with friends on social media or even invite them to join free slot or poker tournaments. These casino games are rather entertaining and pose no financial risk for the players, which makes them the perfect alternative for iPhone owners looking for some casual play.
Apps with social casino games are almost always free to download. However, their developers must generate some profit as well, and one of the easiest ways to do this is by including advertisements in their free products. What this means is your betting session may be frequently interrupted by ads which can become annoying after a while.
Another thing iOS users should be wary about is downloading social casino applications which support micro-transactions, more commonly known as in-app purchases. When you download one such casino application from the App Store at no cost, you are usually given a specific number of virtual credits to play the games with. Yet, if you run out of credits, you will have no other option but to buy some more with your actual money, unless of course, you are willing to wait until the app refreshes. Social casino games players are normally granted the minimum amount of chips on a daily basis.
But there is more to in-app purchases than this. Many social casino apps offer different entertaining features but in order to unlock them, the player is required to pay for them with actual money. An example would be a player unlocking new casino rooms within the app or paying for a sleeker in-game avatar to distinguish them from the crowd.
Another example comes from social slot applications in the App Store where apart from buying in-game credits to play with, iPhone owners are also offered to purchase entire coin bundles which allow them to unlock exclusive slot games that are otherwise unavailable to regular users of the free app.
Of course, there is the option to unlock the "hidden" slots by playing and earning in-game credits in the process, but this would require hundreds of hours of your time, at least in most cases. Because of this, many social slot fans would prefer to purchase enough coins to unlock the entire suite of games at once.
Also, these paid features would sometimes enable the player to win more frequently when betting on a given social casino game. Some might argue these games are biased, and to a certain extent, they are. However, this is generally not considered such a big issue because they do not involve real-money stakes.
All of the above points raise the question "How much a social casino player is willing to pour into these free iOS applications?" but the answer might greatly surprise you. Apparently, developers of social casino apps generate millions in revenue from in-app purchases.
KamaGames, one of the world's biggest developers of social casino games, reported a 63.4% year-on-year revenue increase in 2017 and generated over $57 million during this period.
Real-Money Gambling Apps at the App Store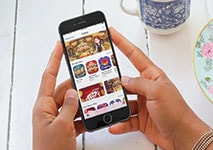 Despite their shortcomings, free casino apps pose as a great alternative for iPhone users who insist on playing casino games while at the same time eliminating the financial risks associated with gambling. Yet, there are casino fans who are looking to stake real money while on the go as after all, nothing can compare with the rush of adrenaline one feels when scoring a huge real-money win. Many gambling mavens would argue that roulette, blackjack or slots are rather simple to play, so winning actual money is pretty much one of the biggest drawing attractions of these games.
Real-money gambling apps normally feature plenty of enticing video slots and video poker varieties to keep you entertained for hours on end, but there is also the option to play classic table games like craps, roulette, baccarat, and blackjack. But it only gets better. Some real-money gambling apps also support live dealer games, which is to say you will be able to compete against a professional dealer, with the action streamed in real time directly to the touchscreen of your iPhone or iPad.
A wider range of world-class games and the potential to win actual money are not the only benefits of real-money iOS casino apps. Most applications enable users to top up their accounts within minutes thanks to their intuitive cashiers which usually support a broad range of secure payment methods. In addition, you can participate in promotional incentives and receive assistance via live chat, when necessary.
On that note, it is also worth mentioning that gambling enthusiasts may sometimes play on the go by loading the website of their chosen casino directly in their iPhones' browsers. Many gambling operators offer in-browser play and run mobile-compatible websites allowing you to access their real-money games without installing additional iOS applications.
All reputable gambling operators in the industry have designed iOS-compatible applications you can download at no cost from the App Store. These applications will grant you access to a wealth of casino games you can play for actual money, which would also allow you to cash out whatever you have won.
How to Play Mobile Casino Games for Real Money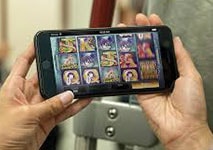 Playing real-money casino games is not that much different than betting on social casino games, but before you start, you will need to do a little research and choose a reliable iPhone casino. A few things to look for include valid licensing, gaming versatility, payment methods diversity, and adequate customer support. If your casino of choice covers the above criteria, you can rest assured you have selected a trusted gambling operator.
Once you have made your choice, you need to register with a real-money account at the casino. You can do this either through the operator's iPhone app or by visiting their website in your mobile device's browser. The registration process is rather simplified and requires only several minutes to complete.
You proceed by selecting a payment method to deposit with while on the go. The most commonly used banking solutions among iPhone players at real-money casinos include cards by Visa, Maestro and MasterCard, e-wallets like those offered by Skrill and Neteller, online banking, and prepaid methods like Paysafecard.
Processing a deposit is not that big of a deal even if you have never done it before. You simply visit the casino's cashier and tap on the payment option you prefer to use. Then you enter your financial details (such as the card number or your e-wallet credentials) and specify what amount you want to deposit. Then you confirm the transaction and you are pretty much done. Deposits at real-money iPhone casinos normally go through right away and players are hardly ever charged for topping up their accounts.
After you have deposited, you can start playing the available casino games and potentially win some real money as you go. You choose a game and once it loads, you adjust the stake size to your preferred amount, place the bet, tap on the Spin or Deal button, and keep your fingers crossed. Unlike the social casino games, real-money gambling games are not biased which is to say everyone has equal chances of scoring a win, regardless of their stake size or the deposited amount.
Since this is practically gambling, real-money casino games run on Random Number Generators (RNGs), which ensure the randomness of results. These pieces of software are subjected to rigorous tests and are audited by independent testing agencies to prevent conflict of interests.
This brings us to cashing out your winnings which is a process, similar to that of depositing. You again go to the cashier, provide the necessary information, enter the sum, and request a withdrawal. Withdrawals are a bit more time-consuming due to the fact each payment needs to be verified by the iPhone casino's financial department before it is released from the player's account.
This usually takes between 24 and 72 hours but the timeframes are different depending on the mobile casino. Some casinos allow for reverse withdrawals, which means the player can cancel out the transaction while it is still being processed by the gambling operator. In this case, the funds will be returned to the player's balance and they can use them to make more bets. However, this is a suitable option only for those who can control themselves when gambling on the go.
The payouts of all available games in a given iPhone casino are normally listed so that players can check them out and compare them.
The App Store's Policies on Real-Money Gambling Apps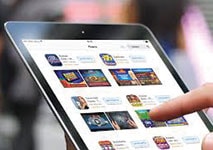 Android may rank first in terms of market share, but iPhone users would benefit from less stricter policies on real-money gambling content in the App Store. Until recently, Apple's biggest rival prohibited all kinds of casino apps involving real-money bets, so the only way for Android users to download such apps was directly from the website of their favorite mobile casinos. Google has now started to relax its policies allowing for real-money gambling content but unfortunately, this applies to three specific countries only (the UK, Ireland, and France).
The good news for iPhone users is that Apple's policies are much less restrictive where gambling content is concerned. Third-party developers and gambling operators are allowed to offer real-money casino apps to the App Store customers as long as they meet the criteria outlined by the technology giant.
One of the requirements is for the apps to be available for a free download from Apple's official store. Also, the providers of the real-money casino apps are required to have a valid license allowing them to legally offer such services to customers. The iPhone applications supporting real-money stakes should not provide users with credit to bet with through in-app purchases. Last but not least, real-money gambling apps should be restricted in the countries and jurisdictions where interactive gambling is prohibited.
What this means is you may not be able to download one such app and play casino games for real money if you reside in a jurisdiction which disallows placing real-money stakes over the internet.
We would like to recommend to all iPhone owners looking to play real-money casino games on the go to first acquaint themselves with their country's online gambling laws.
Pros and Cons of Playing Casino Games on iOS Devices
Playing casino games is all the more exciting when one utilizes mobile devices like the iPhones or the iPads. The most distinguished benefit of iPhone casino apps is of course, the fact they enable players to enjoy their preferred casino games regardless of time and place, with increased accessibility and flexibility.
Basically, the only requirement is for your iPhone to be connected to the internet, either via a wireless connection or via a 3G/4G connection. This way, you can make a few bets while lounging on your sofa on a Sunday morning, while on your way to work (i.e. if you are not behind the driver's wheel), or while waiting for a friend for a date. This increased level of flexibility is the chief reason why iPhone casinos are so popular among gambling mavens around the world – you are always a few clicks away from having a great time and potentially scoring a huge real-money win.
Another benefit of playing real-money casino games is that mobile iOS casinos usually treat their customers to a wide array of promotional incentives, some of which are available exclusively to mobile-phone users and cannot be claimed on a desktop computer. This practically provides you with more value for your bets as you will be able to benefit from different deposit match bonuses, free spins, and cashbacks. And the best part of all is that you get to withdraw the winnings associated with your bonuses as long as you meet the iPhone casino's promotional conditions.
Owners of iPhones, who are uncomfortable with risking their money but still want to play casino games on the go, are not lacking alternatives, either. As it was previously explained, there is always the option to download one of the social casino apps for free from the App Store and use the in-game credits to make bets. This is not actual money so there is no need to worry about the financial risks, inherent to gambling.
Furthermore, many iPhone casinos would allow you to register an account and play most of the available games in practice mode, which works in the same manner like social casino games. The only difference is you will not be required to make in-app purchases of more game credits in order to play. If you run out of credits in practice mode, you simply need to reload the game and will be granted more free monies to play with without being charged for them.
Downloading a real-money casino app for iPhone comes with the additional benefit of receiving access to a wider range of games. Real-money iOS casino apps would normally offer great slots you can choose from including advanced 3D titles that impress with their superior animations and graphics as well as with advantageous features like extra symbols, bonus mini games, and free spins.
You will also be able to play more traditional casino games like blackjack, baccarat, craps, casino poker, and roulette. Video poker and bingo are often available for iPhone play as well. Some mobile casino applications would even offer live dealer games, with tables serviced by real dealers and the action streamed to players' smartphone screens as it takes place, in real time.
There are few downsides to playing casino games on iPhone. Casino games are not that demanding but despite that you might end up draining your smartphone's battery. Of course, if you are a very keen casino player, there is always the option of carrying a portable charger to juice up your iPhone when on the go. The prices of such iPhone chargers are usually quite reasonable and range between $15 and $50.
One of the biggest disadvantages of installing a real-money casino app on your iPhone results from the more limited selection of games players have access to. Usually not all games from a given casino's desktop portfolio have been optimized for mobile play. This is but a minor setback, though, since more and more gambling operators are going mobile and are constantly expanding their mobile offerings with new games.
It is not hard to see what the downside of some social casino apps is. Players may sometimes rack up massive bills when playing games that are seemingly "free". Yet, once the app is downloaded and installed, it turns out one has to pay to benefit from some of its features. Because of this, we recommend you to approach App Store applications with in-app purchases with caution.
Keep in mind, however, that live-dealer play on your mobile device is possible only with real-money stakes, there is no practice mode there.
Best Social Casino Games Apps for iPhone
The App Store is home to hundreds upon hundreds of social casino apps to cover a wide spectrum of preferences and styles of play. Some of them would require you to pay for the download but many can be installed and played for free, even if they incorporate in-app purchases. With such a vast choice, sometimes it can be difficult to make a pick, which is why we have compiled a short list of some of the best social casino apps you can find at the App Store.
Slotomania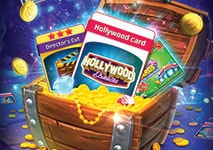 Developed by one of the most prominent suppliers of social casino games in the world, Playtika, Slotomania ranks second in terms of popularity in the Casino section of the App Store. This high rating is well justified as the app offers iPhone users more than 100 top-shelf slots, including Playtika's most popular creations like Silver Lion, Magic Trixie, Grand Phoenix, and Vegas Cash.
Apart from its diverse selection of games, Slotomania offers several other perks. Players are awarded free credits to bet with on a daily basis and can earn various exciting rewards as they spin the reels of their favorite slots. One of the most interesting features of this app are the four seasonal albums with Sloto Cards. Players can spin the reels of the slots to collect cards and complete the albums. In addition, iPhone users are rewarded with hourly bonuses and coin boosters but there is also the option to receive gifts from friends or compete with them in one of the slot tournaments.
World Series of Poker (WSOP)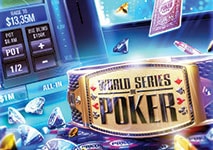 This iPhone app is perfect for all card sharks who are dreaming of participating in the world's most prestigious poker tournament series, the WSOP. This is yet another creation of Playtika, so you can rest assured the quality of the graphics and the interface will be on par with your highest expectations.
The app allows users to choose between two formats of poker, Texas Hold'em and Omaha. There are lots of cool features you will benefit from, starting with the free chips you are granted every four hours. You can participate in multi-level tournaments and earn WSOP rings while those who manage to collect the entire Collector's Chips collection are awarded the coveted WSOP bracelet.
You can invite friends to play with or participate in different missions on a daily basis. Players can also take advantage of the statistics feature to keep track of the highest stakes they have played and the tourneys they have won. You can choose from different locations around the world including Sydney, Atlantic City, and Paris but you need to play these in specific order since they are unlocked at different levels.
21 Pro: Blackjack Multi-hand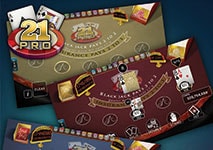 Fans of the game of 21 who are looking to attack the blackjack tables in a risk-free manner will be greatly pleased by this Avalinx LLC creation. The app offers an authentic experience on the go thanks to its realistic graphics and sound effects. The interface is quite user-friendly so you will face no issues with navigation. Less experienced blackjack players will benefit from the lessons and tips incorporated into the app.
As the name of this app itself suggests, it is possible to concurrently play multiple hands for even more intense betting action. Additionally, you can tailor the game to your individual preferences and style since it allows you to customize the cards and the table layout. The detailed statistics will help you keep track of your performance at the virtual blackjack tables. You are rewarded for your activity with bonuses, consisting of free in-game credits. Players can even win a progressive jackpot which unfortunately consists of virtual credits that can be used for free play only.
Big Fish Casino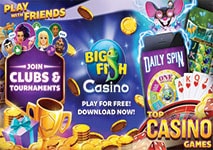 Big Fish Casino is considered the first social gambling application for iPhones that supports both free play and real-money bets thanks to its partnership with Betable. It should be noted, however, that real-money stakes are possible only for customers downloading the app from the UK App Store which can be explained with the differences in online gambling legislation in different jurisdictions. Players accessing the App Store from countries other than the UK will be able to play with free in-game credits only. UK players who are willing to risk real money need to register a Betable account and make a real-money deposit.
In terms of games, the Big Fish Casino app offers a variety of virtual slots as well as blackjack and Texas Hold'em poker for those interested in card games. Players interested in games of chance are provided with the option to bet on roulette.
Each player is awarded 100,000 free chips to start with. Do not worry if you run out of chips as the app users receive more free credits every 30 minutes. The app also allows for customization – players can benefit from different free gifts, pets, and power-ups.
DoubleDown Casino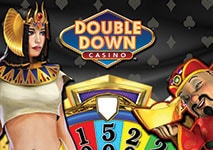 DoubleDown Casino easily ranks as one of the most popular social casino apps in the world, with a huge following of millions of players from different countries. The app stands out with original content in the form of over 100 enticing slots, video poker variations, blackjack, and roulette. New slot variations are added on a regular basis.
More interestingly, some of the free-to-play slots from the gaming collection are courtesy of renowned developer IGT, so iPhone users will enjoy top-shelf titles from its collection like Siberian Storm, In Bloom, and Crown of Egypt. The slots will keep you on the edge of your seat as they have exciting features like free spins, special symbols, and interactive bonus games.

Players are offered daily bonuses in the form of free spins which can potentially earn them up to 2 million free in-game credits. You can also join the app's Diamond Club which resembles a loyalty program – members benefit from larger bonuses and are granted access to exclusive new slots. There is the option to play as a guest but if you wish, you can log into the app with your Facebook account to share your achievements with your friends and exchange bonus gifts with them.