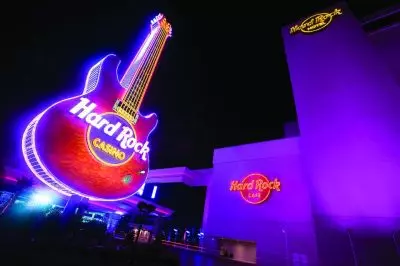 The integrated resort project which Hard Rock International is planning on building near Barcelona, Spain is slowly coming into the spotlight. The company has recently disclosed the first details of the new venue it is going to build.
This is the project Hard Rock International is currently focused on after the company remained the only bidder for a casino license in the Catalan region in Spain. The rest of the contenders dropped out and the Florida-based casino operator remained the sole operator standing. Hard Rock's former joint venture partner Melco International Development also bowed out of the competition, while a rival bid from the Malaysian operator Genting was withdrawn way ahead of the deadline, which was the 30th of June. These decisions led up to the current situation and Hard Rock International's assertive presence in the gambling field in the Catalan region in Spain.
Hard Rock Entertainment World is the new project the company is working on and on Monday they revealed some of the aspects of their new venture. According to initial estimations, the whole project is going to cost about €2 billion, including land costs and upgrades on an infrastructural level, in order to accommodate the facility. The location of the resort is already chosen – the Vila-Seca and Salou (Tarragona) areas, which are specifically designated as a Center for Recreation and Tourism by the Catalan government. Hard Rock Entertainment World is expected to take a maximum of 745,000-square-metres on which the project can develop its full potential.
The first phase of it will go by the name of Hard Rock Hotel & Casino Tarragona and it is estimated to cost as much as €600 million to its developers. It will include a family-oriented hotel boasting 500 rooms available for booking. It will be a collaboration with the adjacent PortAventura World theme park, which will provide for the fun time the guests are going to have on site. Another added bonus will be a 10,000-suare meter retail space encompassing over 75 shops, which is a collaboration with Value Retail. For the entertainment of the guests, the property will also host a 6,000-suare-meter pool and deck, as well as a Hard Rock Live performance venue with 15,000 seats.
The gaming options available in the Hard Rock Entertainment World plans are impressive as well since the casino operator plans on offering 1,200 electronic gaming machines and 100 gaming tables. The ultimate goal is to make the casino one of the largest in Europe. Jim Allen, Chairman/CEO of Hard Rock International said the group was looking forward to bringing premium entertainment options and hospitality experience to the Catalan region.