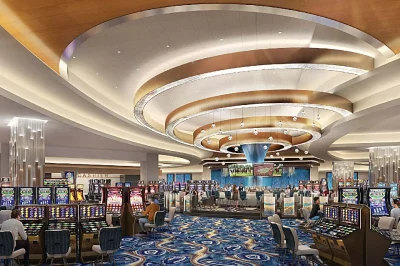 Only two years after Nebraskans voted to allow casino gambling, the state's first casino is set to open this Saturday in Lincoln, offering more than 400 slot machines. The Nebraska Racing and Gaming Commission is expected to grant a permanent gaming license to WarHorse Casino at its meeting later today.
The operator, Ho-Chunk Inc., the economic wing of the Winnebago Tribe of Nebraska, is planning to open the temporary casino at the Lincoln Race Course Thoroughbred track at exactly 10:30 a.m. Saturday. It has 433 slot machines and traditional table games such as blackjack, roulette, and craps. To launch the temporary casino, the company has converted a simulcast/sports bar facility.
It is the first phase of a much larger plan for a permanent casino resort complete with a 200-room hotel and restaurants. While the modest, temporary WarHorse Casino is welcoming gamblers from all across the state, the permanent facility will be built around it. According to Ho-Chunk Inc., the $200 million development plan includes a large casino and hotel complex, along with a three-story parking garage. In the final phase, the Lincoln gambling resort will offer 1,100 slot machines, 100 table games, a sportsbook, and both live and simulcast horse racing. Several dining facilities will be available, including a high-end steakhouse, sports bar, café, and more.
Saturday's scheduled opening will be a long-awaited success for Ho-Chunk Inc., which has been campaigning for casino gambling in Nebraska over the past five years. It all started with a ballot initiative to legalize casinos at the state's horse tracks and in 2020, Nebraska voters approved gaming expansion. In May, Governor Ricketts signed off on the regulations, and currently, they allow racinos to be opened at licensed racetracks in Omaha, Lincoln, Columbus, Grand Island, South Sioux City, and Hastings.
Nebraska's First Temporary Casino to Start Operation in November 2022
Nebraska Lawmakers Willing to See New Horse Racetracks Established to Attract More Casino Gambling Services
Self-Exclusion Program Launches This Week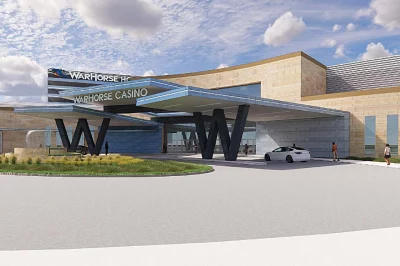 Earlier this week, the Nebraska Racing and Gaming Commission announced the launch of a voluntary self-exclusion program. It is available to anyone who believes they have a gambling problem and it can be accessed from a statewide portal, which includes other problem-gaming resources, as well.
The self-exclusion scheme allows people to ban themselves from gambling establishments for a year, 3 years, 5 years, or even for a lifetime. The enrollment form, which is available on the Gaming Commission's website, also requires individuals to confirm that they identify as "problem gamblers" or that their gambling behavior currently causes problems in their life.
The program comes ahead of the first casinos in the state, starting with WarHorse Casino in Nebraska. A second gaming facility is also in the plans as construction is set to begin in Omaha very soon. The casino will be located at Horseman's Park but even a temporary facility would not open until April or May of 2023. The reason for the delay is the fact that the existing Horseman's Park building is 28 years old and much of it simply needs to be torn down completely. After the two permanent casinos in Lincoln and Omaha are completed in late 2024, a third WarHorse Gaming project is in the plans at the former Atokad Park racetrack in South Sioux City.