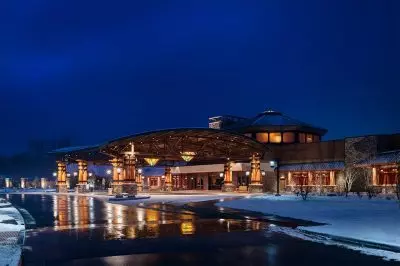 The tribal-owned Four Winds Casino in South Bend, Indiana, has reportedly addressed the state authorities regarding a possible expansion of its offerings with sports betting and table games.
According to media reports, the Pokagon Band of Potawatomi's tribal chairman, Matthew Wesaw, has recently asked Indiana's Governor Eric Holcomb to enter into negotiations for a new compact between the state and the tribe, under which the Indian tribal nation would be allowed to offer all types of gambling at its South Bend casino, including sports betting and table games such as blackjack, baccarat and roulette.
The casino which the Pokagon Band of Potawatomi currently runs in South Bend started operation on January 16th, 2018. For the time being, the 175,000-square-foot gambling facility only owns a Class II gambling license which includes pull-tabs, poker and bingo. The 1,800 gaming machines offered at the venue are pretty much identical to the slot machines offered at the five commercial casinos in Northwest Indiana, but the South Bend's payouts are currently determined by electronic bingo games which are being run behind slot-style reel games.
Reportedly, Chairman Wesaw explained in his letter to Governor Holcomb that the tribe is currently willing to offer Class III gambling at the South Bend casino. If granted such a gambling operating license, the Native American nation would be able to offer slot machines, table games and sports betting, as the latter is set to be officially legalized on September 1st.
State Tax Rate Could Be an Obstacle for Reaching Compact Agreement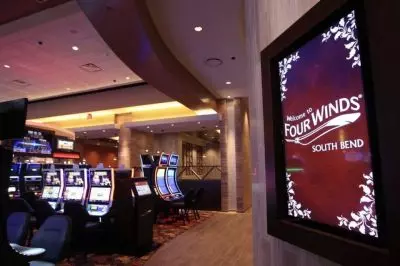 Rumor has it that Indiana Governor Holcomb is actually interested in negotiating and signing a compact agreement with the tribe. According to reports, he intends to set a negotiating committee headed by the Indiana Gaming Commission's executive director, Sara Tait.
For the time being, the compact process is monitored by both state and federal law. The negotiations could not only result in permission for the Indian tribe to offer more forms of gambling at their South Bend casino but also into the tribe being required to provide contributions to the state in the form of gaming taxes. Currently, no gambling taxes are being paid by the Pokagon Band of Potawatomi because of tribal sovereignty. It has only been paying 2% of its Indiana casino-generated net winnings to the city of South Bend or a minimum contribution of $1 million on an annual basis.
The tribe is currently running three additional Four Winds casinos in the state of Michigan. It has previously signed a gaming compact with the state, under which is required to pay 6% of its net revenue (the winnings it is left with after paying patrons' successful bets). An additional 2% is contributed to the local governments.
It is exactly state tax rate which is considered possible to become an obstacle for finding a consensus during the negotiations because non-tribal casinos in Indiana pay a graduated wagering tax which ranges from 15% to 40% of their net winnings, and this rate is considerably higher in comparison to the one which the tribe already pays to the state of Michigan.