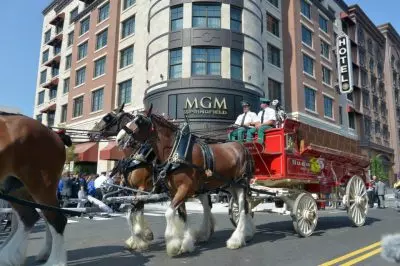 Massachusetts' first integrated casino resort, MGM Springfield, opened with a bang on Friday, gathering thousands of visitors during the weekend. While many people swarmed in for the entertainment, provided by the rich concert schedule, hundreds were heading for the gaming floor where the 2,550 slot machines and 120 gaming tables were just the beginning.
Friday marked the official opening of the first full-fledged casino resort in New England and as expected, it was welcomed by many celebrities, including MGM Resorts International Chairman and CEO, Jim Murren, Massachusetts Governor Charlie Baker, Springfield Mayor Domenic Sarno, as well as the local congressman and representatives of the state Gaming Commission. The celebrations started with a huge procession along the Main Street that featured hundreds of MGM Springfield employees, Cirque du Soleil performers, The Minutemen UMASS Marching Band, Indian Motorcycles, community partners and the Budweiser Clydesdales.
Along with Mayor Sarno, many city officials attended the event, including City Council President Orlando Ramos and South End Citizens Council President Leo Florian who admitted on Friday that was blown away by the grand opening ceremony. The parade was watched by thousands of locals while Hollywood actor Mark Wahlberg paid a surprise visit, saying he would be bringing his entire family to the resort.
The opening weekend drew in huge crowds to the downtown casino with plenty of shows on the Armory Plaza stage. Concerts included Blue Man Group and Darik and the Fun Bags, while the most exciting event was Dropkick Murphy's performance on Saturday. The benefit concert for the Gunnery Sergeant Thomas J. Sullivan Foundation raised around $8,600, MGM Communications Director Saverio Mancini said. The band, however, added another $8,600, he explained.
This is just the first large concert scheduled as part of the grand opening festivities. One of the most influential and iconic musicians will perform at MGM Springfield on September 1. Management has apparently decided to rely on big names to attract visitors as the venue is hosting a Stevie Wonder concert on Saturday.
Profound Economic Impact on the City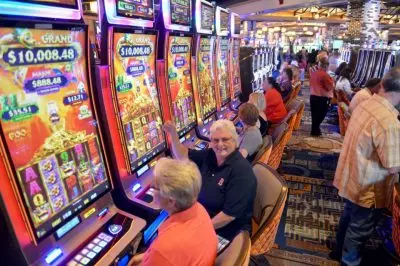 The $960 million casino resort opened its doors on Friday as the first casino resort in New England. It covers three city blocks in the heart of Downtown Springfield and includes a luxury hotel part with 250 guestrooms, an Italian coastal restaurant, a steakhouse, MGM's signature TAP Sports Bar, as well as a modern food outlet called South End Market. The resort also features the 8,000-seat MassMutual Center, a seven-screen luxury Regal Cinemas, a 10-lane bowling alley, a spa and a pool, and many more.
There is also 34,000 square feet of versatile meeting space, retail outlets, an art collection, and several bars. The casino covers 125,000 square feet and offers patrons 2,550 slot machines, 120 gaming tables, a poker room and high-limit VIP gaming lounge. Traditional games include many variations of blackjack and poker, as well as Casino War.
The opening of the new casino comes after 7 years of delays, plans, and construction. Officials stressed the importance of the resort for the city revitalization. According to them, the project created around 2,000 temporary jobs in construction, as well as 3,000 permanent casino jobs. But it is expected to have an even more profound impact on the local economy. Experts believe the new resort will result in a burst of consumer spending, expansion of downtown businesses, and more hiring.
This will likely lead to an economic growth, it will encourage new businesses to come to Springfield and it will spur new housing, many people believe. All this should stimulate economic development and more business activity in the wider region, as nearby towns will probably try to respond and take part in the race with new projects.