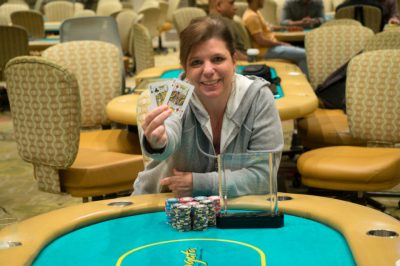 The August Deepstacks Challenge has come to end this weekend, with Marilyn Matthews taking down the final tournament of the series, the $50,000 Guaranteed Deepest Stack. The event, taking place at the famous Borgata Hotel Casino and Spa, attracted 192 entries, pushing its prize pool to a nice $65,000.
This year's Deepstacks Challenge promised players $165,000 guaranteed over 6 events running from August 20 through August 25. As one of the most anticipated poker festivals in Atlantic City, it gathered hundreds of professionals and fans of the high-adrenaline game to Borgata's iconic poker room. The sixth, final event of the series came with the highest prize, of course, offering a prize pool of $50,000. With the large entry field of over 190 players, however, the total prize pool reached $65,000, which was divided among the top 18 places.
It was, therefore, a long and hard grind for all participants in the $350+$50 buy-in event. Unlike many festivals where the tournaments run for several days, each event here was played for a single day and the winner had to be determined before the early hours of the next day. Before dinner break, the field of 192 was halved, while it took another few hours of grinding to hit the money. Dan Marder was a temporary chip leader, while his brother Michael, a Borgata poker veteran had to leave early, taking just $1,141 for his 15th place finish. The three players who were eliminated right before him, Cleiton Barbosa, Carlton Tartar, and Robert Nadolny, took home $978.
Marc Cohen and Adam Goldberg, who finished 14th and 13th, respectively, also received cash prizes of $1,141. The next player to be eliminated was Frank Giaramida (12th, $1,304), followed by Luis Nargentino (11th, $1,304) who was the last to leave before the final table could be set up.
Final Table Action and 4-Way Deal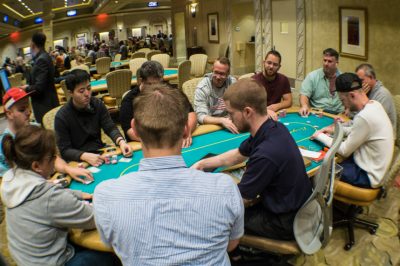 Three-time Borgata champion Mike Dobbs, who also won Event 4 of this year's Deepstacks Challenge, led the ten finalists of the tournament when the action started on the final table. With 3,100,000 in chips, his stack was nearly three times as those of his biggest opponents. Leksey Shestyan returned to the final table with 1,300,000 and the other big stack was Marilyn Matthews with 1,050,000 in chips.
Shestyan quickly eliminated Jason McHam in the 10th place, who took home $1,304. Raul Fernandez (9th, $1,467) was the next to go after being defeated by Jungsoo Bin. Dan Marder then sent Amir Genzel (8th, $1,956) home, while Matthews eliminated James Steimer (7th, $2,607) with her pair of Kings. At the six-seat table, Matthews received King-King and dominated over Dmitry Chop (Ace-King) and Jungsoo Bin (Queen-Queen) on the 8-7-4-4-9 board. Chop was eliminated in the 6th place, taking $3,259, followed soon by Mike Dobbs (5th, $3,911) who was also defeated by Matthews.
Marilyn Matthews from Mays Landing, New Jersey, was clearly leading the way and after a few hands, the final four players decided to count the stacks and negotiate for the title and top prizes. Matthews was determined the event champion and despite the initially announced top-place prize of $19,227, she received $13,790. For his second-place finish, Bin earned $9,758, Shestyan took home $9,681, while Dan Marder received $8,486.