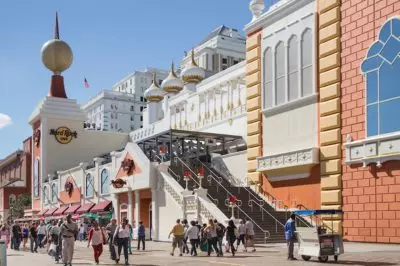 The renovation process of the former Trump Taj Mahal Casino Resort located in Atlantic City is continuing with full throttle, and this week saw the arrangement of a management agreement between the owners of the Trump Taj Mahal and the operators of the new Hard Rock Hotel and Casino. As it could be recalled, the latter is going to transform the outdated and shuttered gambling location into a facility bearing the Hard Rock Brand and the process is expected to be finalized by the summer of 2018.
As it was reported, the two parties involved in the renovation have reached an agreement on a meeting of the board which took place on Tuesday. According to the terms of the agreement, HR Atlantic City, which is a part of Hard Rock International, was appointed to be the new manager of the gambling location. This is a usual measure which is being taken when the owner and operator of a given property are different entities. The New Jersey Casino Control Commission gave the green light to the discussed management agreement, which means that all parties are content with the terms of it.
Renovations of the Venue in Progress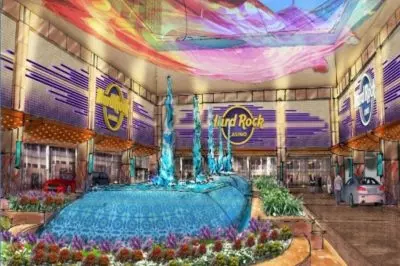 The venue which is going through a complete renovation and refurbishment is owned by Boardwalk 1000, which includes the well-known gambling operator Hard Rock International, as well as investors Jack Morris and Joe Jingoli. It was confirmed that the agreement complies with the mandated criteria of the gambling hub, as well as the state ones. Among them is the exact length of the agreement, the requirement that the casino manager owns minimum 10 percent of the property, as well as the mandatory casino licenses which should be owned by all parties involved. It was then confirmed that both HR Atlantic City and Boardwalk 1000 have already filed for acquiring their respective casino licenses from the state of New Jersey.
In a letter issued by New Jersey's Division of Gaming Enforcement which was made public on 14th November, the said management agreement between the two parties is going to have an initial term amounting to 10 years. As stated in the letter itself, this is a reasonable time period for the operation to prove its integrity and to ensure reasonable continuity, stability, and independence. This July saw the official start of the renovation process of the venue and this has proven to be a laborious task.
As much as $500 million has been invested in the renovation and modernization of the facility which is going to reopen for business after years of being closed for business. The newest gambling location in the gambling hub on the east coast is going to bear the name Hard Rock Hotel & Casino Atlantic City and the renovation of the facility is expected to generate more than 1,000 construction jobs and 3,000 permanent jobs once the venue opens next summer.