This year's edition of the World Series of Poker International Circuit is currently at its stop in Rozvadov, the Czech Republic and the most expensive tournament in the schedule is currently in progress. The €5,300 High Roller event managed to gather 31 entries and the chip leader at the end of Day 1 is Pavel Plesuv who amassed 166,700 in chips throughout the game.
After the nine levels of the game were finished there were a total of 22 players left. There were also two poker players who opted for re-entering the High Roller and they were Fahredin Mustafov and Aviv Meiri, which brought them back in the game for the second day. As for the chip count at the end of the first day, closely after Plesuv remains Ognjen Sekularac from Serbia who made his entrance in the event during the very late stages, and still managed to collect 162,100 in chips in the span of only one day.
Sander van Wesemael is the current number 3 on the leaderboard and his chip count amounts to 133,100. Some of the proficient players on the felt worth mentioning when it comes to the number of chips they have are Vadzim Lipauka with 102,200, Felipe Ramos with 101,300, and Pierre Neuville who laid his hands 81,800 in chips. Pavel Binar, the local poker player well-known for his affinity towards high stakes, is also still in the game and his chip count during the first day reached 58,200.
The Very Beginning of the High Roller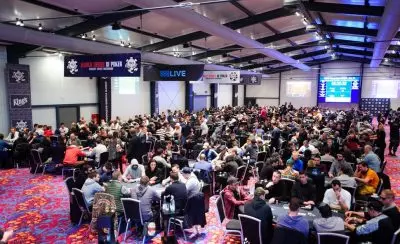 At the first hours of Day 1, there was only one table of players but this quickly changed as more players joined the run for the big prizes and the top positions on the leaderboard. Rafal Nikiel was the main power during the first two levels, which is why his early exit after a duel with Pavel Plesuv came as a surprise for everyone present. Aviv Meiri from Israel, one of the re-entries in the tournament, then proceeded to duel against Vojtech Ruzicka and was defeated after the later showed his ace-high and send Meiri home with empty hands.
Ruzicka himself was one of the casualties later in the day, together with Dawid Paczka from Poland, Bernd Gleissner from Germany, Maxim Lykov from Russia, and Erez Hamerov from Israel. Later in the first day, there were two double eliminations which allowed van Wesemael and Sekularac to swell their chip counts to the impressive rates we saw at the end of the day. The 22 poker players who managed to survive will return for the second day of the High Roller event and since the late registration is still possible, poker pro and 14-time WSOP bracelet winner Phil Hellmuth is also expected to join the felt.