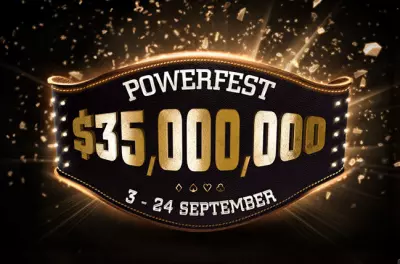 This September will bring an exciting poker festival to all devotees in the poker world. The sixth edition of partypoker Powerfest is ready to welcome its first participants on 3rd September and introduce them to the guarantees in the festival amounting to $35,000,000. The big final of the online poker tournament series is scheduled for 24th September.
The first edition of the partypoker Powerfest tournament took place about a year and a half ago, in February 2016, taking the gaming world by storm with its combined prize pool of $5,000,000. In comparison to what the festival has on offer in this sixth edition, this amount might not seem that impressive, but back in 2016 poker enthusiasts from around the world were more than excited to take part in one of the numerous events offered by the festival. With each following Powerfest poker festival, partypoker has been gradually swelling the guaranteed prize pool, which brings us to this sixth edition of the tournament series.
Driven by the desire to present poker players with hundreds of opportunities to become winners, partypoker Powerfest features a total of 330 events, each of which features a buy-in anywhere between $5.50 to $25,500, the latter being the one for the Powerfest Super High Roller. People responsible for the organization of the festival noticed the amount of interest towards the last Super High Roller, which attracted 129 entries, and they have made the decision to guarantee $3 million for the event.
There will be a cluster of poker pros playing, to the likings of Joao Simao, Sam Trickett, Patrick Leonard, and Roberto Romanello, promising an exciting time for everyone. However, partypoker Powerfest will provide a chance for participation for poker players of all levels of proficiency in the field, due to the wide range of buy-in events. There are numerous Powerfest satellites currently happening in the lobby of partypoker, which are giving people the chance to qualify for the online poker tournament series.
As people acquainted with the organization of previous festivals probably know, partypoker has its own way of doing things and they have come up with the so-called multi-phased tournaments. They allow the participants to play numerous Phase 1s or go straight for the big money and buy into the final day's action. The first championship event is scheduled to commence on 3rd September and is called Powerfest 001: Championship Event: $50K Gtd Freezeout.
The event is a $109 buy-in one and registering for taking part in it is currently in progress. With a total of 12 Championship events over the span of three weeks, there will be a place for each and every poker player to demonstrate their skills. Ten of those twelve Championship events feature a prize pool of at least $1 million, which makes them even more appealing for participation.