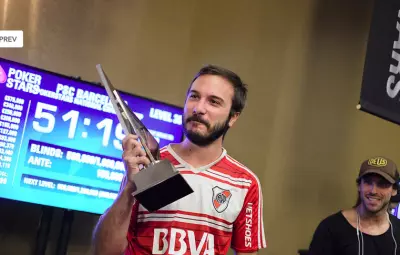 The PokerStars National Championship Barcelona has its brand new winner and his name is Pedro Cairat. The first live tournament in his poker career brought the poker player from Argentina good fortune and he claimed €432,178 (US$508,909).
This year's edition of the PokerStars National Championship Barcelona hit the records by being the largest live tournament in the history of PokerStars. There were poker players from every corner of the world and they reached the impressive 4,557 entries in the single re-entry €1,100 PokerStars National Championship Barcelona event. It took place before the PokerStars Championship Barcelona Main Event, which is set to be the indisputable culmination of the festival, and it commenced on 16th August. The final day for the event was 21st and it welcomed 12 poker players at the final table.
The massive number of poker players helped in amassing a prize pool amounting to €4,420,290, which was still intact for the most part on the final day of the National Championship Barcelona event. There were €575,000 reserved for the winner only. When the time for the final battle came, the twelve poker players needed about three hours to reduce their number to eight. Casino Barcelona, which is hosting the PokerStars festival was where the tournament took place. The lead at the beginning of the final day was possessed by Bart Lybaert, better-known for being the winner at EUREKA's 2016 Prague stop.
Very close to him at that point was Brian Kaufman coming straight from Uruguay, who unfortunately was the first one to be taken out of the race for the first position on the leader board. Next up to leave the final table was the Irish poker pro Dylan Kehoe, who ended up with zero chips as the river bricked. Perdo Cairat hit his first victim with aces and this happened to be Agnius Ismailovas, who had no other choice but to follow the rest out the door. Lady Luck was on Cairat's shoulder during the whole final day of the PokerStars National Championship and when it all boiled down to the final three players, he was one of them.
The big win was an emotional moment for Pedro Cairat, since it marked his first participation in a live tournament. When he managed to defeat both of his opponents he fell on his knees and cried his eyes out of pure joy. When asked for comment on his performance and experience at the final table, he said he can describe it as stressful, because he has numerous ups and downs along the way. Nevertheless, with each passing day, he felt more secure in his poker skills and the good luck he has in the tournament. As for the fortune, he is going to take back home, he had no plans in mind, only sheer gratitude and happiness.