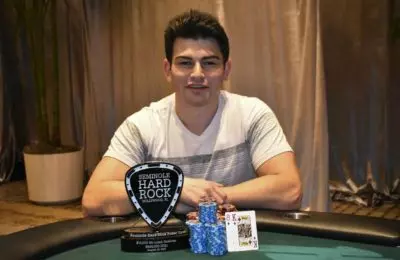 The long-awaited 2017 edition of the Seminole Hard Rock Poker Open had its final event with a five-figure buy-in which attracted the impressive number of 118 entries and took almost 16 hours. The winner of the $10,000 buy-in event is Alexander Turyansky from Germany, receiving $334,176 for emerging victorious from the tournament.
The final Event #17 of the Seminole Hard Rock Poker Open tournament took place this Tuesday in Hollywood, Florida and it featured a six-figure first-place prize. The $10,000 No-Limit Hold'em event and the interest in the tournament amassed a prize pool of $1,132,800. The money was split among the final 15 players. Minimum cashes totaled $25,488. About 16 hours were necessary for the winner Alexander Turyansky to defeat his rivals for the big prize and become the next winner of the final event.
His win in the event came only a day after he managed to finish 17th in the 2017 Seminole Hard Rock Poker Open Championship and claim $40,094 at it. When asked for a comment on his performance at the poker table in the final event, Turyansky said that winning a tournament on home turf feels really nice, since he has spent the last almost five years living in Coconut Creek, Florida. He performed well, but understandably, felt exhausted after a whole 16 hours of game.
Alexander Turyansky has been playing poker since 2009 when he was first introduced to the wide audience at the 40th World Series of Poker in Las Vegas. He took part in the $5,000 No-Limit Hold'em event and finished 21st. This brought him $21,026 which motivated him to work hard and continue his poker career with other major events around the globe.
His biggest prize from a poker tournament so far is the one from the 2015 WSOP $10,000 No-Limit Hold'em Main Event. He finished 10th and received $756,897 for bubbling the November Nine. Before his participation in the 2017 Seminole Hard Rock Poker Open Turyansky's lifetime earnings amounted to $975,597. However, after the final event, he is considered a poker millionaire and then some.
The long day proved to be grueling for many poker players present at the final event and taking part in the race for the first place on the leader board. Some of the poker players who left the tournament without any money were Dan Colman, Cate Hall, Nick Schulman, Erik Seidel, Tim West, Matt Glantz, and Isaac Haxton. Only the final 15 players received cash from the final event. Mike Dentale, Dan Smith, and Taylor Paur were among the notables to make it to the money. The players finished in 15th, 14th, and 13th place, respectively, each collecting minimum cashes. The top three players on the leader board are Alexander Turyansky, Bryn Kenney with $206,736, and David Stamm, claiming $123,475.