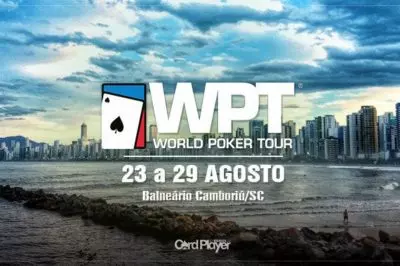 The World Poker Tour is planning on taking over Brasil with its 2017 edition. The tournament will have its first time ever visit in the sunny country between 23rd and 29th August at the Infinity Blue Resort & Spa Camborlu Brasil.
The event is hosted in one of Brasil's spectacular resorts and the World Poker Tour is partnering with Aconcagua for the various parts of the festival. There is also an impressive R$1,500 Buy-in Main Event planned, which will feature a prize pool guarantee amounting to R$2 million. It is going to boast a re-entry format and poker enthusiasts willing to participate in it will have the chance to do so until the sixth level of the event. Aconcagua Poker Network will partner up and provide online satellites beginning on June 12 on Brasil Poker Live.
Apart from the Main Event, the World Poker Tour is expected to boast 25 more events including the satellite ones, which is going to provide for the full schedule of the tournament and the busy days of the participants in it. Some of the more renown events which they will be able to take part in are the R$1,000 Progressive KO, the R$1,000 Omaha Super KO, the R$5,000 High Roller, and the R$1,500 Monster Stack KO 6-Max. According to the schedule which the World Poker Tour has already posted on their web page, most of the events are going to commence around 5-6 p.m. and continue well into the wee hours of the night.
King Series of Poker will be featured in the event with its satellite since Aconcagua has already teamed up with it before and the partnership has proven successful. Their last joint project was a similar buy-in event which took place last year and featured a R$1,500 million guarantee. For it there arrived as many as 1,780 poker entries. Marcello Toskanelli, the Country Manager of Brasil Poker Live, said that the partnership will give many talented poker players from the area of South America and Brasil the opportunity to show their full potential among their fellow players.
The chances of being noticed after taking part in such big event on a global level are very high, since there more than 207 million residents in Brasil which is about half of the total population of South America. The location of the tournament itself is also crucial since it is likely to attract many of the tourists which are currently residing there, as well as provide the participants with a great way to replenish their powers after the poker events. As an added bonus, the partnering Aconcagua Poker Network plans on sending many online players and qualifiers to the World Poker Tour events in South America.