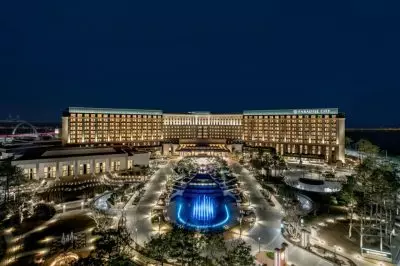 The new casino complex located in the Incheon area, which opened to the public this April has managed to amass a total of 310,000 visitors for the first 100 days since it commenced operation.
April 20 saw the launch of the new casino complex called Paradise City, based near Incheon International Airport west of Seoul, South Korea. The project took six years to be completely finished by the company responsible for the construction and the investors poured in it about KRW1.3 trillion (US$2,760,736,000). The integrated resort features a foreigner-only casino, a hotel and a convention center, a shopping center and entertainment facilities. Locals will have access to all venues at the site of the complex, except for the casino venue.
It is operated by Paradise Group of Korea and Sega Sammy Holdings from Japan, and the first part of the whole project was finished. The second part will feature a mall, a boutique hotel, a health spa and other venues, which are expected to open for business in the beginning of 2018. Kye Jung-Hyun, a spokesperson for Paradise City, said that more than 90 percent of the rooms available for booking at the hotel have been booked since April. The complex has the ambitious goal to become one of the leaders in the entertainment and leisure industry in Northeast Asia.
According to Hajime Satomi, Chairman of Sega Sammy Holdings, the complex is focusing its effort on attracting Japan and Southeast Asian travelers and gambling enthusiasts. In the recent months, South Korea witnessed the launching of a couple of big gaming-related projects, some of which already commenced work with customers and guests. Gongzi Jeju Casino started operation mid-July and has been enjoying huge success among foreign customers ever since its launch.
Mohegan Gaming and Entertainment, the US tribal casino operator, also confirmed that it is going to begin the construction of their brand new casino resort, also located in Incheon. The plans of the operator are to commence the construction work by the end of 2017. The planning stage is close to the finish line and the casino operator will give green light to project Inspire before the end of this December.
It recently became known that for the period between 2000 and 2015 South Korea has amassed the impressive KRW62.5 trillion (US$54.56 billion) from the gambling industry only and this successfully defines it as a profitable and developing field in the country. According to a recent report, the gaming and lottery sales in the country increased 7.7% compared to the beginning of 2016 and currently come close to KRW20.3 trillion.
The sole casino which allows locals to play reported revenue of KRW455 billion for 2016. The casino industry in the country is going through rapid expansion and many foreign companies express their interest in exploring the fairly new market.