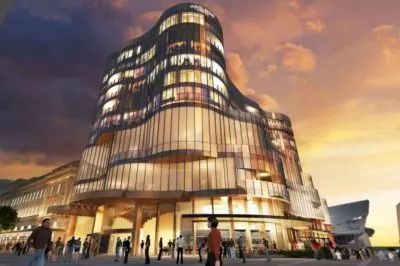 The plans for the expansion of Riverbank Precinct in Adelaide, Australia will be happening as it was confirmed by SkyCity Entertainment Group. The project is estimated on AU$330 million and the company responsible for it already gave the nod for its proceeding.
In the plans for the Adelaide-located complex expansion is the addition of a new high-end hotel building, gaming rooms dedicated to VIP casino players, three new bars, and three new restaurants. This long-awaited project will introduce the new face of Riverbank Precinct and its renovated modern look to it customers and guests. The new hotel will feature 123 rooms available for booking, which makes it bigger than the originally planned 89-room building.
This change comes as a response to the high tourist interest in the area and the ever-growing demand for places for accommodation. A bigger part of the project has already been approved by the complex operators, but SkyCity had to make some last-minute arrangements and decisions, such as the move to add one more floor to the new hotel building in the complex. According to the operator, one of the new bars is going to feature a rooftop bar, which will provide its guests with the stunning view of Adelaide's skyline. There will also be function spaces ready to welcome as many as 750 people at a time.
Graeme Stephens, Chief Executive of SkyCity, stated that this renovation will bring a breath of fresh air and new job positions for Adelaide locals. It will also provide for the economic growth of the area, which is more than important in this day and age. South Australia is ready to welcome the renovations planned by the casino operator and it is already known that the construction site and the future complex will create more than 1000 constructions jobs and 800 ongoing positions.
According to Jay Weatherill, Premier of South Australia, the rejuvenation project of Riverbank Precinct is going according to plan and this kind of investment in the state infrastructure and entertainment industry is always more than welcome. He confirmed that the area when the complex is located could use the development process and the much-needed job opportunities. The upgraded Riverbank Precinct is only one of the steps on the way to rejuvenating this area of Adelaide.
The building process of expansion is expected to commence in the beginning of 2018 and the whole project should be finished and ready for its customers by the end of 2020. The acquiring of new gambling licenses will not be necessary since the ones already existing are still valid, and the complex will continue operating under the current regulations and oversight.