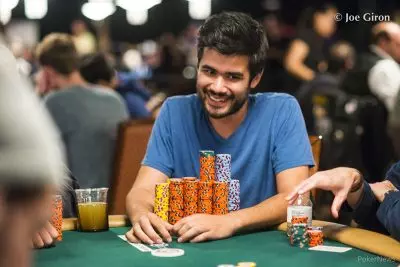 The last hand of Thursday night brought with itself bursting of the money bubble in the 2017 World Series of Poker Main Event. Day 3 found a big chunk of the poker pros moving over the 1,000,000-chip mark, and Patrick Lavecchia with his 1,552,000 managed to become the chip leader for the day.
The Philadelphia native Lavecchia showed the rest of the players how this game is played and topped the leader board. Right behind him sits Pawel Brzeski coming straight from Portugal, who amassed 1,546,000 till his Day 3. Next up is Antoine Saout from France, whose chip count became 1,529,000 as the day progressed. He was also the guy who had the good fortune to get all in pre-flop, resulting in one of the most impressive pots during the day. It was against Scott Seiver and Saout claimed 600,000 from it with his pocket kings against pocket aces belonging to Seiver.
Day 2 had two flights which were combined in Day 3 swelling the number of poker player on the field to 2,572. The people who survived their Day 2 were more than ready for the bursting of the money bubble, which was expected to happen in the foreseeable future. The poker players' dreams became reality around 1:15 am, when Roger Campbell and Quan Zhou busted on the same hand in one of the additional levels of play. After the followed special race-off flip, which Zhou claimed, he became the player finishing in 1,085th place. As a consolation prize, he will receive a seat into next year's World Series of Poker Main Event, which is estimated on $10,000.
Following the events around the money bubble, action in the Mian Event seized, which means that the rest 1,084 poker players will have to come back for Day 4, which is scheduled for Friday. Among the returning players will be Patrick Lavecchia, for whom it has been some time since he last made a cash in a World Series of Poker event. His first and only one to this moment was back in 2009. Lavecchia took part in the 2009 Event 51 $1,500 No-Limit Hold'em where he finished 199th and received $3,036 for his efforts. He feels very optimistic about his performance so far and he is content with having made it this far in the Main Event.
One name stood out from the rest of the poker players in Day 3 and that was the West Virginian amateur Mickey Craft. He performed impressively well in Day 2 and he managed to remain in the top positions during Day 3 as well, pocketing 1,345,000 in chips. For him the day was extremely dynamic, he played against many big names in the poker world, and he even had time to celebrate with his tablemates when they found out they will all most likely cash.