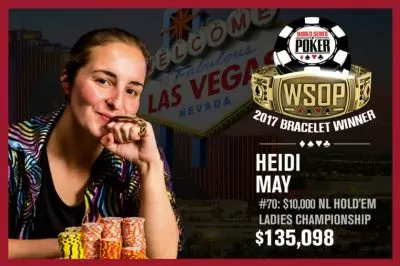 Heidi May stole her first gold bracelet in the World Series of Poker Event 70 $10,000 Ladies No-Limit Hold'em Championship. The Australian poker pro won $135,098 and triumphed over a total of 718 players on the field.
The 27-year-old poker player from Hobart, Australia claimed the gold she deserves in one of the most prestigious tournaments for women poker players in the world. This earned May her biggest prize from a poker tournament so far and swelled her lifetime earnings to the impressive $107,474. The poker player is well-known in her home Australia, where she has taken participation in many poker events. Most of them had brought her fat cashes, but she has decided Australia fame is not enough for her level of professionalism.
For May Day 3 began with flying colors since she had the chip lead among the five players who were left for the final phase of the tournament. During a bigger chunk of Sunday Deborah Worley-Roberts, born and raised in California, but currently residing in the United Kingdom, was trailed by the rest of the women on the table. She finished second and went home $83,459 richer. Jana de la Cerra took the third place on the leader board and earned $57,930 for her efforts. Heidi May's way to the top was not easy because the California native is quite the experienced poker player, but nevertheless, the Ozzy pro ended up dominating the field.
May is best known in her home Australia for her cash-game play, rather than her tournament successes, but now she finally had the chance to make a statement among the winners as well. At the beginning of the final day, May was down by 3:1 margin to Worley-Roberts, but the three-handed action led her upwards. While de la Cerra was being kicked to third place, May was claiming the lead and preparing for the heads-up duel with the California Worley-Roberts. For quite some time the latter was going all-in and this gave the former green light for triumphing with a river, which completed the final hand.
In the last two summers, Heidi May has been well on her agenda to take Vegas by a storm and she has traveled for numerous poker events located in the states. Her current six-figure win stands out among her previous earnings. Her biggest one prior to the Ladies No-Limit Hold'em Championship was from the 2016 WSOP Event 68 $10,000 No-Limit Hold'em Main Event – World Championship. In it, she finished 617th and won $18,714. This is a very good shot for her relatively short poker career – this was her first event as well.