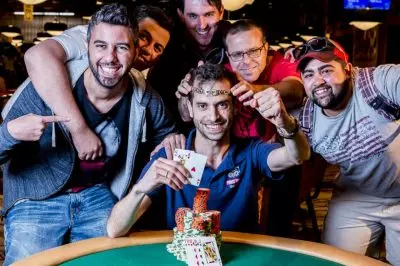 Israeli poker player Shai Zurr managed to defeat a total of 1,413 competitors yesterday, 5th July. Thus he scooped a gold bracelet and the first prize of $223,241 in a 2017 WSOP $1,000 No-Limit Hold'em fast-paced event.
On Day 2 of the two-day tournament, the 34-year-old poker player topped a field of 27 players in less than 5 hours, sprinting to the first position. Following the example of his compatriot Ben Maya, Zurr became the second Israeli poker player for this summer, who would bring home a gold piece. Moreover, this was the first WSOP bracelet in the player's own collection of trophies.
Zurr explained that he prefers to play slower formats, but his decision to participate in the Turbo event came spontaneously after an Independence Day party. It can be said that this victory was a great accomplishment in the player's career, having in mind that poker is still outlawed in Israel and it is quite difficult for local players to practice their skills.
The event attracted 1,413 entrants, who generated a prize pool of $1,271,700. Only 212 players left the tables with a cash prize. The Turbo event featured 30-minute levels. The final Day 2 of the event welcomed 27 players, but that number was reduced to only 9 quite quickly to set the official final table. From that point on only 71 hands were dealt, before Zurr waved the flag of victory.
Before claiming the gold, Zurr eliminated Alex Foxen in 3rd place, who raked in $98,761 for his deep run in the event. At that moment, the names of the two players, who were about to enter the heads-up battle were known – Shai Zurr and Serbian Ognjen Sekularac.
The heads-up duel unfolded with the same rapid pace. Having a chip advantage over his opponent, Zurr managed to disarm the Serbian poker player in no more than 7 hands, steadily claiming his stack of chips bit by bit.
The moment of triumph occurred when the two players entered an all-in confrontation on Hand #71. Sekularac was holding [As][2s] against Zurr's [Ad][Qc]. The [7d][Kd][10d] were flopped on the table, followed by the [9s] on the turn and the [Jc] on the river.
Sekularac's cards bumped into Zurr's ace-high straight, which determined the outcome of the game. Sekularac let the gold bracelet slip through his fingers, paving the way for the Israeli player to seal the victory. Nevertheless, the runner-up boosted his poker earnings by scooping $137,909 for his 2nd place.
The rapidly increasing blinds secured the event's fast-paced action. The players, who appeared at the poker tables on Day 2 were eliminated one by one in less than 5 hours, setting what could be described as another WSOP record.