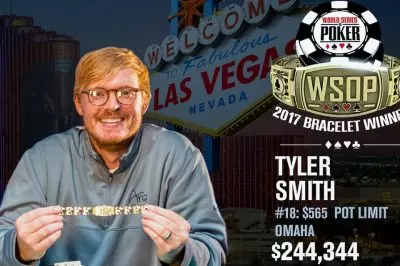 Tylor Smith managed to top a field of 3,186 players in a $565 Pot-Limit Omaha re-entry event and conquered his first World Series of Poker (WSOP) bracelet, scooping $224,344 in money prize.
The $565 Pot-Limit Omaha, which kicked off on 9th June, welcomed 3,186 poker players, who were all competing in a Pot-Limit Omaha variation of the game. It was Tyler Smith, who managed to outperform all the players and subscribe his name among the WSOP bracelet winners.
In an interview, he explained that he is attached to the Pot-Limit Omaha and he even stopped playing any other variations of the game. When it comes to his future plans, the player shared that besides playing poker, he is dealing with properties, since he does not want to rely only on the poker tables for his income.
The player, who appeared on the 9th position is Yves Kupfermunz with $19,201 prize money. He was followed by Ryan Wince with $24,852. The 7th position was occupied by John Dallaire, who brought home $32,432. The 5th player, who left the table was Marek Ohnisko with $56,607 prize and on the 4th position appeared to be Scott Davies, awarded $75,699. Paradoxically, the winner of the event entered the final table with the smallest stack of chips, but Smith managed to catch up by melting Jessie Bryant's stack of chips by hitting a full house.
The three-hand table welcomed Tyler Smith, Jason Stockfish and Igor Sharaskin. The first to leave the table was Igor Sharaskin, who added $102,045 to his poker earnings.
Hence, Smith appeared in the heads-up battle against Stockfish. In fact, the winner amassed a great chip-lead over his opponent thanks to eliminating some of the opponents, who appeared on the final table.
However, with such a big advantage, it was easy for Smith to derail his opponent and the heads-up battle continued as short as only one hand. Smith raised the blind to 600,000 and his opponent shoved all-in. Smith called the bet and Stockfish's [As][10s][8d][5h] bumped into Smith's [Ac][Qd][8s][7s], which secured him the gold.
The winner paid compliments to the other players' game, expressing his excitement from conquering his first WSOP bracelet in his life. In fact, the player has an interesting poker career, having also WSOP Circuit ring in his trophy collection. He managed to win the Circuit ring in 2008 at Harrah's New Orleans, where he knocked off all the 284 players, who appeared on the poker field.
Having in mind Smith's career, who is not really into tournaments, this is considered as a great achievement. The player shared that he prefers to play on cash game tables, instead of tournaments and he does not consider to quit on that practice.
The whole event was full of intriguing moments, especially having in mind its re-entry nature and the number of starting flights, which added to its tension.