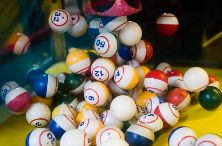 One of the biggest buzz to hit online gambling this December, Back 2 School Bingo is all set to make it big in 2011 by offering its users some of the best facilities that are available in online bingo. It had opened up last month to great appreciation from online bingo community.
The now popular online poker room claims that the idea behind it is simple and its impeccable implementation is the secret behind its success. It provides an environment where people can enjoy their favourite bingo games without leaving the comfort of their couches.
New players are rewarded with great bonuses on deposits which include offers like a two-fold bonus scheme which rewards a 200% increment on a player's first deposit and 25% bonus on recurring deposits.These offers are applicable to a maximum deposit limit of 100 Pounds.
Back 2 School Bingo is planning to spice up the New Year with attractive promotion schemes that are planned to run weekly and monthly. This month's highlights include a Brand New Year Giveaway worth GBP5000 and a Pop the Champers Giveaway worth GBP 3745 which are scheduled in between January 9 and January 14. And the cherry on the cake is provided by the GBP 100 SpaFinder coupons given away by the site for the whole month.
Provided along with the popular games and promotion schemes are beginner's guides which include tutorials on various aspects of bingo complete with a list of popular bingo slang and chat phrases and a bingo terminology manual teaching chat etiquettes to the newbies. Various tutorials aid users in improving their game as well as giving them chances of winning a jackpot. It can easily be said that the future looks bright for both, this bingo room and its users for the times to come.