French Roulette
The Fundamentals
The goal and rules in French Roulette are not much different than those of the other types of roulette. The bet is placed on a particular number, color or group of numbers to win. The wheel has 37 number pockets as it is with the European variant. The number pockets are from 0 to 37, where numbers 1-37 alternate between red and black and the zero has green color.
There are a few features that distinguish French Roulette from the other variations. The first is that all numbers on the betting layout have red color, which is actually irrelevant to the game and the red/black bet, as being only a preferred design. As it is with the European Roulette, the French wheel has only one zero pocket, which decreases the advantage of the house. There is an additional rule in the French variant called "la partage", according to which if the winning number is zero all players with even-money bets lose only half of it. All bets on the betting layout are in French and there are a few additional that distinguish this variant from others, known as "call bets".
Call bets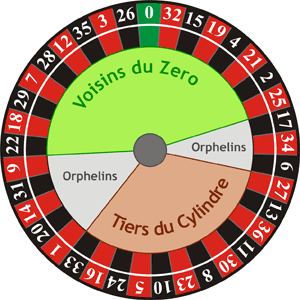 Voisins du Zero (Zero Neighbors)
Bet is placed on numbers 0, 2, 3, 4, 7, 12, 15, 18, 19, 21, 22, 25, 26, 28, 29, 32, and 35 (all surrounding the zero number pocket).
Tiers du Cylindre
Bet is placed on numbers 5, 8, 10, 11, 13, 16, 23, 24, 26, 27, 30, and 33 (all numbers opposite to the zero number pocket).
Orphelins (Orphans)
Bet is placed on numbers 1, 6, 9, 14, 17, 20, 31, and 34.
Finales en plein
Bet is placed on every number that ends on a selected digit. "Finales 6" means betting on numbers 6, 16, 26 and 36.
Finales a cheval
Bet is placed on every number that ends on either of two selected digits. "Finales 3/4" means betting on numbers 3, 4, 13, 14, 23, 24, 33 and 34.
Betting terms glossary
En plein – straight bet
A cheval – split bet
Transversale plein – street bet
En carre – corner bet
Transversale simple – line bet
Noir/rouge – black/red bet
Impair/pair – odd/even bet
Passe/manqué – high/low bet
Douzaine – dozen bet
Colonne – column bet
If you want to play French roulette for real money you can choose one of the casino sites that we present on this page. All of them provide fair and authorized random number generator, best bonus offers and awesome customer support. We are confident that you will have a great experience with all those online casinos and you will always get paid on time.