Online slots lure reel enthusiasts with the promise of scooping a huge payout with a single click on the Spin button. In fact, this is precisely the reason why slots are the single most popular type of game at online casinos – winning or losing on any given spin does not call for any skill, strategy or previous experience and anyone can potentially bag a nice prize as long as they line up a winning combination of matching symbols on the reels.
While with slots winning depends entirely on luck, players who try a number of different titles will soon reach the conclusion not all slots are created equal and on some, winning combinations tend to hit more frequently. This all has to do with the average player return percentages of the games, which should be the number one criterion of all reel fans when they are picking which online slots to play for real money. In the following article, we will tackle the subject on RTP in brief and will provide slot fans with a list of five of the best paying online slots to bet on. Why Return to Player Percentages Do Matter
With most casino games like blackjack, roulette and craps, the house edge, which is the built-in advantage the casino holds over players, is expressed in the payout ratio of winning bets. That is to say, the house practically charges players with a "fee" on all wagers they make, because winning bets are paid out on the basis of the casino odds, instead of being based on the true odds. In other words, there is a discrepancy between the probability of winning a given bet and the ratio you are paid out at, so that the house always ends up turning a profit in the long run, regardless of whether players are winning or losing.
When it comes to slots, the house advantage correlates to the average return to player or RTP and is, in fact, built into the payout percentages of the games. The average player return denotes the amount of money the casino gives back to players per specific amount wagered on a given game, or in this case, slot. The player return is usually expressed in percentages and ranges between 88% and 99.9% for online slots. The higher the return percentage, the better for the slot player. For instance, the listed RTP of Playtech's Desert Treasure slot stands at 97.05% which is to say players can expect to get back $97.05 on average out of every $100 they have wagered on this particular game, while the casino gets to retain the remaining $2.95.
As the house edge of slots and their RTPs are closely related to one another, the tilt in favor of the casino can be easily calculated by subtracting the return percentage from 100%. In our example with Desert Treasure, the house advantage would be equal to 2.95%. This is not to say, a player will get back $97.05 each time they bet $100 on this game. While accurate, the RTP is distributed among hundreds of players spinning the reels of this particular slot.
Hundreds of thousands of spins are required for the average return to even out to the specified percentage.
High vs. Low Volatility in Slots
Another thing to take into account when picking online slots to play for real money is their volatility, also known as variance. The term "volatility" is used to describe the amount of risk, inherent to a given online slot. If you have played online slots before, there is a good chance you have noticed that some games pay out on a regular basis, but the profits per spin are usually smaller. These slots fall into the low-volatility category, they are action-packed and are a viable alternative for players with a limited budget.
Then again, you may have come across slots where payouts are few and far between, which is to say you tend to lose on spins more frequently than you actually win. However, when you do win, you typically win big, which is why such slots are considered the better option for reel fans, who have bigger bankrolls at their disposal and can afford to consistently lose until they finally recoup their losses with a hefty win. These are the high-volatility slots. Such games are by no means boring since they are packed with additional functionalities, lucrative symbols, free spins and bonus games.
On the bright side, there are several factors which can help players determine the volatility of their slot of choice. For starters, you should check the paytable of your preferred slot to see how much the maximum amount you can win is. Slots with low volatility generally offer smaller jackpots.
High-volatility slots, on the other hand, boast enormous jackpots but hit less frequently because otherwise, they will not be able to accumulate the amount of money, required to pay out on winning spins. Finally, it would be an excellent idea to check what the difference between the payouts for five and four matching symbols is. The greater the gap in the payouts, the higher the volatility of the slot.
Unfortunately, online casino operators are often reluctant when it comes to sharing information on their slots' volatility with players. This is not the case when it comes to RTP as all established operators provide up-to-date lists with the average return percentages of all slots in their gaming libraries.
Slots with the Highest Return Percentages
To spare you the efforts required to find the most lucrative online slots on your own, we have compiled a list containing five games which offer some of the highest return to player percentages out there. The slots in question are all courtesy of top-tier software suppliers the likes of Playtech, BetSoft and NetEnt. The RTP of all five suggestions exceeds 97%. The games are readily available at some of the most acclaimed online casinos in the industry so players can expect nothing but fairness and randomness when it comes to payouts.
Goblin's Cave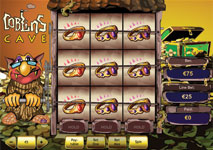 Traditionalists who enjoy betting on classic slots will greatly appreciate this fun 3-reel slot with 3 paylines, which is courtesy of industry frontrunner Playtech. The slot is rather simplified in terms of game controls but it would be fair to say simplicity only works to its advantage. The game features a feeble, old goblin who appears to rotate the three reels manually each time players press the Spin button.
As far as betting limits are concerned, players can wager as little as $0.25 per payline while the upper limit is set to $15 per spin. The game is not as visually appealing as some advanced video slots, but this by no means should prevent you from giving the reels a few spins. Goblin's Cave may be a classic slot but it comes with a nice twist since players will be able to benefit from some extra features such as the red ruby wild symbol and the lantern bonus symbol.
One feature you are unlikely to see on modern 3D slots is the Hold functionality, which can spare you the exasperation of near misses. This feature allows players to keep one or more reels in place while the others are spinning, which increases their chances of forming a winning combination. The RTP of Goblin's Cave is set to 99.32%, which is way above the average.
Ugga Bugga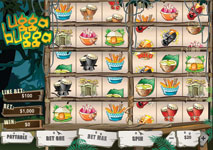 Ugga Bugga is yet another Playtech creation that impresses with a sleek design, a tribal theme, and an exceptionally high return of 99.07%. This is a traditional slot with three reels and 10 paylines to bet on. However, as soon as Ugga Bugga loads, players will immediately notice the game does not quite look like a classic slot.
The graphics are colorful and enhanced, but the game also has some interesting features to offer. These include the Golden Mask wild which can substitute for all other symbols on the reels with the exception of the scatters. Players can also keep some of the reels in place on subsequent spins thanks to the Hold functionality. The highest prize you can win on Ugga Bugga amounts to 1,000 coins and is awarded to the player, who lands three Golden Masks on one of the paylines.
Blood Suckers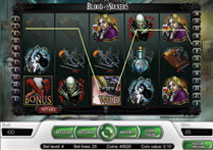 Vampires are a recurrent trend in popular culture and software developers at NetEnt have obviously taken a notice of this fact. This slot, with 25 adjustable paylines, has been inspired precisely by the vampire craze. Being a 5-reel video slot, the game is more advanced when it comes to graphics, audio effects, and special features. Some of the symbols to make an appearance on the reels include cloves of garlic, a bible with a cross, crossbows, and a vampire bride, among others.
There is the option to play on a budget since the minimum amount you can wager per spin is $0.25, that is if all 25 paylines are activated. More daring players can bet the maximum amount of $50.00 per round. Three bonus symbols with bloody clubs and hammers can unlock a blood-chilling bonus game, which involves players opening coffins and slaying the vampires sleeping inside. Each coffin contains a different cash prize, so once you unlock the bonus game, you are guaranteed to end your betting session richer than you were when you started. With an RTP of 98.00%, Blood Suckers is an absolute must for all slot fans.
Good Girl, Bad Girl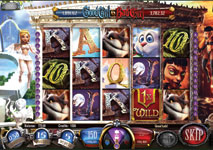 If vibrant 3D slots suit your individual preferences the most, you definitely do not want to miss this 5-reel slot with 15 adjustable paylines, which is among the most popular titles in the slot collection of software supplier BetSoft. What further contributes to the massive popularity of the game is the progressive jackpot it comes with.
The game allows for a greater interaction since slot fans get to choose between Good mode and Bad Mode, although playing both modes simultaneously is also an option. Interestingly, players are rewarded with different special features, depending on which girl they choose to side with, the good or the bad one. There is a click-me type of bonus game with gift boxes, which is activated whenever the pitchfork and the halo symbols appear on adjacent reels side by side.
The bonus games are slightly different depending on the mode you play in. Either way, you are guaranteed to collect a monetary prize in the end, with the three options being Small, Medium and Big Win. Other interesting functionalities the slot incorporates include wilds, the Money Wheel Bonus and the Double Up Bonus features. You definitely do not want to miss this game, not only because of its exceptional quality but because of its satisfactory RTP of 97.79%.
Gypsy Rose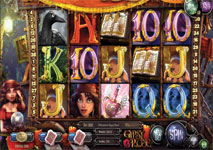 Players who want their future predicted should definitely pay a visit to lovely gypsy fortune teller Rose, who is the character this exquisite BetSoft creation is based on. Being part of the software supplier's 3D collection, Gypsy Rose stands out with colorful, bright graphics and superior animations which are nothing short of perfect. In fact, this 5-reel slot with 30 adjustable paylines resembles an animated film as far as visuals are concerned.
The "magic" symbols are among the most lucrative features of the game. There are four of those, the love potion, the crow, the book of incantations and gypsy Rose herself, and each one can potentially earn players a different reward, including free spins, re-spins, instant wins, and bonus rounds. In order for this to happen, players are required to land the crystal ball symbol on an active payline on the third reel and then line up one of the four magic symbols on the adjacent second and fourth reels.
During the bonus game, players are presented with 15 cards to choose from and beneath these, there are 5 different figure cards, in red, green or blue. Each color corresponds to a different multiplier on bonus winnings. Gypsy Rose is definitely worth your while as it comes with an RTP of 97.60%.