InstaDebit is a secure online payment service currently based in Canada. The company offers users an extra layer of security when paying online using a credit card or a bank transfer, while making the transaction anonymous and safe. InstaDebit acts like a middle-man between the payer and the payee. The money moves through InstaDebit's system so the other party never receives access to the user's bank or card information.
Casinos supporting InstaDebit payment method allow gamblers to deposit funds smoothly and hassle-free. While InstaDebit is a popular online payment service in Canada and all major online casinos accept it as a valid payment method, some smaller sites may not. How the Method Works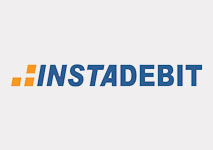 It may be presumed that InstaDebit is an eWallet service like some of its competition, but that is not the case. The consumer may not deposit funds directly to their InstaDebit account, instead they can charge it through other conventional methods such as using a credit or a debit card. InstaDebit is allowed to move funds from and to a bank account at the consumer's will. Topping up an online casino account happens immediately and it takes several business days for the transaction to clear with the bank.
Creating an InstaDebit account is a short and easy process and players can make their first deposit within 15 minutes. The user needs to provide their bank account information and some personal data. InstaDebit works with every Canadian financial institution, which makes for a very inclusive and inviting system. There is no activation or approval wait time, the account can be used immediately. However before the bank account is verified, a transaction limit is placed upon the InstaDebit account.
Verifying an InstaDebit account is made simple and convenient. After the consumer enters their bank information InstaDebit deposits a small sum to their bank account, which appears on the bank statement. The user must enter the amount of the deposit on the InstaDebit website to receive full access to their account. It is important to enter the correct amount otherwise the account will be suspended and has to be reactivated manually by InstaDebit customer support agents.
Availability and Currencies
InstaDebit is entirely exclusive to Canadian citizens with a Canadian bank account. The service is not available to any other country. It is also possible that legitimate Canadian players may not be able to access their InstaDebit accounts while abroad. For this reason the company only does business in US and Canadian dollars. Each currency is set up independently from the other. The player will be presented with a separate tab for each respective currency. Logically if the user has a balance in USD and wishes to deposit to a casino in that currency, InstaDebit will take the money from the USD balance and not the CAD one. In the event that a user has to pay in USD for something posted in CAD, InstaDebit automatically exchanges the currency and the converted amount is shown on the receipt page.
InstaDebit applies the standard conversion rate for that day and charges a commission for the service.
Depositing to Online Casinos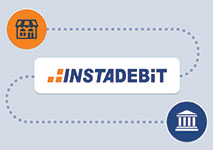 Depositing to an online casino with InstaDebit is simple. A registered user can simply go to the cashier page of the casino and chose the InstaDebit as the method of payment, then enter the amount they would like to deposit, enter their username and password for InstaDebit and confirm the payment.
Withdrawing from Online Casinos
Withdrawing your winnings from a casino is the same process as depositing, just reversed. The player needs to go to the cashier page and enter a sum to cash out, then select InstaDebit for the transaction and confirm.
Fees and Limits
Making payments using InstaDebit through the bank account costs the user CA$2, but paying by InstaDebit balance is completely free. Depositing to an online casino will cost the player between CA$1 – $2. Withdrawing winnings from an online casino to the user's InstaDebit account depends on the casino in question. The process of withdrawing is similar to depositing. The user needs to enter the amount they wish to withdraw and choose the InstaDebit withdrawal method, after which the sum will be moved to the InstaDebit account. When transferring money from an InstaDebit account to a bank account a service fee of CA$2 will be deducted.
Users should note that financial institutions may apply their own charges for using the bank interface on the InstaDebit service, though this varies from institution to institution.
Security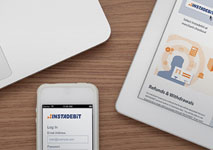 InstaDebit has at its disposal a modern and sophisticated security system. All communication between the consumer and InstaDebit is encoded by 128-bit encryption system. Furthermore all transactions are monitored and protected by cybersecurity firms VeriSign and TRUSTe. Whenever a user signs up for the first time they are required to submit their date of birth, to prove that they are 18 years of age or older, and the last four digits of their Social Insurance Number (SIN) to verify their identity. InstaDebit clearly goes to great lengths to ensure the safety of their users' private and bank information. Tech experts would laugh at the prospect of someone gaining access to any data, let alone managing to bypass the highly complex encryption.
Advantages
InstaDebit's service fast and secure transactions, making it possible to send and receive money at the click of a mouse button. Payments cost the user nothing, all while protecting their private information.
InstaDebit offers multiple options when it comes to customer support. The customer can correspond online by email or live chat service. Alternatively the company provides a toll-free 24/7/365 phone service.
Disadvantages
InstaDebit's main disadvantage is that is it limited only to Canada and its citizens. This alienates a large potential client base and limits them to a significantly smaller market. Additionally the currencies are also limited to Canadian and US Dollars, which may not be for everyone.
Mobile app
InstaDebit does not have a mobile application like some of its competitors, restricting users who wish to top up their accounts on the go and forcing them to resort to using their phone browsers, which may provide questionable results.
Non-Canadian gamblers have to turn to other providers to gain this type of service since InstaDebit is accepted only in Canada.
Conclusion
InstaDebit is an excellent way to transfer money over the Internet. The service offers fast and reliable transactions, coupled with complete anonymity. The users' data is always protected behind InstaDebit's extensive security systems and encryption software. Creating an account is as simple as possible and one can be set up and fully functioning within the hour. The company also provides great customer support day and night. With that in mind it is also needed to address that InstaDebit is limited to Canadian citizens with a Canadian bank account. The service is not available even in the USA. The available currencies are also strictly limited to only two – US and Canadian dollars. For Canadians this service is truly excellent, being accepted at every major online betting site for deposits and withdrawals.