Introduction to Roulette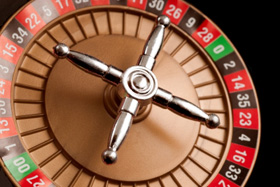 Introduction to Roulette
Of all of the games in a casino, roulette is probably the most dynamic. With a number of betting options available, roulette offers a game style that is unmatched by other popular titles. The thrill, excitement, and complexity of the game make it not only fascinating but strategic as well. For these reasons, roulette has grown to become one of the preferred choices in the online gaming industry.

Just how is the game of roulette played? To begin, there are two versions of roulette. These versions are American roulette and French roulette. For the most part, each version involves the same style of game play with the exception of one aspect, and that aspect is the impact of the zero pocket. In French roulette, there is only one zero pocket, while in American roulette there are two pockets. The additional zero pocket in American roulette adds to the overall risk exposure for a player.

As far as basic rules are concerned, roulette is quite simple. Betters place a token on the appropriate square of the gaming mat. This mat contains the numbers one through thirty-six and either one or two zero pockets. A user can place a bet based on his or her desired level of risk. The riskiest bet is straight-up, which is a bet on a single number. After a bet is placed, a wheel (containing the numbers one through thirty-six in addition to the zero numbers) with a marble placed on top of it is spun. If the marble lands on a winning number, then the player has won that particular bet.

What's unique about roulette is that users can bet on either one number or a combination of numbers, thus affecting the overall risk of the bet. For instance, a gamer can decide to bet straight up or on even numbers only. Since the odds of landing on an even number are greater than landing on one particular number, the payout for a straight-up bet is considerably higher when compared to a bet on even numbers. The pockets on a roulette wheel are either red or black, and gamers can place a bet on colors as well.

Betting can get even more complex. Generally, roulette offers two types of betting options: inside bets and outside bets. Inside bets are much riskier and tend to have higher payouts, while outside bets are for those who are not looking to take on significant risk. Some of the typical inside bets include straight up, split (two adjacent numbers), street (three numbers), and corner (square or four numbers). In contrast, some of the popular outside bets are one to eighteen, nineteen to thirty-six, red, black, even, odd, or dozen bets. There is a different signal for each type of bet, and gamers need to know of the appropriate chip placement prior to betting.

In some cases, particularly at most French-style roulette tables, call bets are allowed. These unique bets are based off of the layout of the pockets on the wheel. Generally speaking, the call bets include the voisins du zero (neighbors of zero), the tiers, and the orphelins. Similar to inside and outside bets, call bets have different payouts based on the number of pockets associated with each bet. Many believe that call betting can increase the advantage to a player since he or she is able to add more variation to an overall betting strategy.

Roulette offers several types of betting techniques and strategies for the experienced gamer. However, simple probability demonstrates that it is hard to find a legitimate way to beat the roulette system. To figure out the likelihood of a bet coming out successful, one should take the number of pockets associated with a particular bet and divide that number by the total number of pockets on the wheel (either thirty-seven or thirty-eight).

As one should notice, American roulette is actually more difficult since it has an additional zero pocket, which decreases the overall probability of landing any given number or numbers. The presence of these zero pockets creates what is known as a house edge, which is 5.26% and 2.7% for American and French roulette respectively. This figure is the most concrete estimate of the advantage that the house has once any bet is placed. In short, it is obvious that roulette provides an indescribable level of excitement to those who play, but this level definitely comes at a costly premium.
If you want to play Roulette for real money you can choose one of the casino sites that we present on this page. All of them provide fair and authorized random number generator, best bonus offers and awesome customer support. We are confident that you will have a great experience with all those online casinos and you will always get paid on time.